L/N-Type Calcium Channel Blocker Cilnidipine Added to Renin-Angiotensin Inhibition Improves Ambulatory Blood Pressure Profile and Suppresses Cardiac Hypertrophy in Hypertension with Chronic Kidney Disease
Department of Medical Science and Cardiorenal Medicine, Graduate School of Medicine, Yokohama City University, 3-9 Fukuura, Kanazawa-ku, Yokohama 236-0004, Japan
*
Author to whom correspondence should be addressed.
Received: 13 May 2013 / Revised: 9 August 2013 / Accepted: 12 August 2013 / Published: 16 August 2013
Abstract
Ambulatory blood pressure (BP) and heart rate (HR) profile are proposed to be related to renal deterioration and cardiovascular complication in hypertension and chronic kidney disease (CKD). In this study, we examined the beneficial effects cilnidipine, a unique L/N-type calcium channel blocker (CCB), in addition to renin-angiotensin system inhibitors, on ambulatory BP and HR profile, as well as cardiorenal function in hypertensive CKD patients. Forty-five patients were randomly assigned to the cilnidipine replacement group (
n
= 21) or the control CCBs group (
n
= 24) during a 24-week active treatment period. Although clinical BP values were similar in the cilnidipine and control CCBs groups after the treatment period, the results of ambulatory BP monitoring showed that the 24-h and daytime systolic BP levels in the cilnidipine group were significantly lower compared with the control group after the study. Furthermore, the left ventricular mass index (LVMI) was significantly decreased in the cilnidipine group compared to the control group after the study (LVMI, 135.3 ± 26.4
versus
181.2 ± 88.4,
p
= 0.031), with a significant difference in the changes in the LVMI between the cilnidipine and control groups (change in LVMI, −12.4 ± 23.7
versus
26.2 ± 64.4,
p =
0.007). These results indicate that cilnidipine is beneficial for the suppression of pathological cardiac remodeling, at least partly, via a superior improving effect on ambulatory BP profile compared with control CCBs in hypertensive CKD patients.
View Full-Text
►

▼

Figures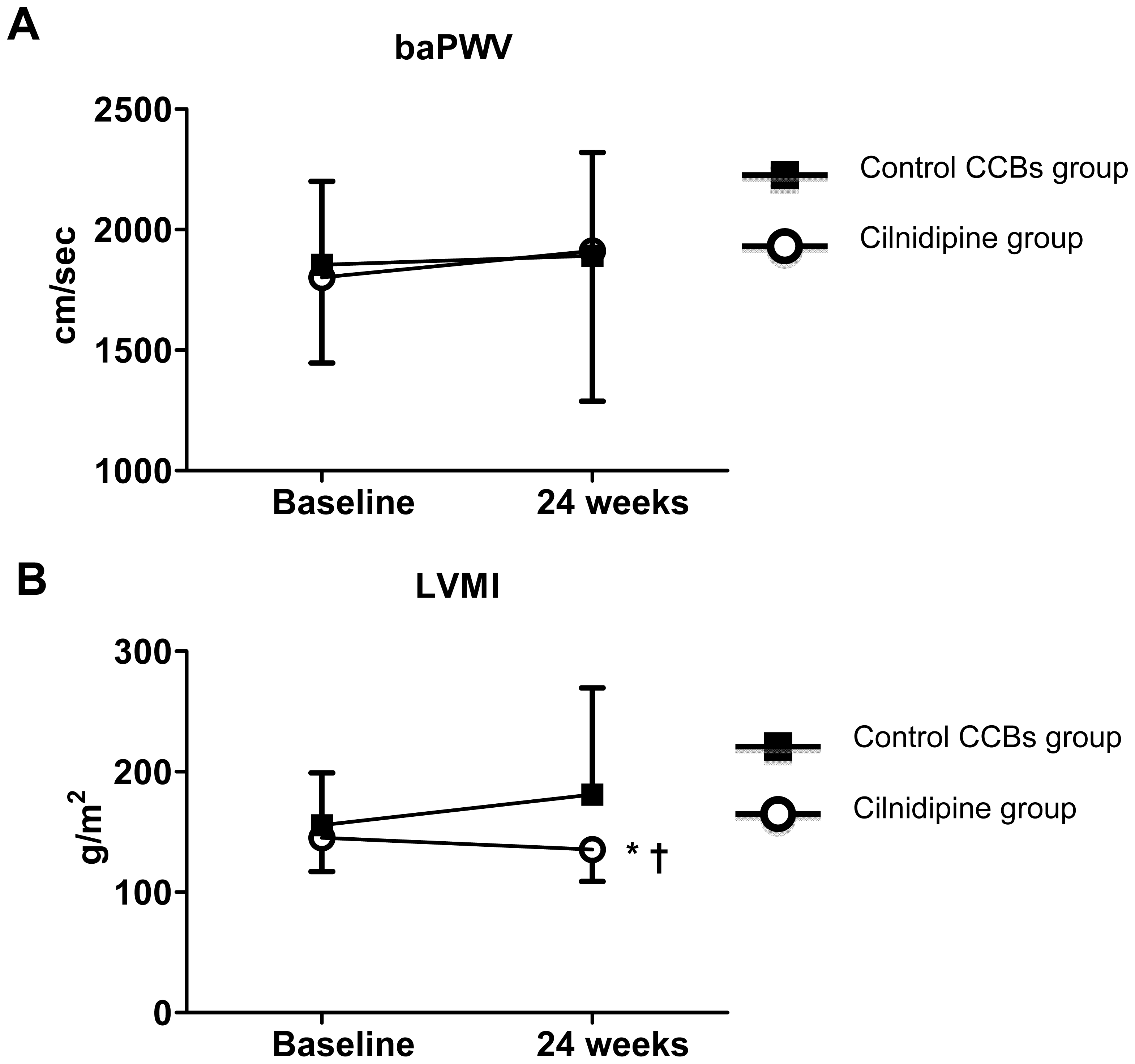 Share & Cite This Article
MDPI and ACS Style
Kanaoka, T.; Tamura, K.; Wakui, H.; Ohsawa, M.; Azushima, K.; Uneda, K.; Kobayashi, R.; Fujikawa, T.; Tsurumi-Ikeya, Y.; Maeda, A.; Yanagi, M.; Toya, Y.; Umemura, S. L/N-Type Calcium Channel Blocker Cilnidipine Added to Renin-Angiotensin Inhibition Improves Ambulatory Blood Pressure Profile and Suppresses Cardiac Hypertrophy in Hypertension with Chronic Kidney Disease. Int. J. Mol. Sci. 2013, 14, 16866-16881.
Related Articles
Comments
[Return to top]