Cadmium Modifies the Cell Cycle and Apoptotic Profiles of Human Breast Cancer Cells Treated with 5-Fluorouracil
1
Department of Biomedical Sciences, University of Sassari, Viale San Pietro 43/B, Sassari 07100, Italy
2
Biopathology and Regenerative Medicine Institute (IBIMER), Centre for Biomedical Research, University of Granada, Granada E-18100, Spain
3
Department of Human Anatomy and Embryology, Faculty of Medicine, University of Granada, Avda de Madrid s/n, Granada E-18100, Spain
4
Oncology Department, University Hospital "Virgen de las Nieves", Granada E-18100, Spain
5
National Institut of Biostructures and Biosystems (INBB), viale delle Medaglie d'oro, Rome 00118, Italy
*
Authors to whom correspondence should be addressed.
Received: 17 May 2013 / Revised: 15 July 2013 / Accepted: 22 July 2013 / Published: 12 August 2013
Abstract
Industrialisation, the proximity of factories to cities, and human work activities have led to a disproportionate use of substances containing heavy metals, such as cadmium (Cd), which may have deleterious effects on human health. Carcinogenic effects of Cd and its relationship with breast cancer, among other tumours, have been reported. 5-Fluorouracil (5-FU) is a fluoropyrimidine anticancer drug used to treat solid tumours of the colon, breast, stomach, liver, and pancreas. The purpose of this work was to study the effects of Cd on cell cycle, apoptosis, and gene and protein expression in MCF-7 breast cancer cells treated with 5-FU. Cd altered the cell cycle profile, and its effects were greater when used either alone or in combination with 5-FU compared with 5-FU alone. Cd significantly suppressed apoptosis of MCF-7 cells pre-treated with 5-FU. Regarding gene and protein expression,
bcl2
expression was mainly upregulated by all treatments involving Cd. The expression of
caspase 8
and
caspase 9
was decreased by most of the treatments and at all times evaluated.
C-myc
expression was increased by all treatments involving Cd, especially 5-FU plus Cd at the half time of treatment. Cd plus 5-FU decreased
cyclin D1
and increased
cyclin A1
expression. In conclusion, our results indicate that exposure to Cd blocks the anticancer effects of 5-FU in MCF-7 cells. These results could have important clinical implications in patients treated with 5-FU-based therapies and who are exposed to high levels of Cd.
View Full-Text
►

▼

Figures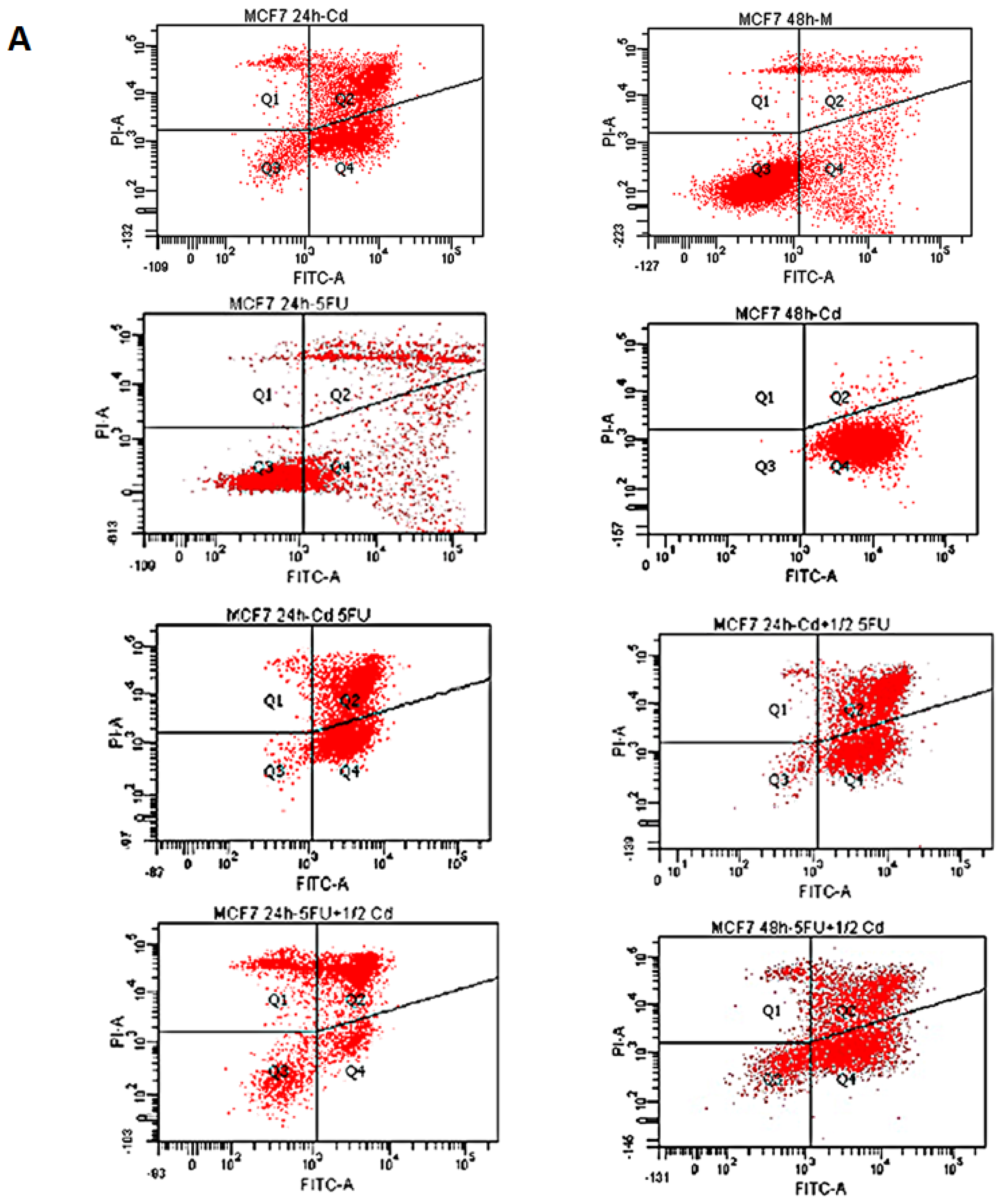 Share & Cite This Article
MDPI and ACS Style
Asara, Y.; Marchal, J.A.; Carrasco, E.; Boulaiz, H.; Solinas, G.; Bandiera, P.; Garcia, M.A.; Farace, C.; Montella, A.; Madeddu, R. Cadmium Modifies the Cell Cycle and Apoptotic Profiles of Human Breast Cancer Cells Treated with 5-Fluorouracil. Int. J. Mol. Sci. 2013, 14, 16600-16616.
Related Articles
Comments
[Return to top]