Apoptosis Signal-Regulating Kinase 1 Is Involved in Brain-Derived Neurotrophic Factor (BDNF)-Enhanced Cell Motility and Matrix Metalloproteinase 1 Expression in Human Chondrosarcoma Cells
1
Graduate Institute of Basic Medical Science, China Medical University, Taichung 404, Taiwan
2
School of Chinese Medicine, China Medical University, Taichung 404, Taiwan
3
Department of Orthopaedics, China Medical University Hospital, Taichung 404, Taiwan
4
Department of Pharmacology, School of Medicine, China Medical University, Taichung 404, Taiwan
5
Department of Biotechnology, College of Health Science, Asia University, Taichung 404, Taiwan
†
These authors contributed equally to this work.
*
Author to whom correspondence should be addressed.
Received: 21 May 2013 / Revised: 15 July 2013 / Accepted: 15 July 2013 / Published: 25 July 2013
Abstract
Chondrosarcoma is the primary malignancy of bone that is characterized by a potent capacity to invade locally and cause distant metastasis, and is therefore associated with poor prognoses. Chondrosarcoma further shows a predilection for metastasis to the lungs. The brain-derived neurotrophic factor (BDNF) is a small molecule in the neurotrophin family of growth factors that is associated with the disease status and outcome of cancers. However, the effect of BDNF on cell motility in human chondrosarcoma cells is mostly unknown. Here, we found that human chondrosarcoma cell lines had significantly higher cell motility and BDNF expression compared to normal chondrocytes. We also found that BDNF increased cell motility and expression of matrix metalloproteinase-1 (MMP-1) in human chondrosarcoma cells. BDNF-mediated cell motility and MMP-1 up-regulation were attenuated by Trk inhibitor (K252a), ASK1 inhibitor (thioredoxin), JNK inhibitor (SP600125), and p38 inhibitor (SB203580). Furthermore, BDNF also promoted Sp1 activation. Our results indicate that BDNF enhances the migration and invasion activity of chondrosarcoma cells by increasing MMP-1 expression through a signal transduction pathway that involves the TrkB receptor, ASK1, JNK/p38, and Sp1. BDNF thus represents a promising new target for treating chondrosarcoma metastasis.
View Full-Text
►

▼

Figures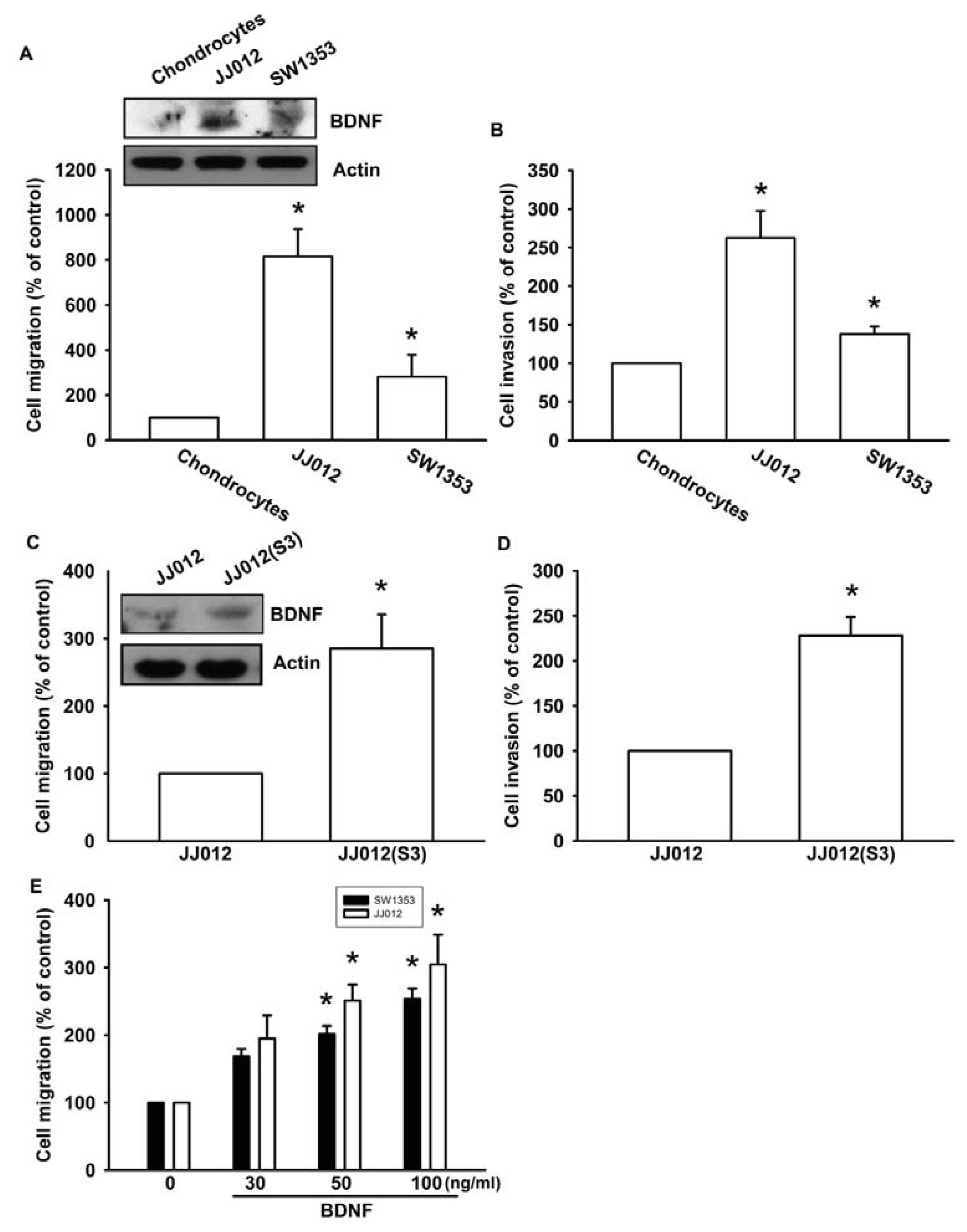 Share & Cite This Article
MDPI and ACS Style
Lin, C.-Y.; Chang, S.L.-Y.; Fong, Y.-C.; Hsu, C.-J.; Tang, C.-H. Apoptosis Signal-Regulating Kinase 1 Is Involved in Brain-Derived Neurotrophic Factor (BDNF)-Enhanced Cell Motility and Matrix Metalloproteinase 1 Expression in Human Chondrosarcoma Cells. Int. J. Mol. Sci. 2013, 14, 15459-15478.
Related Articles
Comments
[Return to top]