Interaction between Dipolar Lipid Headgroups and Charged Nanoparticles Mediated by Water Dipoles and Ions
1
SMARTEH Research and Development of Electronic Controlling and Regulating Systems, Trg tigrovcev 1, Tolmin SI-5220, Slovenia
2
Department of Food Science and Technology, Biotechnical Faculty, University of Ljubljana, Jamnikarjeva 101, Ljubljana SI-1000, Slovenia
3
Laboratory of Biophysics, Faculty of Electrical Engineering, University of Ljubljana, Tržaška 25, Ljubljana SI-1000, Slovenia
4
Jožef Stefan Institute, Jamova 39, Ljubljana SI-1000, Slovenia
5
Institute of Cell Biology, Faculty of Medicine, University of Ljubljana, Lipičeva 2, Ljubljana SI-1000, Slovenia
6
Laboratory of Clinical Biophysics, Faculty of Health Studies, University of Ljubljana, Zdravstvena 5, Ljubljana SI-1000, Slovenia
7
Laboratory of Clinical Biophysics, Chair of Orthopaedic Surgery, Faculty of Medicine, University of Ljubljana, Zaloška 9, Ljubljana SI-1000, Slovenia
*
Author to whom correspondence should be addressed.
Received: 10 April 2013 / Revised: 24 May 2013 / Accepted: 25 June 2013 / Published: 24 July 2013
Abstract
In this work, a theoretical model describing the interaction between a positivelyor negatively charged nanoparticle and neutral zwitterionic lipid bilayers is presented. It isshown that in the close vicinity of the positively charged nanoparticle, the zwitterionic lipidheadgroups are less extended in the direction perpendicular to the membrane surface, whilein the vicinity of the negatively charged nanoparticle, the headgroups are more extended.This result coincides with the calculated increase in the osmotic pressure between the zwitterionic lipid surface and positively charged nanoparticle and the decrease of osmoticpressure between the zwitterionic lipid surface and the negatively charged nanoparticle.Our theoretical predictions agree well with the experimentally determined fluidity of alipid bilayer membrane in contact with positively or negatively charged nanoparticles. Theprospective significance of the present work is mainly to contribute to better understandingof the interactions of charged nanoparticles with a zwitterionic lipid bilayer, which may beimportant in the efficient design of the lipid/nanoparticle nanostructures (like liposomes withencapsulated nanoparticles), which have diverse biomedical applications, including targetedtherapy (drug delivery) and imaging of cancer cells.
View Full-Text
►

▼

Figures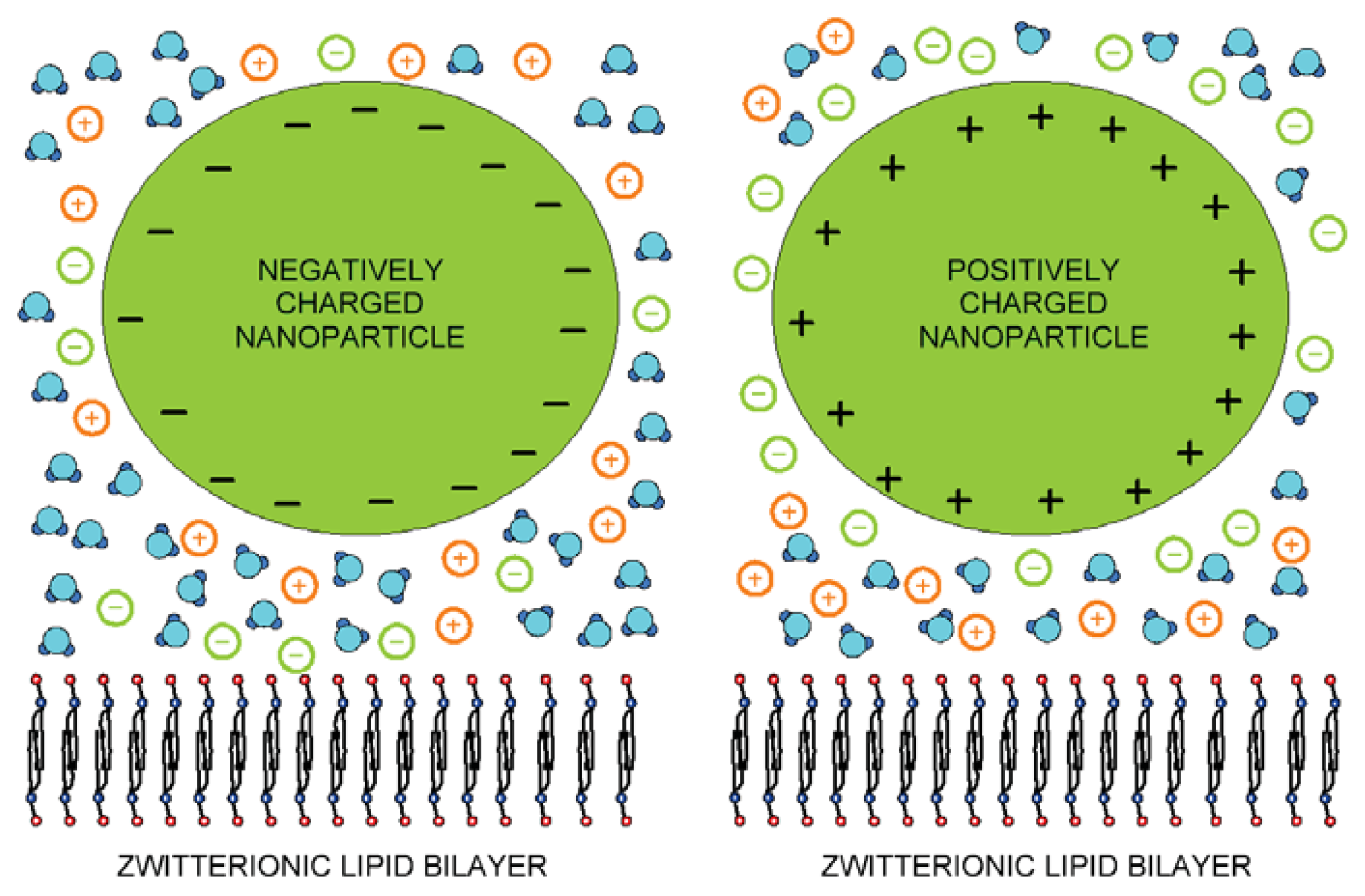 Share & Cite This Article
MDPI and ACS Style
Velikonja, A.; Santhosh, P.B.; Gongadze, E.; Kulkarni, M.; Eleršič, K.; Perutkova, Š.; Kralj-Iglič, V.; Ulrih, N.P.; Iglič, A. Interaction between Dipolar Lipid Headgroups and Charged Nanoparticles Mediated by Water Dipoles and Ions. Int. J. Mol. Sci. 2013, 14, 15312-15329.
Related Articles
Comments
[Return to top]