Ribosomal Initiation Complex Assembly within the Wild-Strain of Coxsackievirus B3 and Live-Attenuated Sabin3-like IRESes during the Initiation of Translation
1
Laboratoire des Maladies Transmissibles et Substances Biologiquement Actives (LR99-ES27), Faculté de Pharmacie de Monastir, Avenue Avicenne, Monastir 5000, Tunisia
2
Institut Supérieur de Biotechnologie de Monastir, Université de Monastir, Avenue Tahar Hadded, BP 74, Monastir 5000, Tunisia
3
Laboratoire de Cristallographie et RMN Biologiques (UMR 8015), Faculté de Pharmacie, Université Paris Descartes, 4 Avenue de l'Observatoire, Paris 75270 Cedex 06, France
*
Author to whom correspondence should be addressed.
Received: 17 January 2013 / Revised: 16 February 2013 / Accepted: 19 February 2013 / Published: 25 February 2013
Abstract
Coxsackievirus B3 (CVB3) is an enterovirus of the family of
Picornaviridae
. The Group B coxsackieviruses include six serotypes (B1 to B6) that cause a variety of human diseases, including myocarditis, meningitis, and diabetes. Among the group B, the B3 strain is mostly studied for its cardiovirulence and its ability to cause acute and persistent infections. Translation initiation of CVB3 RNA has been shown to be mediated by a highly ordered structure of the 5'-untranslated region (5'UTR), which harbors an internal ribosome entry site (IRES). Translation initiation is a complex process in which initiator tRNA, 40S and 60S ribosomal subunits are assembled by eukaryotic initiation factors (eIFs) into an 80S ribosome at the initiation codon of the mRNA. We have previously addressed the question of whether the attenuating mutations of domain V of the poliovirus IRES were specific for a given genomic context or whether they could be transposed and extrapolated to a genomic related virus,
i.e.
, CVB3 wild-type strain. In this context, we have described that
Sabin3-like
mutation (U
473
→C) introduced in CVB3 genome led to a defective mutant with a serious reduction in translation efficiency. In this study, we analyzed the efficiency of formation of ribosomal initiation complexes 48S and 80S through 10%–30% and 10%–50% sucrose gradients using rabbit reticulocyte lysates (RRLs) and stage-specific translation inhibitors: 5'-Guanylyl-imidodiphosphate (GMP-PNP) and Cycloheximide (CHX), respectively. We demonstrated that the interaction of 48S and 80S ribosomal complexes within the mutant CVB3 RNA was abolished compared with the wild-type RNA by ribosome assembly analysis. Taken together, it is possible that the mutant RNA was unable to interact with some trans-acting factors critical for enhanced IRES function.
View Full-Text
►

▼

Figures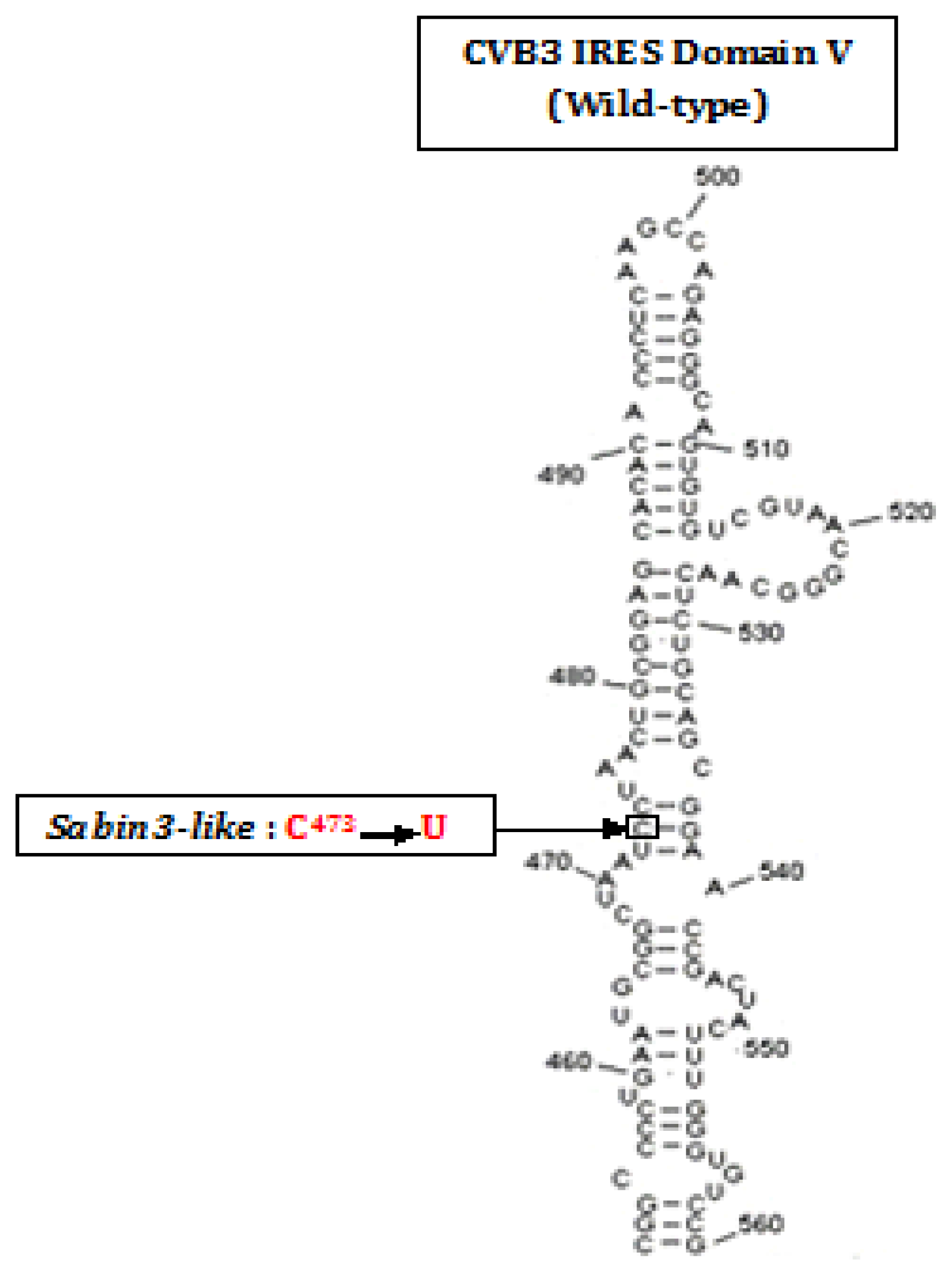 Share & Cite This Article
MDPI and ACS Style
Souii, A.; M'hadheb-Gharbi, M.B.; Sargueil, B.; Brossard, A.; Chamond, N.; Aouni, M.; Gharbi, J. Ribosomal Initiation Complex Assembly within the Wild-Strain of Coxsackievirus B3 and Live-Attenuated Sabin3-like IRESes during the Initiation of Translation. Int. J. Mol. Sci. 2013, 14, 4400-4418.
Related Articles
Comments
[Return to top]