Analysis of the Binding Sites of Porcine Sialoadhesin Receptor with PRRSV
1
Key Laboratory of Agricultural Animal Genetics, Breeding and Reproduction of the Ministry of Education, Huazhong Agricultural University, Wuhan 430070, Hubei, China
2
Royal Veterinary College, Hawkshead Lane, North Mymms, Hatfield, Hertfordshire AL9 7TA, UK
*
Authors to whom correspondence should be addressed.
Received: 13 September 2013 / Revised: 13 November 2013 / Accepted: 19 November 2013 / Published: 9 December 2013
Abstract
Porcine reproductive and respiratory syndrome virus (PRRSV) can infect pigs and cause enormous economic losses to the pig industry worldwide. Porcine sialoadhesin (pSN) and CD163 have been identified as key viral receptors on porcine alveolar macrophages (PAM), a main target cell infected by PRRSV. In this study, the protein structures of amino acids 1–119 from the pSN and cSN (cattle sialoadhesin)
N
-termini (excluding the 19-amino acid signal peptide) were modeled via homology modeling based on mSN (mouse sialoadhesin) template structures using bioinformatics tools. Subsequently, pSN and cSN homology structures were superposed onto the mSN protein structure to predict the binding sites of pSN. As a validation experiment, the SN
N
-terminus (including the wild-type and site-directed-mutant-types of pSN and cSN) was cloned and expressed as a SN-GFP chimera protein. The binding activity between SN and PRRSV was confirmed by WB (Western blotting), FAR-WB (far Western blotting), ELISA (enzyme-linked immunosorbent assay) and immunofluorescence assay. We found that the S107 amino acid residue in the pSN
N
-terminal played a crucial role in forming a special cavity, as well as a hydrogen bond for enhancing PRRSV binding during PRRSV infection. S107 may be glycosylated during PRRSV infection and may also be involved in forming the cavity for binding PRRSV along with other sites, including W2, Y44, S45, R97, R105, W106 and V109. Additionally, S107 might also be important for pSN binding with PRRSV. However, the function of these binding sites must be confirmed by further studies.
View Full-Text
►

▼

Figures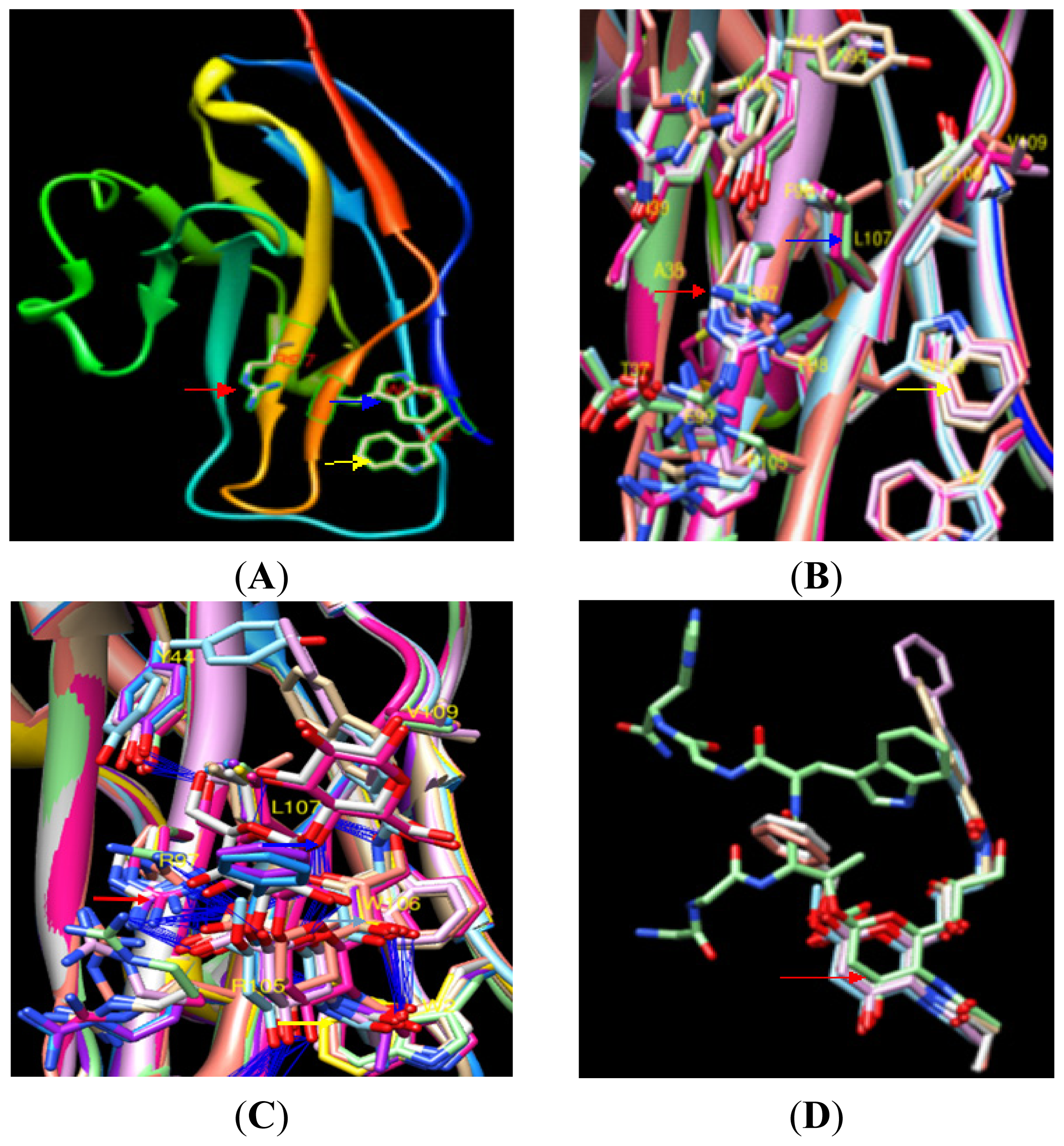 Share & Cite This Article
MDPI and ACS Style
Jiang, Y.; Khan, F.A.; Pandupuspitasari, N.S.; Kadariya, I.; Cheng, Z.; Ren, Y.; Chen, X.; Zhou, A.; Yang, L.; Kong, D.; Zhang, S. Analysis of the Binding Sites of Porcine Sialoadhesin Receptor with PRRSV. Int. J. Mol. Sci. 2013, 14, 23955-23979.
Related Articles
Comments
[Return to top]