Evaluation of Individual and Combined Applications of Serum Biomarkers for Diagnosis of Hepatocellular Carcinoma: A Meta-Analysis
1
Department of Gastroenterology, Shanghai First People's Hospital, School of Medicine, Shanghai Jiaotong University, 100 Haining Road, Shanghai 200080, China
2
Department of Gastroenterology, Shanghai Sixth People's Hospital, School of Medicine, Shanghai Jiaotong University, 600 Yishan Road, Shanghai 200233, China
†
These authors contributed equally to this work.
*
Author to whom correspondence should be addressed.
Received: 10 September 2013 / Revised: 31 October 2013 / Accepted: 7 November 2013 / Published: 2 December 2013
Abstract
The clinical value of Serum alpha-fetoprotein (AFP) to detect early hepatocellular carcinoma (HCC) has been questioned due to its low sensitivity and specificity found in recent years. Other than AFP, several new serum biomarkers including the circulating AFP isoform AFP-L3, des-gamma-carboxy prothrombin (DCP) and Golgi protein-73 (GP73) have been identified as useful HCC markers. In this investigation, we review the current knowledge about these HCC-related biomarkers, and sum up the results of our meta-analysis on studies that have addressed the utility of these biomarkers in early detection and prognostic prediction of HCC. A systematic search in PubMed, Web of Science, and the Cochrane Library was performed for articles published in English from 1999 to 2012, focusing on serum biomarkers for HCC detection. Data on sensitivity and specificity of tests were extracted from 40 articles that met the inclusion criteria, and the summary receiver operating characteristic curve (sROC) was obtained. A meta-analysis was carried out in which the area under the curve (AUC) for each biomarker or biomarker combinations (AFP, DCP, GP73, AFP-L3, AFP + DCP, AFP + AFP-L3, and AFP + GP73) was used to compare the diagnostic accuracy of different biomarker tests. The AUC of AFP, DCP, GP73, AFP-L3, AFP + DCP, AFP + AFP-L3, and AFP + GP73 are 0.835, 0.797, 0.914, 0.710, 0.874, 0.748, and 0.932 respectively. A combination of AFP + GP73 is superior to AFP in detecting HCC and differentiating HCC patients from non-HCC patients, and may prove to be a useful marker in the diagnosis and screening of HCC. In addition, the AUC of GP73, AFP + DCP and AFP + GP73 are better than that of AFP. The clinical value of GP73, AFP + DCP, or AFP + GP73 as serological markers for HCC diagnosis needs to be addressed further in future studies.
View Full-Text
►

▼

Figures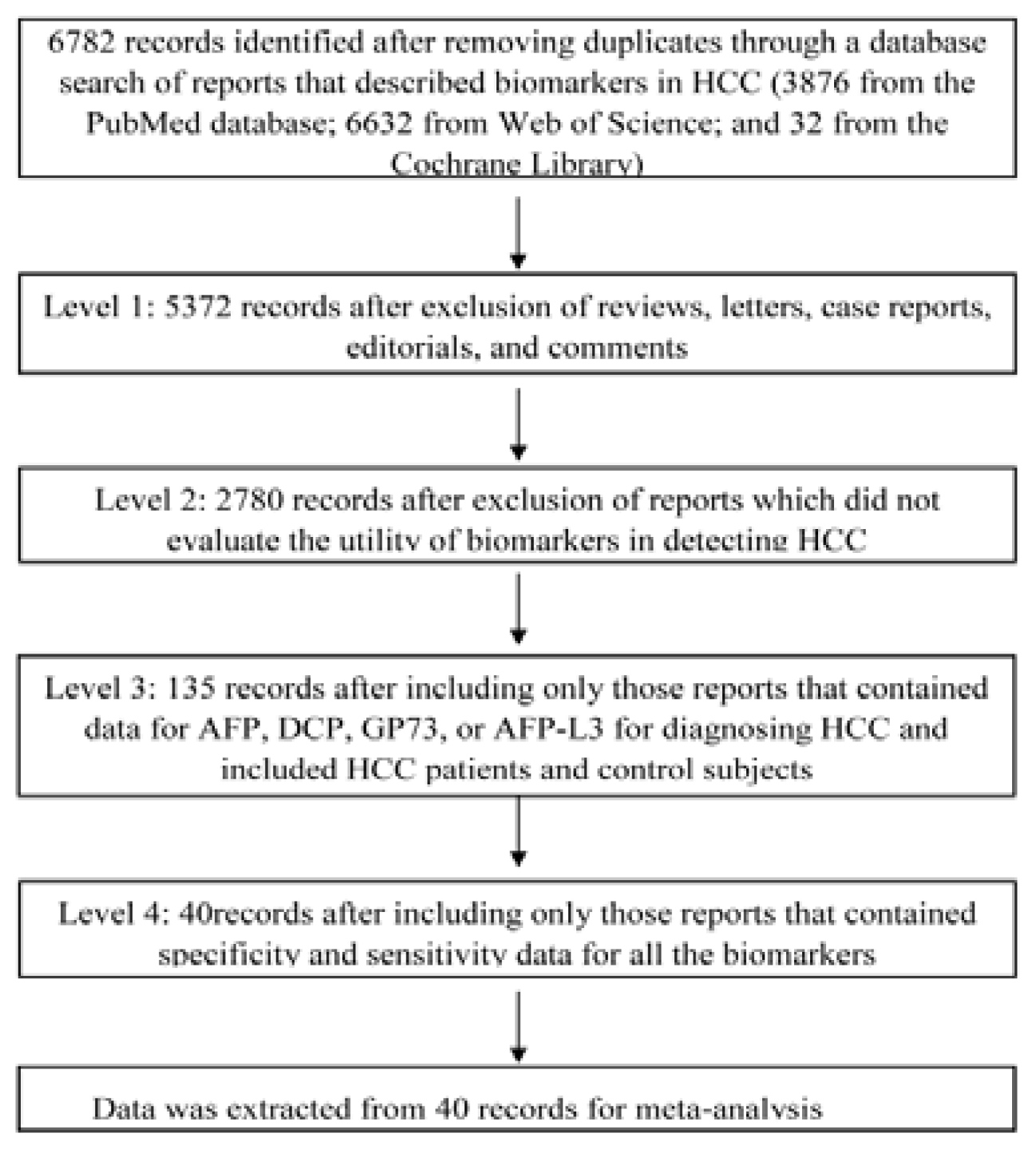 Share & Cite This Article
MDPI and ACS Style
Hu, B.; Tian, X.; Sun, J.; Meng, X. Evaluation of Individual and Combined Applications of Serum Biomarkers for Diagnosis of Hepatocellular Carcinoma: A Meta-Analysis. Int. J. Mol. Sci. 2013, 14, 23559-23580.
Related Articles
Comments
[Return to top]