A Soluble Receptor for Advanced Glycation End-Products Inhibits Hypoxia/Reoxygenation-Induced Apoptosis in Rat Cardiomyocytes via the Mitochondrial Pathway
1
Department of Cardiology, Beijing Tian Tan Hospital, Capital Medical University, Beijing 100050, China
2
Department of Pathophysiology, Capital Medical University, Beijing 100069, China
†
These authors contributed equally to this work.
*
Author to whom correspondence should be addressed.
Received: 28 June 2012 / Revised: 5 September 2012 / Accepted: 11 September 2012 / Published: 20 September 2012
Abstract
Severe myocardial dysfunction and tissue damage resulting from ischemia/reperfusion (I/R) is a common clinical scenario in patients with certain types of heart diseases and therapies such as thrombolysis, percutaneous coronary intervention, coronary artery bypass grafting, and cardiac transplantation. The underlining mechanism of endogenous cardiac protection after I/R injury has been a focus of current research. Growing evidences suggests that soluble receptor for advanced glycation end-products (sRAGE) has a cardioprotective effect; however, its role in I/R injury remains unclear. We hypothesized that exogenous administration of sRAGE during hypoxia/reoxygenation (H/R) induces cardioprotection by inhibiting cardiomyocyte apoptosis via multiple signals, involving mitochondrial membrane potential (MMP), the mitochondrial permeability transition pore (mPTP), mitochondrial cytochrome c, caspase-3, Bcl-2 and Bax. Neonatal rat cardiomyocytes underwent hypoxia for 3-h followed by 2-h reoxygenation or were treated with sRAGE for 10 min before H/R. Compared with H/R alone, sRAGE pretreatment reduced H/R-induced cardiomyocyte apoptosis from 27.9% ± 5.9% to 9.4% ± 0.7% (
p
< 0.05). In addition, sRAGE treatment significantly inhibited H/R-induced mitochondrial depolarization and mPTP opening, reduced mitochondrial cytochrome c leakage, caspase-3 and caspase-9 activity, and decreased the ratio of Bax to Bcl-2. Therefore, we conclude that the exogenous administration of sRAGE during H/R is involved in cardioprotection by inhibiting apoptosis via the mitochondrial pathway, which, if further confirmed
in vivo
, may have important clinical implications during H/R.
View Full-Text
►

▼

Figures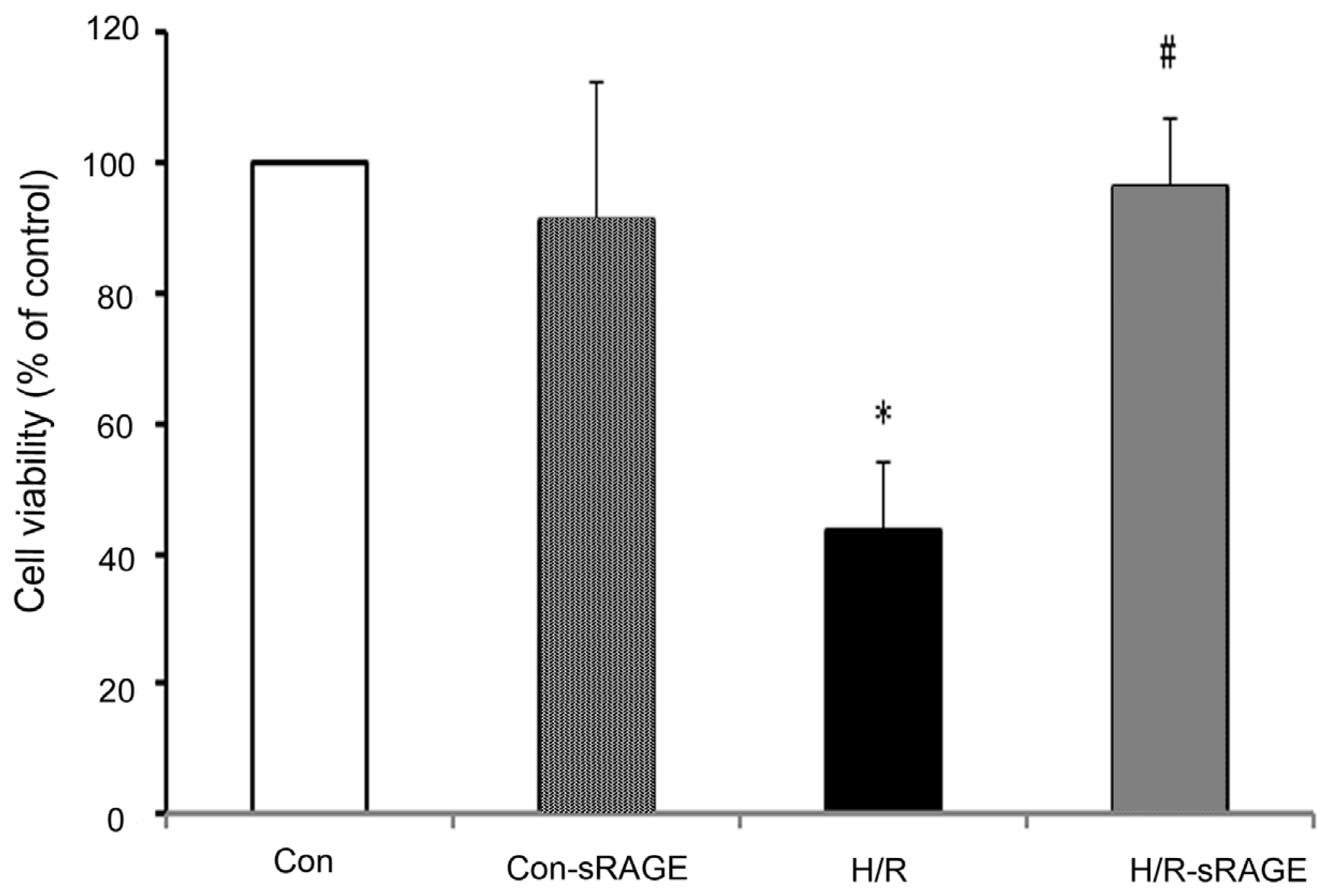 Share & Cite This Article
MDPI and ACS Style
Guo, C.; Zeng, X.; Song, J.; Zhang, M.; Wang, H.; Xu, X.; Du, F.; Chen, B. A Soluble Receptor for Advanced Glycation End-Products Inhibits Hypoxia/Reoxygenation-Induced Apoptosis in Rat Cardiomyocytes via the Mitochondrial Pathway. Int. J. Mol. Sci. 2012, 13, 11923-11940.
Related Articles
Comments
[Return to top]