Polystyrene Attached Pt(IV)–Azomethine, Synthesis and Immobilization of Glucose Oxidase Enzyme
1
Department of Chemistry, Faculty of Science, Gazi University, Ankara 06500, Turkey
2
Department of Chemistry, Faculty of Arts and Science, Nevşehir University, Nevşehir 50300, Turkey
3
Department of Chemistry, Faculty of Science, Kırklareli University, Kırklareli 39999, Turkey
*
Author to whom correspondence should be addressed.
Received: 16 July 2012 / Revised: 27 August 2012 / Accepted: 3 September 2012 / Published: 19 September 2012
Abstract
Modified polystyrene with Pt(IV)–azomethine (APS–Sch–Pt) was synthesized by means of condensation and demonstrated to be a promising enzyme support by studying the enzymatic properties of glucose oxidase enzyme (GOx) immobilized on it. The characteristics of the immobilized glucose oxidase (APS–Sch–Pt–GOx) enzyme showed two optimum pH values that were pH = 4.0 and pH = 7. The insertion of stable Pt(IV)–azomethine spacers between the polystyrene backbone and the immobilized GOx, (APS–Sch–Pt–GOx), increases the enzymes' activity and improves their affinity towards the substrate even at pH = 4. The influence of temperature, reusability and storage capacity on the free and immobilized glucose oxidase enzyme was investigated. The storage stability of the immobilized glucose oxidase was shown to be eleven months in dry conditions at +4 °C.
View Full-Text
►

▼

Figures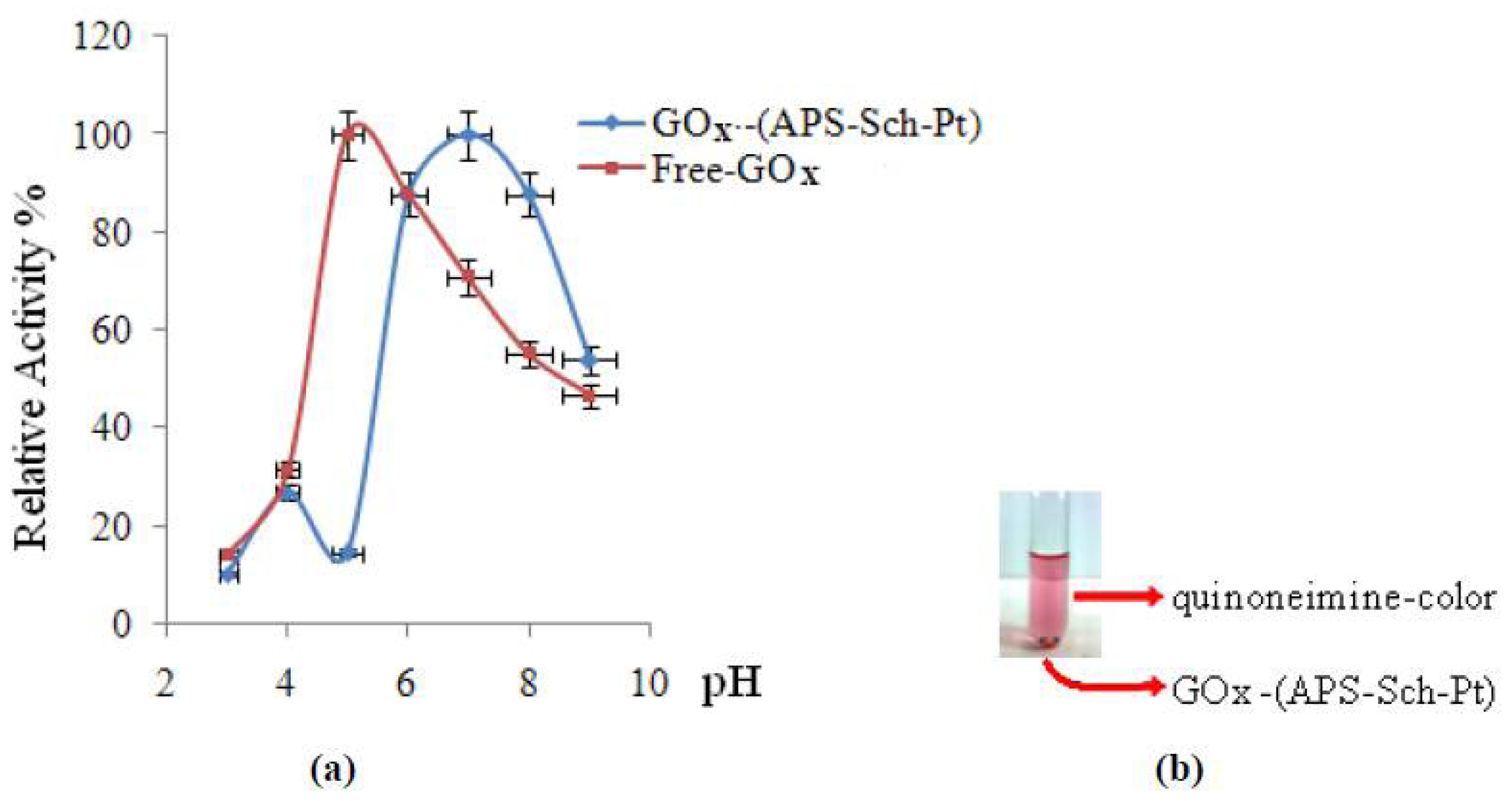 Share & Cite This Article
MDPI and ACS Style
Sari, N.; Antepli, E.; Nartop, D.; Yetim, N.K. Polystyrene Attached Pt(IV)–Azomethine, Synthesis and Immobilization of Glucose Oxidase Enzyme. Int. J. Mol. Sci. 2012, 13, 11870-11880.
Related Articles
Comments
[Return to top]