2,3-Dihydro-1H-cyclopenta[b]quinoline Derivatives as Acetylcholinesterase Inhibitors—Synthesis, Radiolabeling and Biodistribution
1
Department of Pharmaceutical Chemistry and Drug Analyses, Medical University, ul. Muszyńskiego 1, Lodz 90-151, Poland
2
Faculty of Pharmacy in Hradec Kralove, Charles University in Prague, Heyrovskeho 1203, Hradec Kralove CZ-50005, Czech Republic
3
Department of Physicochemical Drug Analysis, Faculty of Pharmacy, Jagiellonian University Medical College, Medyczna 9, Krakow 30-688, Poland
*
Author to whom correspondence should be addressed.
Received: 14 June 2012 / Revised: 7 July 2012 / Accepted: 6 August 2012 / Published: 13 August 2012
Abstract
In the present study we describe the synthesis and biological assessment of new tacrine analogs in the course of inhibition of acetylcholinesterase. The obtained molecules were synthesized in a condensation reaction between activated 6-BOC-hydrazinopyridine-3-carboxylic acid and 8-aminoalkyl derivatives of 2,3-dihydro-1
H
-cyclopenta[b]quinoline. Activities of the newly synthesized compounds were estimated by means of Ellman's method. Compound
6h
(IC
50
= 3.65 nM) was found to be most active. All obtained novel compounds present comparable activity to that of tacrine towards acetylcholinesterase (AChE) and, simultaneously, lower activity towards butyrylcholinesterase (BChE). Apart from
6a
, all synthesized compounds are characterized by a higher affinity for AChE and a lower affinity for BChE in comparison with tacrine. Among all obtained molecules, compound
6h
presented the highest selectivity towards inhibition of acetylcholinesterase. Molecular modeling showed that all compounds demonstrated a similar binding mode with AChE and interacted with catalytic and peripheral sites of AChE. Also, a biodistribution study of compound
6a
radiolabeled with
99m
Tc was performed.
View Full-Text
►

▼

Figures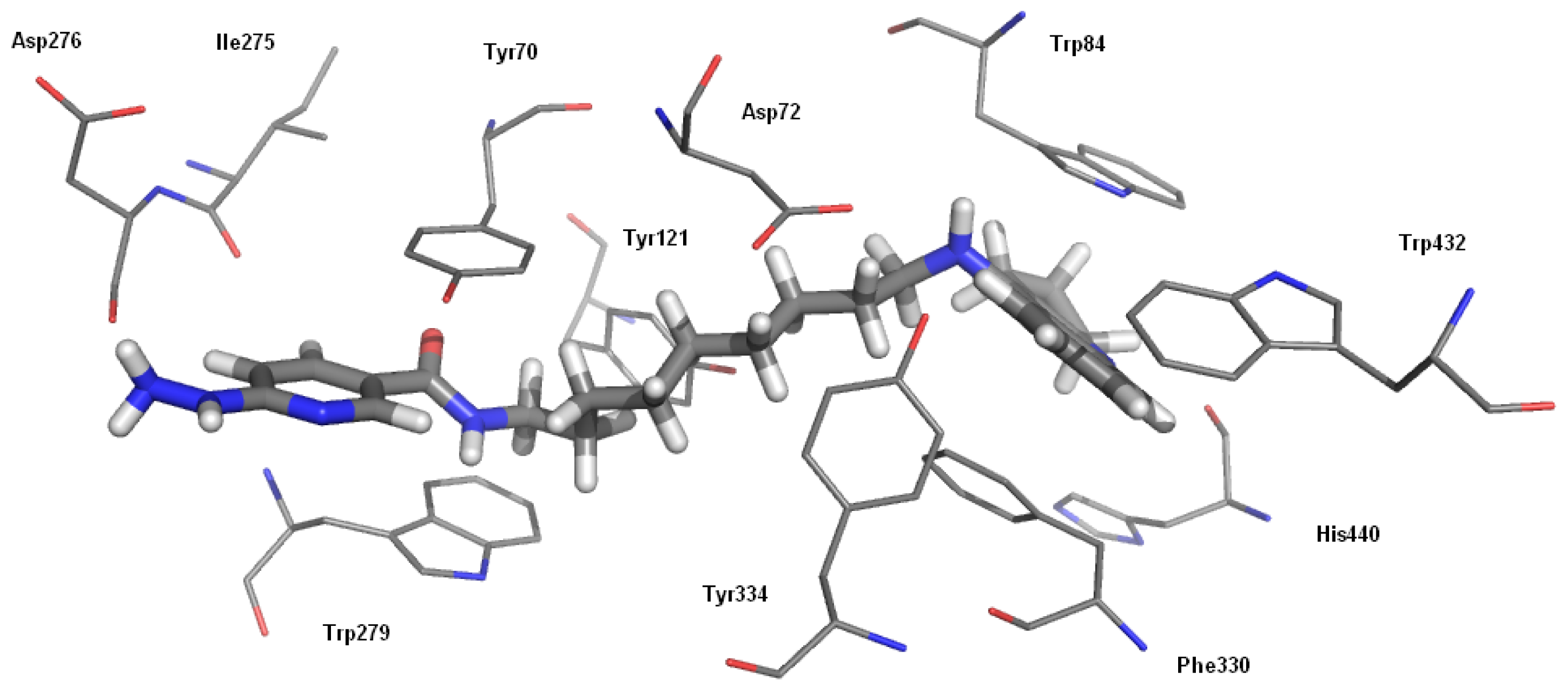 Share & Cite This Article
MDPI and ACS Style
Szymański, P.; Lázničková, A.; Lázniček, M.; Bajda, M.; Malawska, B.; Markowicz, M.; Mikiciuk-Olasik, E. 2,3-Dihydro-1H-cyclopenta[b]quinoline Derivatives as Acetylcholinesterase Inhibitors—Synthesis, Radiolabeling and Biodistribution. Int. J. Mol. Sci. 2012, 13, 10067-10090.
Related Articles
Comments
[Return to top]