Activation of Propane C-H and C-C Bonds by Gas-Phase Pt Atom: A Theoretical Study
1
College of Chemical Engineering, Sichuan University, Chengdu, Sichuan, 610065, China
2
Key Laboratory of Green Chemistry and Technology, Ministry of Education, College of Chemistry, Sichuan University, Chengdu 610064, China
*
Author to whom correspondence should be addressed.
Received: 7 May 2012 / Revised: 20 June 2012 / Accepted: 16 July 2012 / Published: 24 July 2012
Abstract
The reaction mechanism of the gas-phase Pt atom with C
3
H
8
has been systematically investigated on the singlet and triplet potential energy surfaces at CCSD(T)//BPW91/6-311++G(d, p), Lanl2dz level. Pt atom prefers the attack of primary over secondary C-H bonds in propane. For the Pt + C
3
H
8
reaction, the major and minor reaction channels lead to PtC
3
H
6
+ H
2
and PtCH
2
+ C
2
H
6
, respectively, whereas the possibility to form products PtC
2
H
4
+ CH
4
is so small that it can be neglected. The minimal energy reaction pathway for the formation of PtC
3
H
6
+ H
2
, involving one spin inversion, prefers to start at the triplet state and afterward proceed along the singlet state. The optimal C-C bond cleavages are assigned to C-H bond activation as the first step, followed by cleavage of a C-C bond. The C-H insertion intermediates are kinetically favored over the C-C insertion intermediates. From C-C to C-H oxidative insertion, the lowering of activation barrier is mainly caused by the more stabilizing transition state interaction Δ
E
≠
int
, which is the actual interaction energy between the deformed reactants in the transition state.
View Full-Text
►

▼

Figures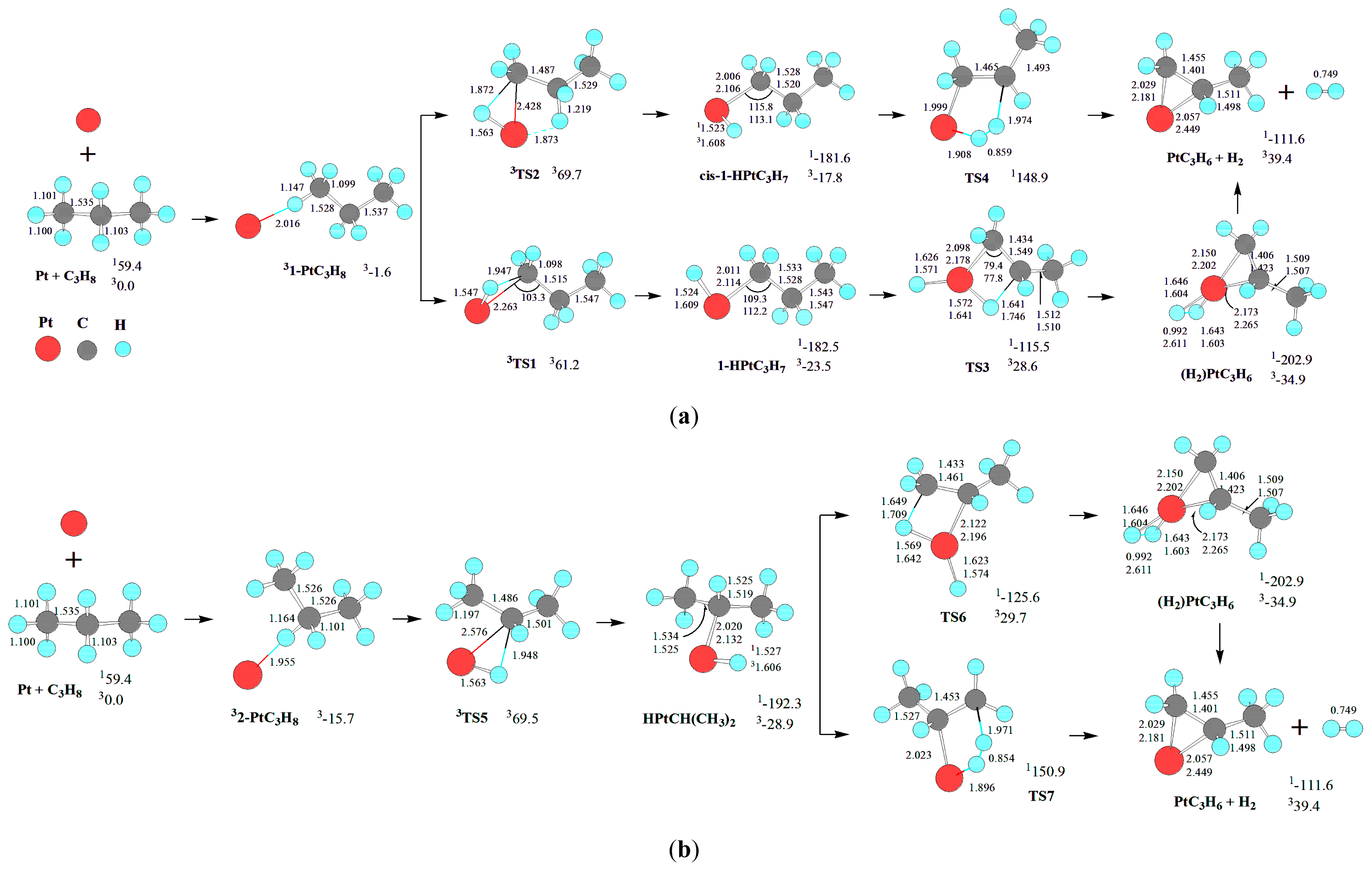 Share & Cite This Article
MDPI and ACS Style
Li, F.-M.; Yang, H.-Q.; Ju, T.-Y.; Li, X.-Y.; Hu, C.-W. Activation of Propane C-H and C-C Bonds by Gas-Phase Pt Atom: A Theoretical Study. Int. J. Mol. Sci. 2012, 13, 9278-9297.
Related Articles
Comments
[Return to top]