Synthesis and Characterization of Hybrid Materials Consisting of n-octadecyltriethoxysilane by Using n-Hexadecylamine as Surfactant and Q0 and T0 Cross-Linkers
1
Department of Chemistry, Science College, King Saud University, P.O. Box 2455, Riyadh 11451, Saudi Arabia
2
Electron Microscope Unit, Zoology Department, College of Science, King Saud University, Riyadh 11451, Kingdom of Saudi Arabia
3
Electron Microscope & Thin Films Department, Physics Division, National Research Center, Dokki 12622, Cairo, Egypt
4
Department of Chemistry, Science College, AN-Najah National University, P.O. Box 7, Nablus 00972, Palestine Territories
5
Chemistry Department, Faculty of Science, Benghazi University, P. O. Box 1308, Benghazi, 22385, Libya
6
Materials Chemistry Laboratory, Faculty of Sciences, University of Mohammed Premier, Oujda-60000, Morocco
*
Author to whom correspondence should be addressed.
Received: 12 April 2012 / Revised: 3 May 2012 / Accepted: 10 May 2012 / Published: 21 May 2012
Abstract
Novel hybrid xerogel materials were synthesized by a sol-gel procedure.
n-
octadecyltriethoxysilane was co-condensed with and without different cross-linkers using
Q0
and
T0
mono-functionalized organosilanes in the presence of
n
-hexadecylamine with different hydroxyl silica functional groups at the surface. These polymer networks have shown new properties, for example, a high degree of cross-linking and hydrolysis. Two different synthesis steps were carried out: simple self-assembly followed by sol-gel transition and precipitation of homogenous sols. Due to the lack of solubility of these materials, the compositions of the new materials were determined by infrared spectroscopy,
13
C and
29
Si CP/MAS NMR spectroscopy and scanning electron microscopy.
View Full-Text
►

▼

Figures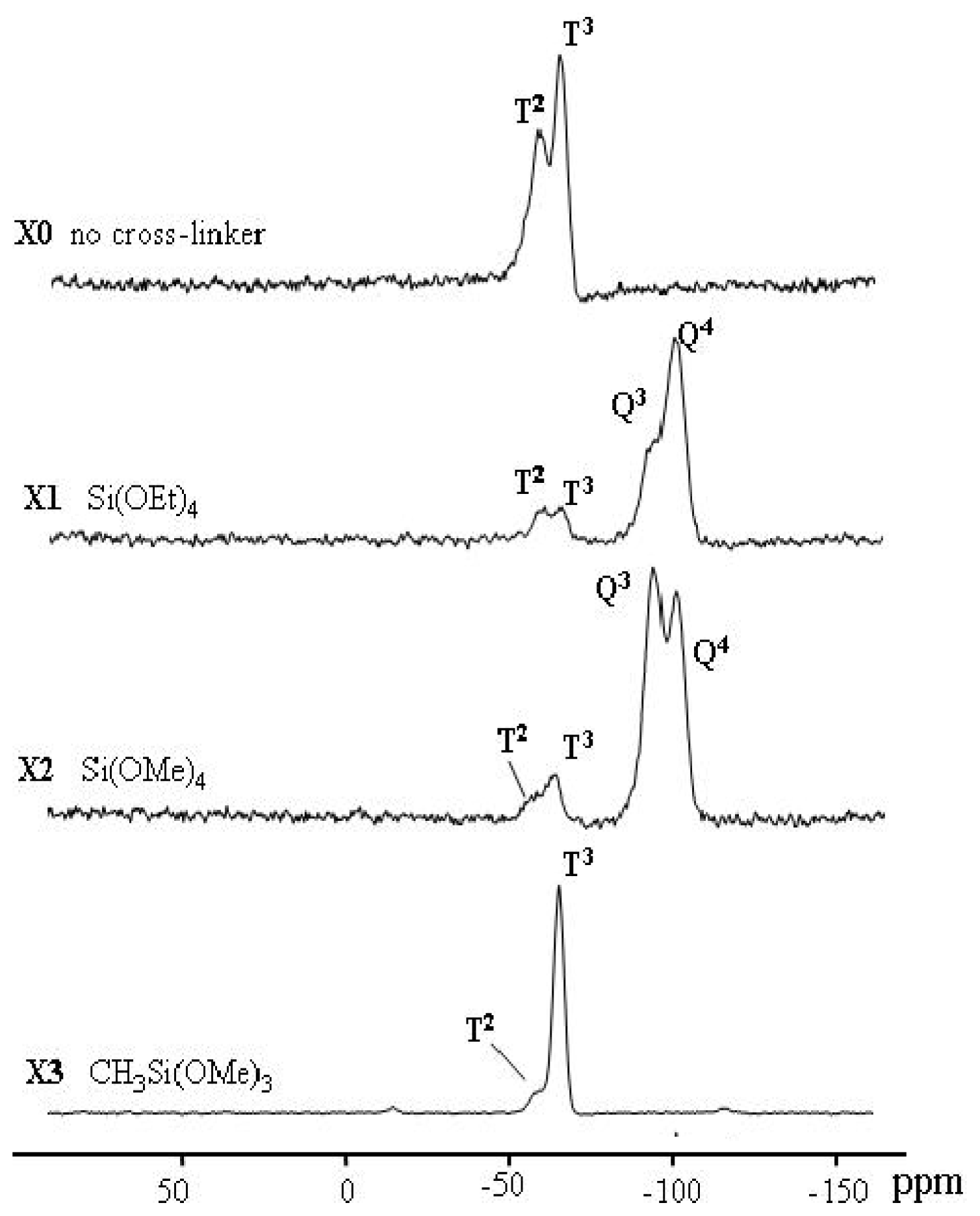 Share & Cite This Article
MDPI and ACS Style
Warad, I.; H, O.-E.; Al-Resayes, S.; Husein, A.; Al-Nuri, M.; Boshaala, A.; Al-Zaqri, N.; Hadda, T.B. Synthesis and Characterization of Hybrid Materials Consisting of n-octadecyltriethoxysilane by Using n-Hexadecylamine as Surfactant and Q0 and T0 Cross-Linkers. Int. J. Mol. Sci. 2012, 13, 6279-6291.
Related Articles
Comments
[Return to top]