A Combined DNA-Affinic Molecule and N-Mustard Alkylating Agent Has an Anti-Cancer Effect and Induces Autophagy in Oral Cancer Cells
1
Division of Oral and Maxillofacial Surgery, Department of Stomatology, Taipei Veterans General Hospital, Taipei 11217, Taiwan
2
Department of Dentistry, Institute of Oral Biology, School of Dentistry, National Yang-Ming University, Taipei 11217 Taiwan
3
Laryngology and Head and Neck Surgery, Department of Otolaryngology, Taipei Veterans General Hospital, Taipei 11217 Taiwan
4
Institute of Biomedical Sciences, Academia Sinica, Taipei 115, Taiwan
5
Institute of Clinical Medicine, National Yang-Ming University, Taipei 11217 Taiwan
6
Department of Medical Research and Education, Taipei Veterans General Hospital, Taipei 11217, Taiwan
7
Cancer Center, Taipei Veterans General Hospital, Taipei 11217, Taiwan
8
Department of Surgery, Taipei Veterans General Hospital, Taipei 11217, Taiwan
*
Authors to whom correspondence should be addressed.
Received: 2 November 2011 / Revised: 7 January 2012 / Accepted: 21 February 2012 / Published: 9 March 2012
Abstract
Although surgery or the combination of chemotherapy and radiation are reported to improve the quality of life and reduce symptoms in patients with oral cancer, the prognosis of oral cancer remains generally poor. DNA alkylating agents, such as N-mustard, play an important role in cancer drug development. BO-1051 is a new 9-anilinoacridine N-mustard-derivative anti-cancer drug that can effectively target a variety of cancer cell lines and inhibit tumorigenesis
in vivo
. However, the underlying mechanism of BO-1051-mediated tumor suppression remains undetermined. In the present study, BO-1051 suppressed cell viability with a low IC
50
in oral cancer cells, but not in normal gingival fibroblasts. Cell cycle analysis revealed that the tumor suppression by BO-1051 was accompanied by cell cycle arrest and downregulation of stemness genes. The enhanced conversion of LC3-I to LC3-II and the formation of acidic vesicular organelles indicated that BO-1501 induced autophagy. The expression of checkpoint kinases was upregulated as demonstrated with Western blot analysis, showing that BO-1051 could induce DNA damage and participate in DNA repair mechanisms. Furthermore, BO-1051 treatment alone exhibited a moderate tumor suppressive effect against xenograft tumor growth in immunocompromised mice. Importantly, the combination of BO-1051 and radiation led to a potent inhibition on xenograft tumorigenesis. Collectively, our findings demonstrated that BO-1051 exhibited a cytotoxic effect via cell cycle arrest and the induction of autophagy. Thus, the combination of BO-1051 and radiotherapy may be a feasible therapeutic strategy against oral cancer in the future.
View Full-Text
►

▼

Figures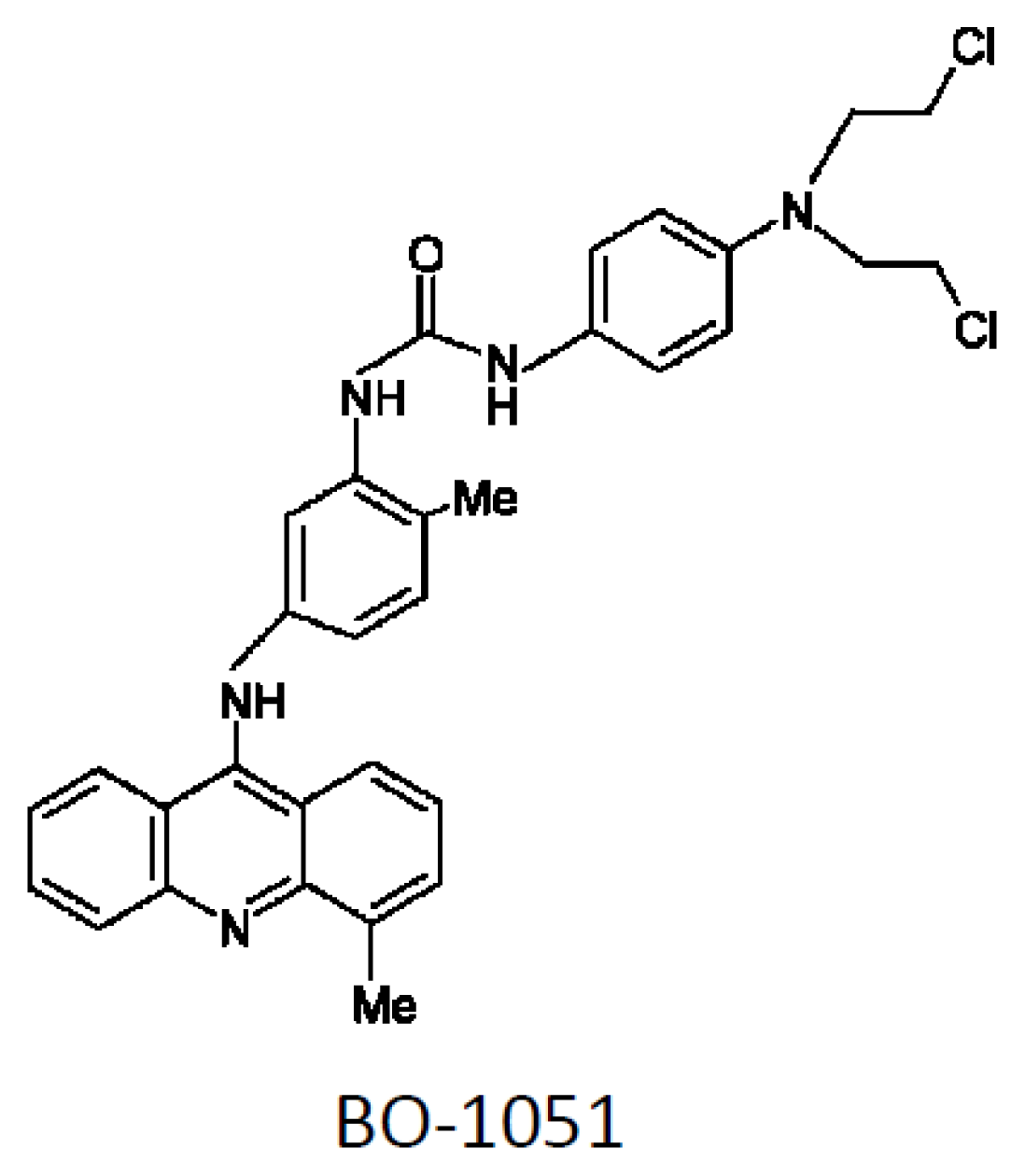 Share & Cite This Article
MDPI and ACS Style
Lo, W.-L.; Chu, P.-Y.; Lee, T.-H.; Su, T.-L.; Chien, Y.; Chen, Y.-W.; Huang, P.-I.; Tseng, L.-M.; Tu, P.-H.; Kao, S.-Y.; Lo, J.-F. A Combined DNA-Affinic Molecule and N-Mustard Alkylating Agent Has an Anti-Cancer Effect and Induces Autophagy in Oral Cancer Cells. Int. J. Mol. Sci. 2012, 13, 3277-3290.
Related Articles
Comments
[Return to top]