Flavonoid Biosynthesis Genes Putatively Identified in the Aromatic Plant Polygonum minus via Expressed Sequences Tag (EST) Analysis
1
Institute of Systems Biology (INBIOSIS), Universiti Kebangsaan Malaysia, 43600 Bangi Selangor, Malaysia
2
School of Biosciences and Biotechnology, Faculty of Science and Technology, Universiti Kebangsaan Malaysia,43600 Bangi Selangor, Malaysia
*
Author to whom correspondence should be addressed.
Received: 11 January 2012 / Revised: 31 January 2012 / Accepted: 2 February 2012 / Published: 28 February 2012
Abstract
P. minus
is an aromatic plant, the leaf of which is widely used as a food additive and in the perfume industry. The leaf also accumulates secondary metabolites that act as active ingredients such as flavonoid. Due to limited genomic and transcriptomic data, the biosynthetic pathway of flavonoids is currently unclear. Identification of candidate genes involved in the flavonoid biosynthetic pathway will significantly contribute to understanding the biosynthesis of active compounds. We have constructed a standard cDNA library from
P. minus
leaves, and two normalized full-length enriched cDNA libraries were constructed from stem and root organs in order to create a gene resource for the biosynthesis of secondary metabolites, especially flavonoid biosynthesis. Thus, large‑scale sequencing of
P. minus
cDNA libraries identified 4196 expressed sequences tags (ESTs) which were deposited in dbEST in the National Center of Biotechnology Information (NCBI). From the three constructed cDNA libraries, 11 ESTs encoding seven genes were mapped to the flavonoid biosynthetic pathway. Finally, three flavonoid biosynthetic pathway-related ESTs
chalcone synthase
,
CHS (JG745304),
flavonol synthase
,
FLS (JG705819) and
leucoanthocyanidin dioxygenase
,
LDOX (JG745247) were selected for further examination by quantitative RT-PCR (qRT-PCR) in different
P. minus
organs. Expression was detected in leaf, stem and root. Gene expression studies have been initiated in order to better understand the underlying physiological processes.
View Full-Text
►

▼

Figures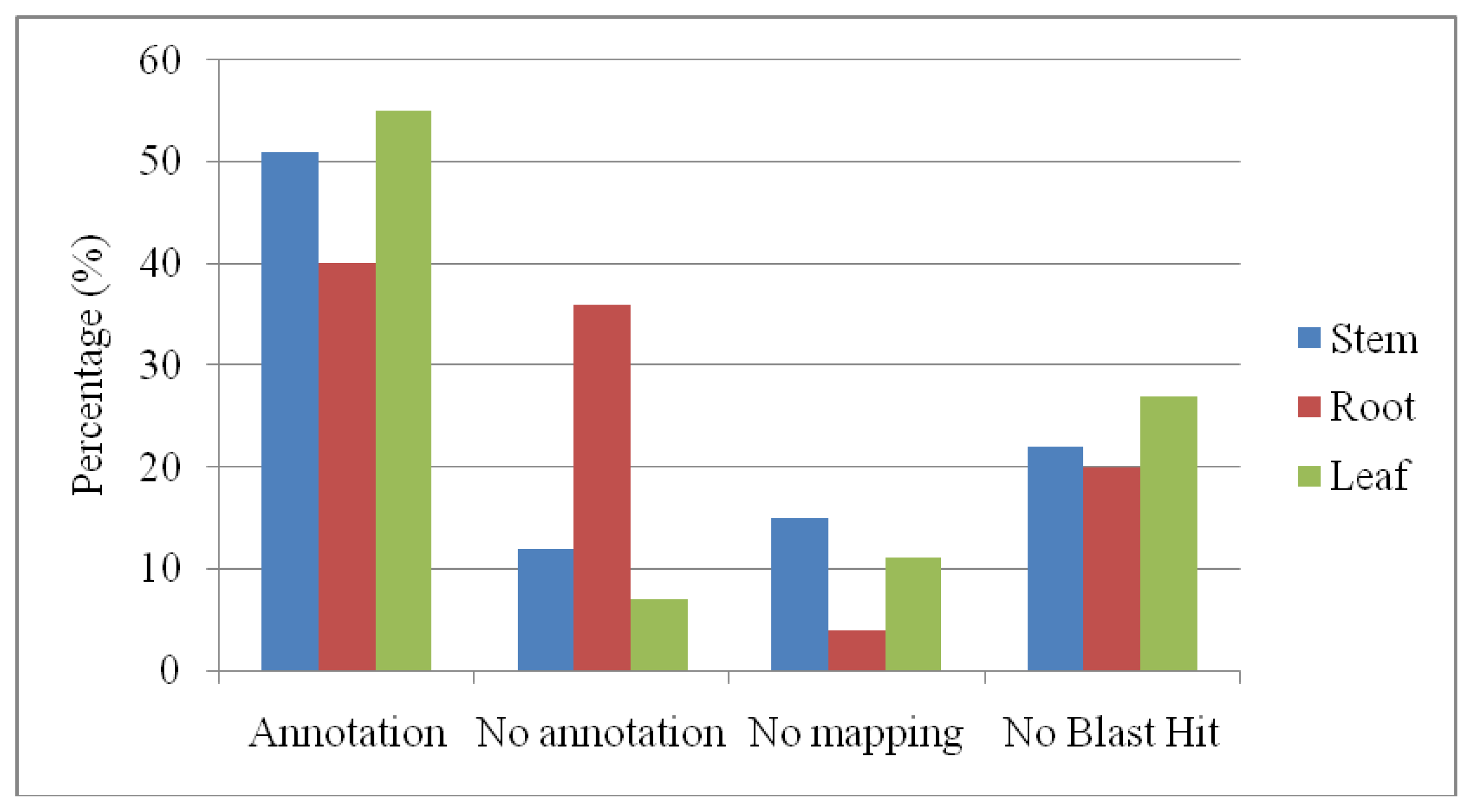 Share & Cite This Article
MDPI and ACS Style
Roslan, N.D.; Yusop, J.M.; Baharum, S.N.; Othman, R.; Mohamed-Hussein, Z.-A.; Ismail, I.; Noor, N.M.; Zainal, Z. Flavonoid Biosynthesis Genes Putatively Identified in the Aromatic Plant Polygonum minus via Expressed Sequences Tag (EST) Analysis. Int. J. Mol. Sci. 2012, 13, 2692-2706.
Related Articles
Comments
[Return to top]