Sequence Analysis and Potentials of the Native RbcS Promoter in the Development of an Alternative Eukaryotic Expression System Using Green Microalga Ankistrodesmus convolutus
1
Department of Cell and Molecular Biology, Faculty of Biotechnology and Biomolecular Sciences, Universiti Putra Malaysia, 43400 UPM-Serdang, Selangor Darul Ehsan, Malaysia
2
Rubber Research Institute of Vietnam, 236Bis Nam Ky Khoi Nghia, District 3, Ho Chi Minh City, Vietnam
3
Department of Biology, Faculty of Science, Universiti Putra Malaysia, 43400 UPM-Serdang, Selangor Darul Ehsan, Malaysia
*
Author to whom correspondence should be addressed.
Received: 23 December 2011 / Revised: 2 February 2012 / Accepted: 5 February 2011 / Published: 28 February 2012
Abstract
The availability of highly active homologous promoters is critical in the development of a transformation system and improvement of the transformation efficiency. To facilitate transformation of green microalga
Ankistrodesmus convolutus
which is considered as a potential candidate for many biotechnological applications, a highly-expressed native promoter sequence of ribulose-1,5-bisphosphate carboxylase/oxygenase small subunit (
AcRbcS
) has been used to drive the expression of β-glucuronidase
(
gusA
) gene in this microalga. Besides the determination of the transcription start site by 5¢-RACE, sequence analysis revealed that
AcRbcS
promoter contained consensus TATA-box and several putative
cis
-acting elements, including some representative light-regulatory elements (e.g., G-box, Sp1 motif and SORLIP2), which confer light responsiveness in plants, and several potential conserved motifs (e.g., CAGAC-motif, YCCYTGG-motifs and CACCACA-motif), which may be involved in light responsiveness of
RbcS
gene in green microalgae. Using
AcRbcS
promoter::gusA translational fusion, it was demonstrated that this promoter could function as a light-regulated promoter in transgenic
A. convolutus
, which suggested that the isolated
AcRbcS
promoter was a full and active promoter sequence that contained all
cis
-elements required for developmental and light-mediated control of gene expression, and this promoter can be used to drive the expression of heterologous genes in
A. convolutus
. This achievement therefore advances the development of
A. convolutus
as an alternative expression system for the production of recombinant proteins. This is the first report on development of gene manipulation system for unicellular green alga
A. convolutus
.
View Full-Text
►

▼

Figures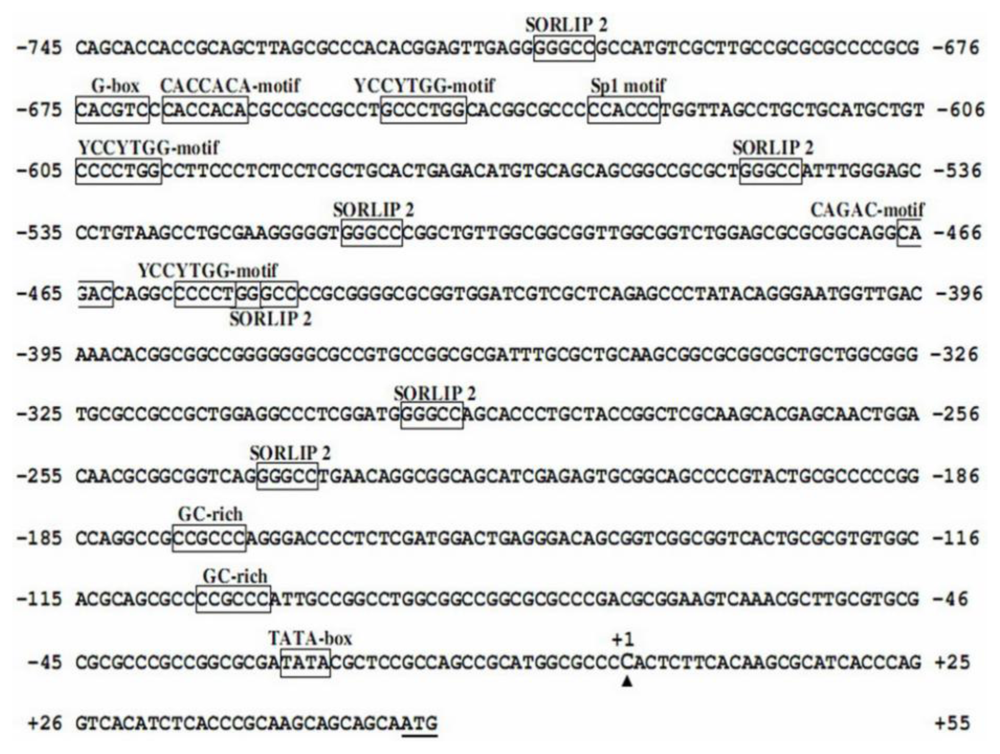 Share & Cite This Article
MDPI and ACS Style
Thanh, T.; Chi, V.T.Q.; Omar, H.; Abdullah, M.P.; Napis, S. Sequence Analysis and Potentials of the Native RbcS Promoter in the Development of an Alternative Eukaryotic Expression System Using Green Microalga Ankistrodesmus convolutus. Int. J. Mol. Sci. 2012, 13, 2676-2691.
Related Articles
Comments
[Return to top]