Bufalin Induces Lung Cancer Cell Apoptosis via the Inhibition of PI3K/Akt Pathway
1
Department of Oncology, the First Affiliated Hospital of Liaoning Medical University, Jinzhou, Liaoning 121001, China
2
Department of Oncology, the First Affiliated Hospital of Chinese Medical University, Shenyang, Liaoning 120000, China
*
Author to whom correspondence should be addressed.
Received: 13 January 2012 / Revised: 1 February 2012 / Accepted: 2 February 2012 / Published: 14 February 2012
Abstract
Bufalin is a class of toxic steroids which could induce the differentiation and apoptosis of leukemia cells, and induce the apoptosis of gastric, colon and breast cancer cells. However, the anti-tumor effects of bufalin have not been demonstrated in lung cancer. In this study we used A549 human lung adenocarcinoma epithelial cell line as the experimental model to evaluate the potential of bufalin in lung cancer chemotherapy. A549 cells were treated with bufalin, then the proliferation was detected by MTT assay and apoptosis was detected by flow cytometry analysis and Giemsa staining. In addition, A549 cells were treated by Akt inhibitor LY294002 in combination with bufalin and the activation of Akt and Caspase-3 as well as the expression levels of Bax, Bcl-2 and livin were examined by Western blot analysis. The results showed that Bufalin inhibited the proliferation of A549 cells and induced the apoptosis of A549 cells in a dose and time dependent manner. Mechanistically, we found that bufalin inhibited the activation of Akt. Moreover, bufalin synergized with Akt inhibitor to induce the apoptosis of A549 cells and this was associated with the upregulation of Bax expression, the downregulation of Bcl-2 and livin expression, and the activation of Caspase-3. In conclusion, our findings demonstrate that bufalin induces lung cancer cell apoptosis via the inhibition of PI3K/Akt pathway and suggest that bufalin is a potential regimen for combined chemotherapy to overcome the resistance of lung cancer cells to chemotherapeutics induced apoptosis.
View Full-Text
►

▼

Figures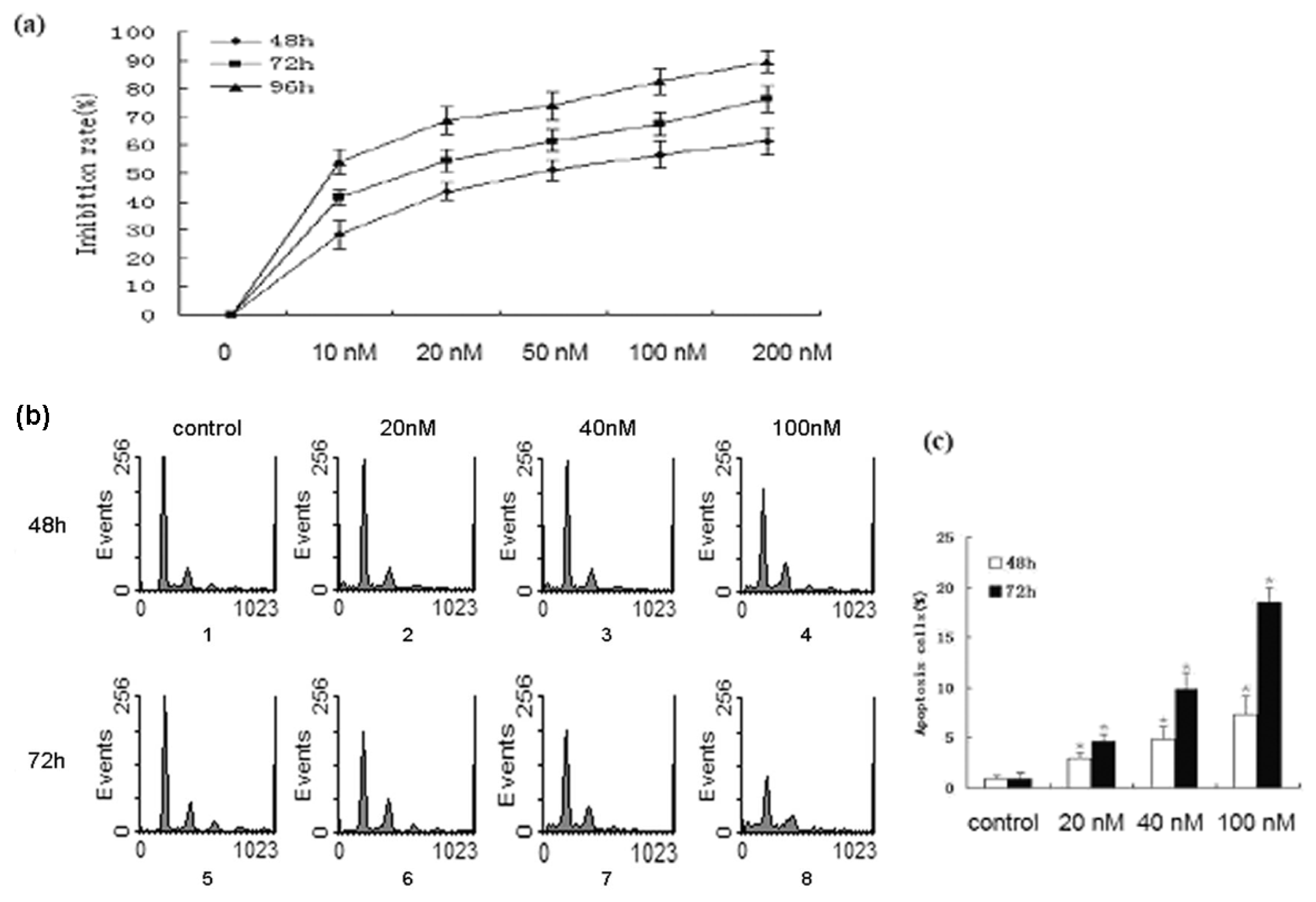 Share & Cite This Article
MDPI and ACS Style
Zhu, Z.; Sun, H.; Ma, G.; Wang, Z.; Li, E.; Liu, Y.; Liu, Y. Bufalin Induces Lung Cancer Cell Apoptosis via the Inhibition of PI3K/Akt Pathway. Int. J. Mol. Sci. 2012, 13, 2025-2035.
Related Articles
Comments
[Return to top]