Changes in Molecular Characteristics of Cereal Carbohydrates after Processing and Digestion
Department of Animal Science, Faculty of Science and Technology, Aarhus University, P.O. Box 50, 8830 Tjele, Denmark
*
Author to whom correspondence should be addressed.
Received: 11 October 2012 / Revised: 30 November 2012 / Accepted: 4 December 2012 / Published: 10 December 2012
Abstract
Different extraction, purification and digestion methods were used to investigate the molecular properties of carbohydrates in arabinoxylan and β-glucan concentrates, dietary fiber (DF) rich breads and ileum content of bread fed pigs. The breads studied were: a low DF wheat bread (WF), whole meal rye bread (GR), rye bread with kernels (RK), wheat bread supplemented with wheat arabinoxylan concentrate (AX) and wheat bread supplemented with oat β-glucan concentrate (BG). The weight average molecular weight (M
w
) of extractable carbohydrates in β-glucan concentrate decreased eight-fold after inclusion in the BG bread when exposed to
in vitro
digestion, while the M
w
of purified extractable carbohydrates in AX bread was reduced two-fold, and remained almost unaffected until reaching the terminal ileum of pigs. Similarly, the M
w
of purified extractable carbohydrates in GR and RK bread was not significantly changed in the ileum. The AX bread resulted in the highest concentration of dissolved arabinoxylan in the ileum among all the breads that caused a substantial increased in ileal AX viscosity. Nevertheless, for none of the breads, the M
w
of extractable carbohydrates was related neither to the bread extract nor ileal viscosity.
View Full-Text
►

▼

Figures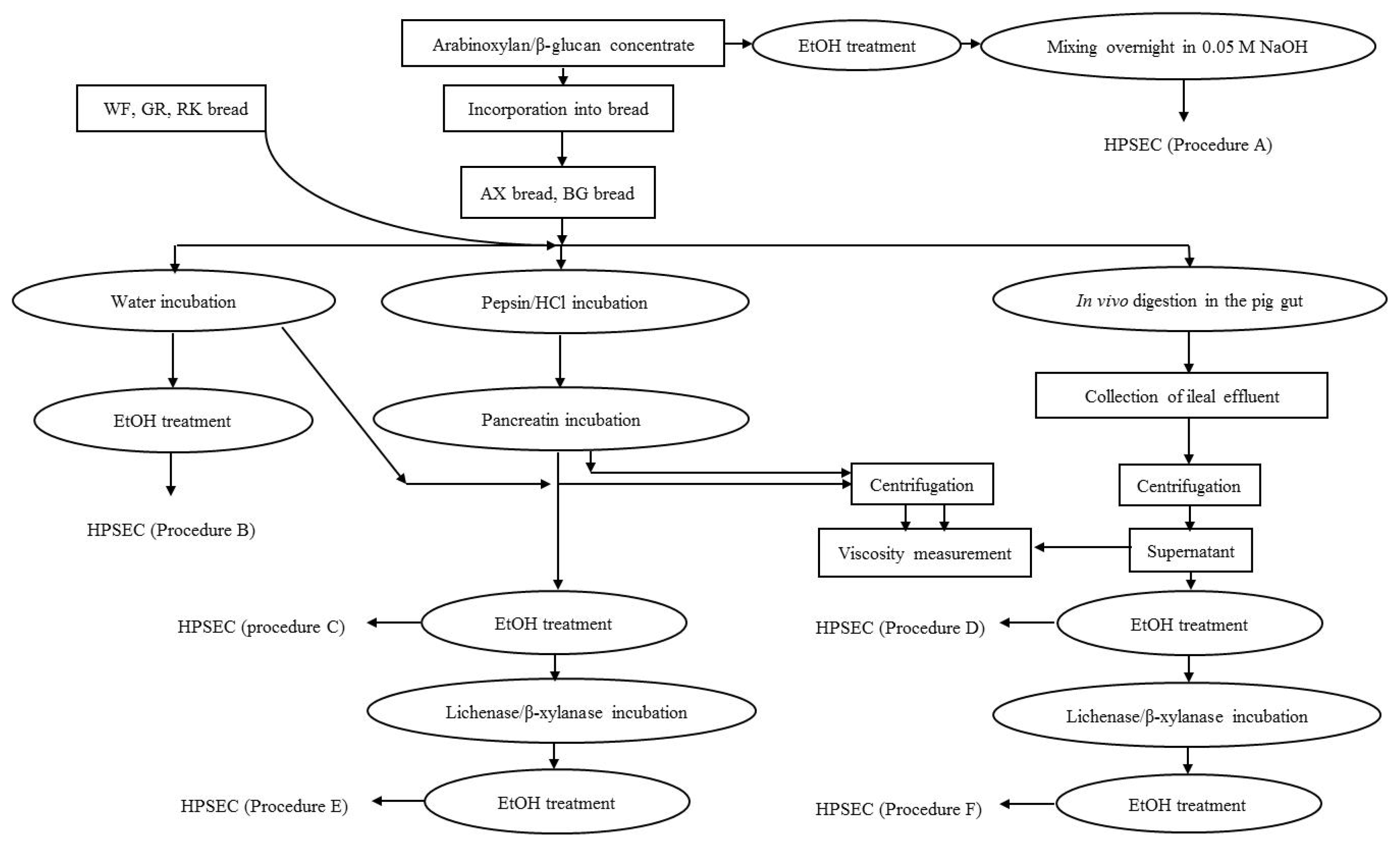 Share & Cite This Article
MDPI and ACS Style
Kasprzak, M.M.; Lærke, H.N.; Knudsen, K.E.B. Changes in Molecular Characteristics of Cereal Carbohydrates after Processing and Digestion. Int. J. Mol. Sci. 2012, 13, 16833-16852.
Related Articles
Comments
[Return to top]