Relation between Pro-inflammatory Cytokines and Acetylcholine Levels in Relapsing-Remitting Multiple Sclerosis Patients
1
Department of Experimental and Clinical Sciences, University "G. d'Annunzio" Chieti-Pescara, Via Dei Vestini, 31 66100 Chieti, Italy
2
Department of Biology and Biotechnologies Charles Darwin, Sapienza, University of Rome, Research Center of Neurobiology D. Bovet, P.le Aldo Moro, 5 00185 Roma, Italy
3
Department of Neuroscience, Ophthalmology and Genetics, University of Genova, 16126 Genova, Italy
4
Department of Neuroscience and Imaging, University "G. d'Annunzio" Chieti-Pescara, 66100 Chieti, Italy
*
Authors to whom correspondence should be addressed.
Received: 1 August 2012 / Revised: 6 September 2012 / Accepted: 27 September 2012 / Published: 3 October 2012
Abstract
Multiple sclerosis (MS) is a chronic inflammatory, demyelinating and neurodegenerative disorder. Since acetylcholine (ACh) is known to participate in the inflammatory response, we investigated the possible relationship between pro-inflammatory cytokines and acetylcholine levels in relapsing-remitting multiple sclerosis (RR-MS) patients. Levels of ACh and pro-inflammatory cytokines IL1-β and IL-17 were measured both in cerebrospinal fluid (CSF) and sera of 22 RR-MS patients in the relapsing phase and in 17 control subjects affected by other non-neurological diseases (OND). We observed higher levels of pro-inflammatory cytokines such as IL-1β and IL-17 in both CSF and serum of RR-MS patients compared to control subjects. Moreover, ACh levels were lower in CSF and serum of RR-MS patients compared to levels of control subjects. Although the relationship between high inflammatory cytokine levels and low ACh levels need to be further investigated in the future, our data suggest that IL-1β, and cytokines induced by it, such as IL-17 and ACh, may be involved in the pathogenesis of MS.
View Full-Text
►

▼

Figures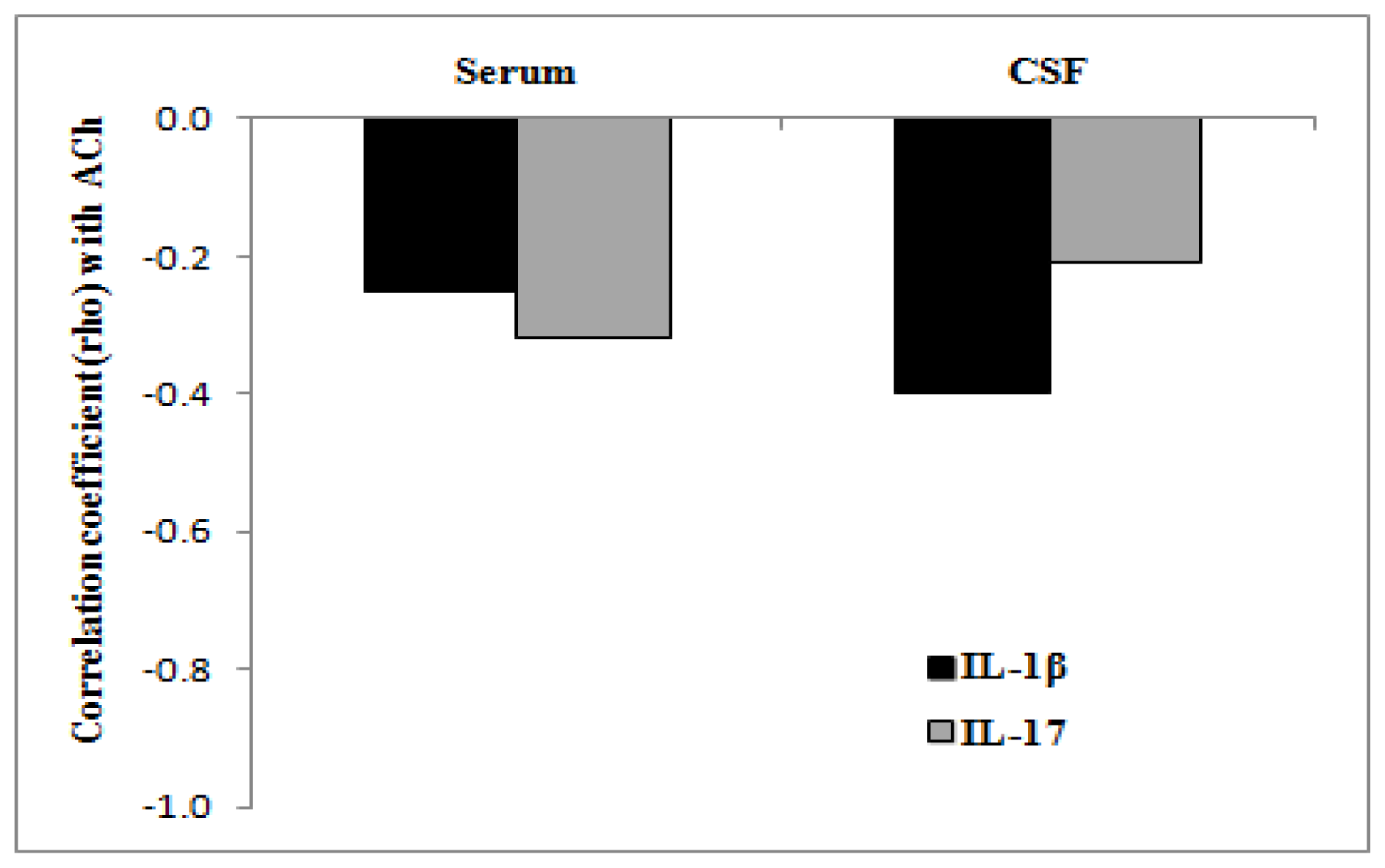 Share & Cite This Article
MDPI and ACS Style
Reale, M.; de Angelis, F.; di Nicola, M.; Capello, E.; di Ioia, M.; Luca, G.D.; Lugaresi, A.; Tata, A.M. Relation between Pro-inflammatory Cytokines and Acetylcholine Levels in Relapsing-Remitting Multiple Sclerosis Patients. Int. J. Mol. Sci. 2012, 13, 12656-12664.
Related Articles
Comments
[Return to top]