Four Novel Cellulose Synthase (CESA) Genes from Birch (Betula platyphylla Suk.) Involved in Primary and Secondary Cell Wall Biosynthesis
1
Northeast Forestry University, 26 Hexing Road Xiangfang District, Harbin 150040, China
2
State Key Laboratory of Forest Genetics and Tree Breeding, Northeast Forestry University, 26 Hexing Road, Harbin 150040, China
*
Authors to whom correspondence should be addressed.
Received: 6 June 2012 / Revised: 7 September 2012 / Accepted: 11 September 2012 / Published: 25 September 2012
Abstract
Cellulose synthase (CESA), which is an essential catalyst for the generation of plant cell wall biomass, is mainly encoded by the
CesA
gene family that contains ten or more members. In this study; four full-length cDNAs encoding CESA were isolated from
Betula platyphylla
Suk., which is an important timber species, using RT-PCR combined with the RACE method and were named as
BplCesA3
,
−4
,
−7
and
−8
. These deduced CESAs contained the same typical domains and regions as their
Arabidopsis
homologs. The cDNA lengths differed among these four genes, as did the locations of the various protein domains inferred from the deduced amino acid sequences, which shared amino acid sequence identities ranging from only 63.8% to 70.5%. Real-time RT-PCR showed that all four
BplCesAs
were expressed at different levels in diverse tissues. Results indicated that BplCESA8 might be involved in secondary cell wall biosynthesis and floral development. BplCESA3 appeared in a unique expression pattern and was possibly involved in primary cell wall biosynthesis and seed development; it might also be related to the homogalacturonan synthesis. BplCESA7 and BplCESA4 may be related to the formation of a cellulose synthase complex and participate mainly in secondary cell wall biosynthesis. The extremely low expression abundance of the four BplCESAs in mature pollen suggested very little involvement of them in mature pollen formation in
Betula
. The distinct expression pattern of the four
BplCesAs
suggested they might participate in developments of various tissues and that they are possibly controlled by distinct mechanisms in
Betula.
View Full-Text
►

▼

Figures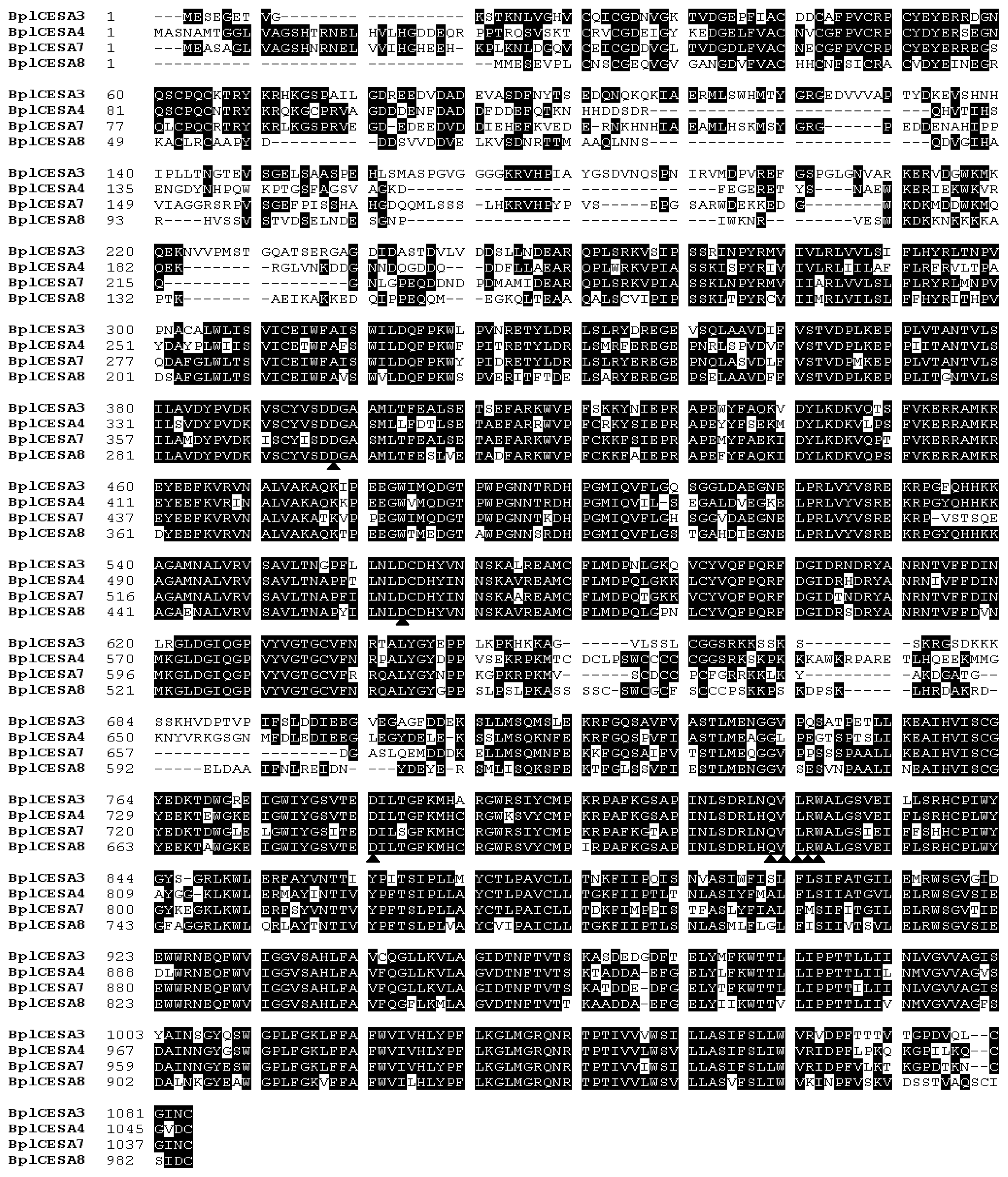 Share & Cite This Article
MDPI and ACS Style
Liu, X.; Wang, Q.; Chen, P.; Song, F.; Guan, M.; Jin, L.; Wang, Y.; Yang, C. Four Novel Cellulose Synthase (CESA) Genes from Birch (Betula platyphylla Suk.) Involved in Primary and Secondary Cell Wall Biosynthesis. Int. J. Mol. Sci. 2012, 13, 12195-12212.
Related Articles
Comments
[Return to top]