Freshwater Plants Synthesize Sulfated Polysaccharides: Heterogalactans from Water Hyacinth (Eicchornia crassipes)
1
Laboratory of Biotechnology of Natural Polymers (BIOPOL), Department of Biochemistry, Federal University of Rio Grande do Norte (UFRN), Natal-RN 59078-970, Brazil
2
Health Post-Graduate Program, Federal University of Rio Grande do Norte (UFRN), Natal-RN 59078-970, Brazil
3
Department of Cell Biology, Federal University of Parana (UFPR), Curitiba-PR 81531-990, Brazil
4
Department of Cell Biology and Genetic, Federal University of Rio Grande do Norte (UFRN), Natal-RN 59078-970, Brazil
5
Laboratory of Glycobiology, Department of Biochemistry, Federal University of Rio Grande do Norte (UFRN), Natal-RN 59078-970, Brazil
*
Author to whom correspondence should be addressed.
Received: 28 November 2011 / Revised: 30 December 2011 / Accepted: 6 January 2012 / Published: 17 January 2012
Abstract
Sulfated polysaccharides (SP) are found mainly in seaweeds and animals. To date, they have only been found in six plants and all inhabit saline environments. Furthermore, there are no reports of SP in freshwater or terrestrial plants. As such, this study investigated the presence of SP in freshwaters
Eichhornia crassipes
,
Egeria densa
,
Egeria naja
,
Cabomba caroliniana
,
Hydrocotyle bonariensis
and
Nymphaea ampla
. Chemical analysis identified sulfate in
N. ampla
,
H. bonariensis
and, more specifically,
E. crassipes
. In addition, chemical analysis, FT-IR spectroscopy, histological analysis, scanning electron microscopy (SEM) and energy-dispersive X-ray analysis (EDXA), as well as agarose gel electrophoresis detected SP in all parts of
E. crassipes
, primarily in the root (epidermis and vascular bundle). Galactose, glucose and arabinose are the main monosaccharides found in the sulfated polysaccharides from
E. crassipes
. In activated partial thromboplastin time (APTT) test, to evaluate the intrinsic coagulation pathway, SP from the root and rhizome prolonged the coagulation time to double the baseline value, with 0.1 mg/mL and 0.15 mg/mL, respectively. However, SP from the leaf and petiole showed no anticoagulant activity.
Eichornia
SP demonstrated promising anticoagulant potential and have been selected for further studies on bioguided fractionation; isolation and characterization of pure polysaccharides from this species. Additionally
in vivo
experiments are needed and are already underway.
View Full-Text
►

▼

Figures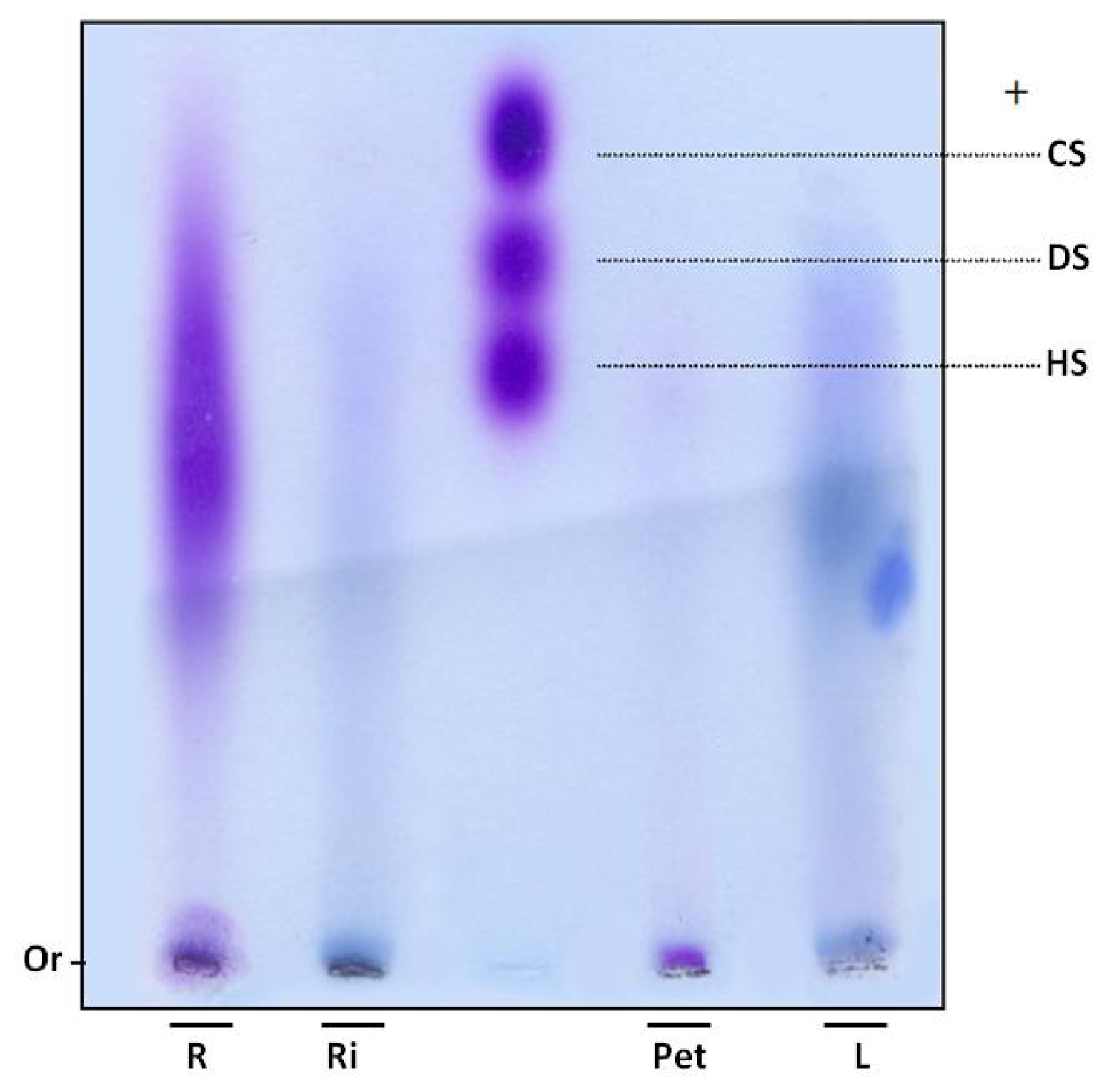 Share & Cite This Article
MDPI and ACS Style
Dantas-Santos, N.; Gomes, D.L.; Costa, L.S.; Cordeiro, S.L.; Costa, M.S.S.P.; Trindade, E.S.; Franco, C.R.C.; Scortecci, K.C.; Leite, E.L.; Rocha, H.A.O. Freshwater Plants Synthesize Sulfated Polysaccharides: Heterogalactans from Water Hyacinth (Eicchornia crassipes). Int. J. Mol. Sci. 2012, 13, 961-976.
Related Articles
Comments
[Return to top]