Conventional Study on Novel Dicationic Ionic Liquid Inclusion with β-Cyclodextrin
1
University of Malaya Centre for Ionic Liquids, Department of Chemistry, Faculty of Science, University of Malaya, Kuala Lumpur 50603, Malaysia
2
Advanced Medical & Dental Institute, University of Science Malaysia, No 1–8 (Lot 8), Persiaran Seksyen 4/1, Bandar Putra Bertam, Kepala Batas, Pulau Pinang 13200, Malaysia
*
Author to whom correspondence should be addressed.
Received: 27 June 2011 / Revised: 25 August 2011 / Accepted: 25 August 2011 / Published: 23 September 2011
Abstract
This study focuses on the synthesis and characterization of the inclusion complex of β-Cyclodextrin (β-CD) with dicationic ionic liquid, 3,3'-(1,4-Phenylenebis [methylene]) bis(1-methyl-1
H
-imidazol-3-ium) di(bromide) (PhenmimBr). The inclusion complex was prepared at room temperature utilizing conventional kneading technique. Proton (
1
H) NMR and 2D (
1
H–
1
H) COSY NMR were the primary characterization tools employed to verify the formation of the inclusion complex. COSY spectra showed strong correlations between protons of imidazolium and protons of β-CD which indicates that the imidazolium ring of PhenmimBr has entered the cavity of β-CD. UV absorption indicated that β-CD reacts with PhenmimBr to form a 2:1 β-CD-PhenmimBr complex with an apparent formation constant of 2.61 × 10
5
mol
−2
L
2
. Other characterization studies such as UV, FT-IR, XRD, TGA, DSC and SEM studies were also used to further support the formation of the β-CD-PhenmimBr inclusion complex.
View Full-Text
►

▼

Figures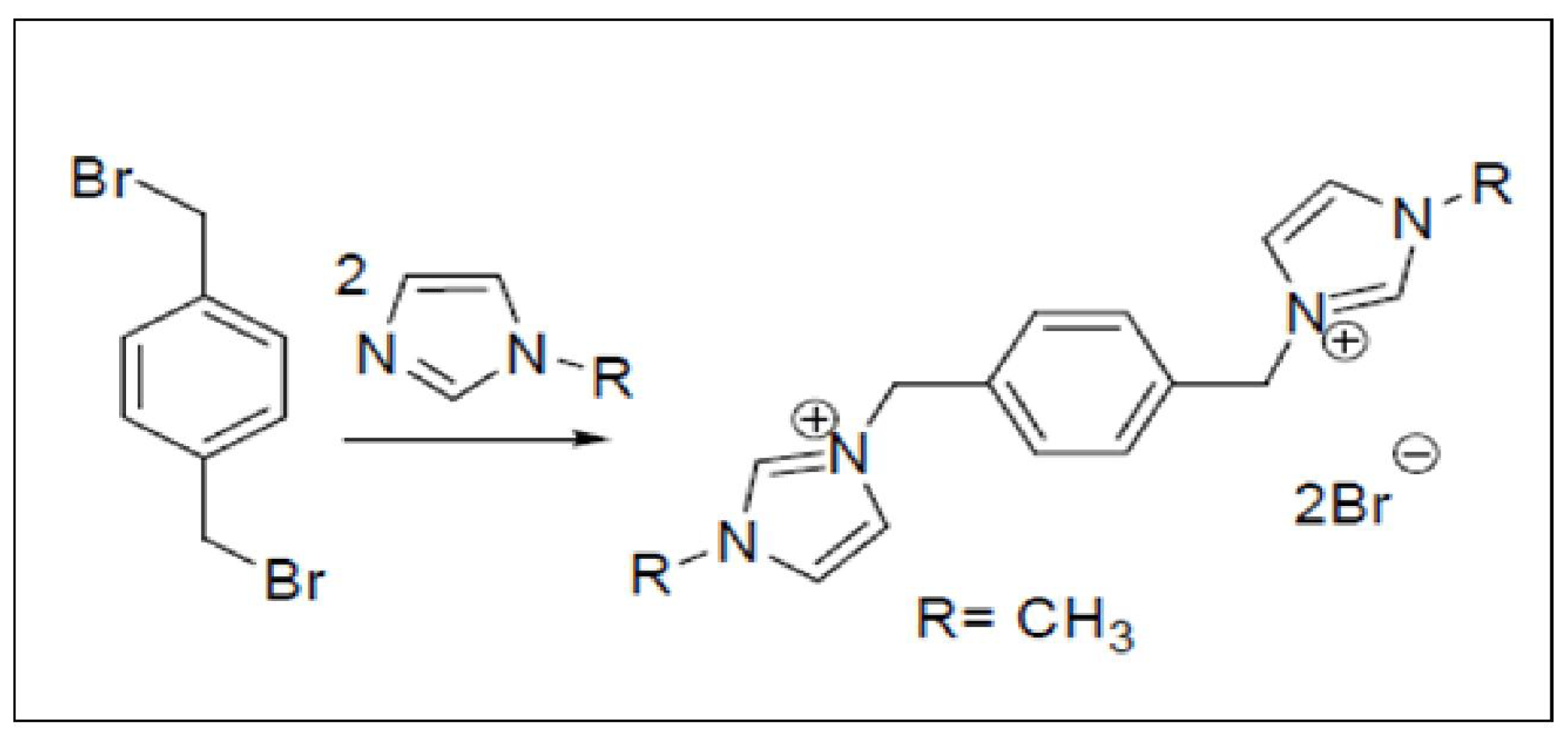 Share & Cite This Article
MDPI and ACS Style
Mohamad, S.; Surikumaran, H.; Raoov, M.; Marimuthu, T.; Chandrasekaram, K.; Subramaniam, P. Conventional Study on Novel Dicationic Ionic Liquid Inclusion with β-Cyclodextrin. Int. J. Mol. Sci. 2011, 12, 6329-6345.
Related Articles
Comments
[Return to top]