Characterization of Thermophilic Halotolerant Aeribacillus pallidus TD1 from Tao Dam Hot Spring, Thailand
1
Department of Biochemistry, Faculty of Medicine, Srinakharinwirot University, Bangkok 10110, Thailand
2
Department of Pathology, Faculty of Medicine, Srinakharinwirot University, Bangkok 10110, Thailand
*
Author to whom correspondence should be addressed.
Received: 24 June 2011 / Revised: 28 July 2011 / Accepted: 5 August 2011 / Published: 17 August 2011
Abstract
The bacterial strain TD1 was isolated from Tao Dam hot spring in Thailand. Strain TD1 was Gram positive, rod-shaped, aerobic, motile, and endospore forming. The cell was 2.0–40 mm in length and about 0.4 mm in diameter. The optimum growth occurred at 55–60 °C and at pH 7–8. Strain TD1 was able to grow on medium containing up to 10% NaCl. The DNA G+C content was 38.9 mol%. The cellular fatty acid content was mainly C
16:0
, which comprised 25.04% of the total amount of cellular fatty acid. 16S rDNA showed 99% identity to
Aeribacillus pallidus
DSM 3670
T
. Bayesian tree analysis strongly supported the idea that strain TD1 is affiliated with genus
Aeribacillus
, as
Aeribacillus
pallidus
strain TD1. Although the 16S rDNA of
A. pallidus
strain TD1 is similar to that of
A. pallidus
DSM 3670
T
, some physiological properties and the cellular fatty acid profiles differ significantly.
A. pallidus
strain TD1 can produce extracellular pectate lyase, which has not been reported elsewhere for other bacterial strains in the genus
Aeribacillus
.
A. pallidus
strain TD1 may be a good candidate as a pectate lyase producer, which may have useful industrial applications.
View Full-Text
►

▼

Figures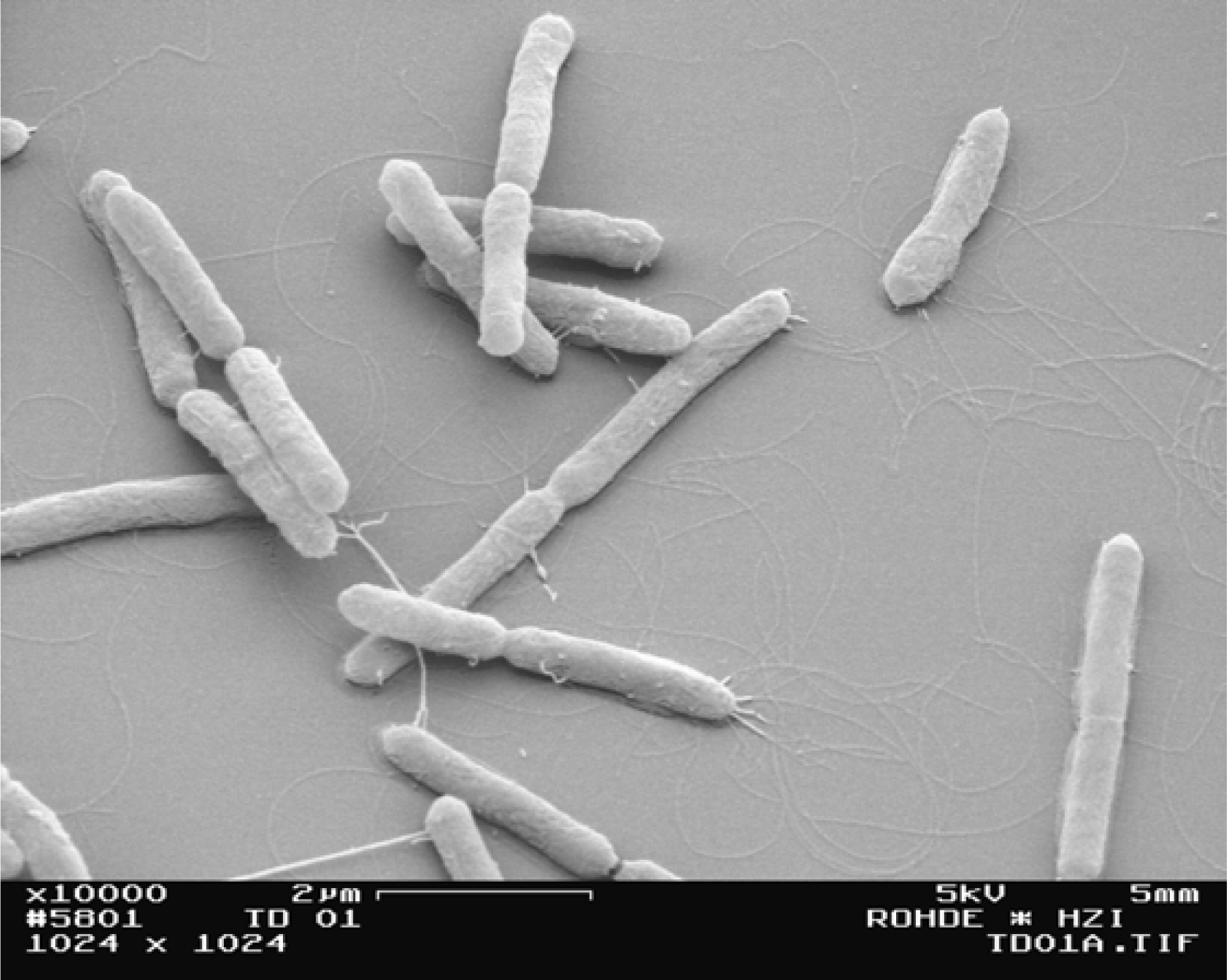 Share & Cite This Article
MDPI and ACS Style
Yasawong, M.; Areekit, S.; Pakpitchareon, A.; Santiwatanakul, S.; Chansiri, K. Characterization of Thermophilic Halotolerant Aeribacillus pallidus TD1 from Tao Dam Hot Spring, Thailand. Int. J. Mol. Sci. 2011, 12, 5294-5303.
Related Articles
Comments
[Return to top]