Dissimilar Roles of the Four Conserved Acidic Residues in the Thermal Stability of Poly(A)-Specific Ribonuclease
State Key Laboratory of Biomembrane and Membrane Biotechnology, School of Life Sciences, Tsinghua University, Beijing 100084, China
*
Author to whom correspondence should be addressed.
Received: 27 January 2011 / Revised: 23 March 2011 / Accepted: 18 April 2011 / Published: 3 May 2011
Abstract
Divalent metal ions are essential for the efficient catalysis and structural stability of many nucleotidyl-transfer enzymes. Poly(A)-specific ribonuclease (PARN) belongs to the DEDD superfamily of 3'-exonucleases, and the active site of PARN contains four conserved acidic amino acid residues that coordinate two Mg
2+
ions. In this research, we studied the roles of these four acidic residues in PARN thermal stability by mutational analysis. It was found that Mg
2+
significantly decreased the rate but increased the aggregate size of the 54 kDa wild-type PARN in a concentration-dependent manner. All of the four mutants decreased PARN thermal aggregation, while the aggregation kinetics of the mutants exhibited dissimilar Mg
2+
-dependent behavior. A comparison of the kinetic parameters indicated that Asp28 was the most crucial one to the binding of the two Mg
2+
ions, while metal B might be more important in PARN structural stability. The spectroscopic and aggregation results also suggested that the alterations in the active site structure by metal binding or mutations might lead to a global conformational change of the PARN molecule.
View Full-Text
►

▼

Figures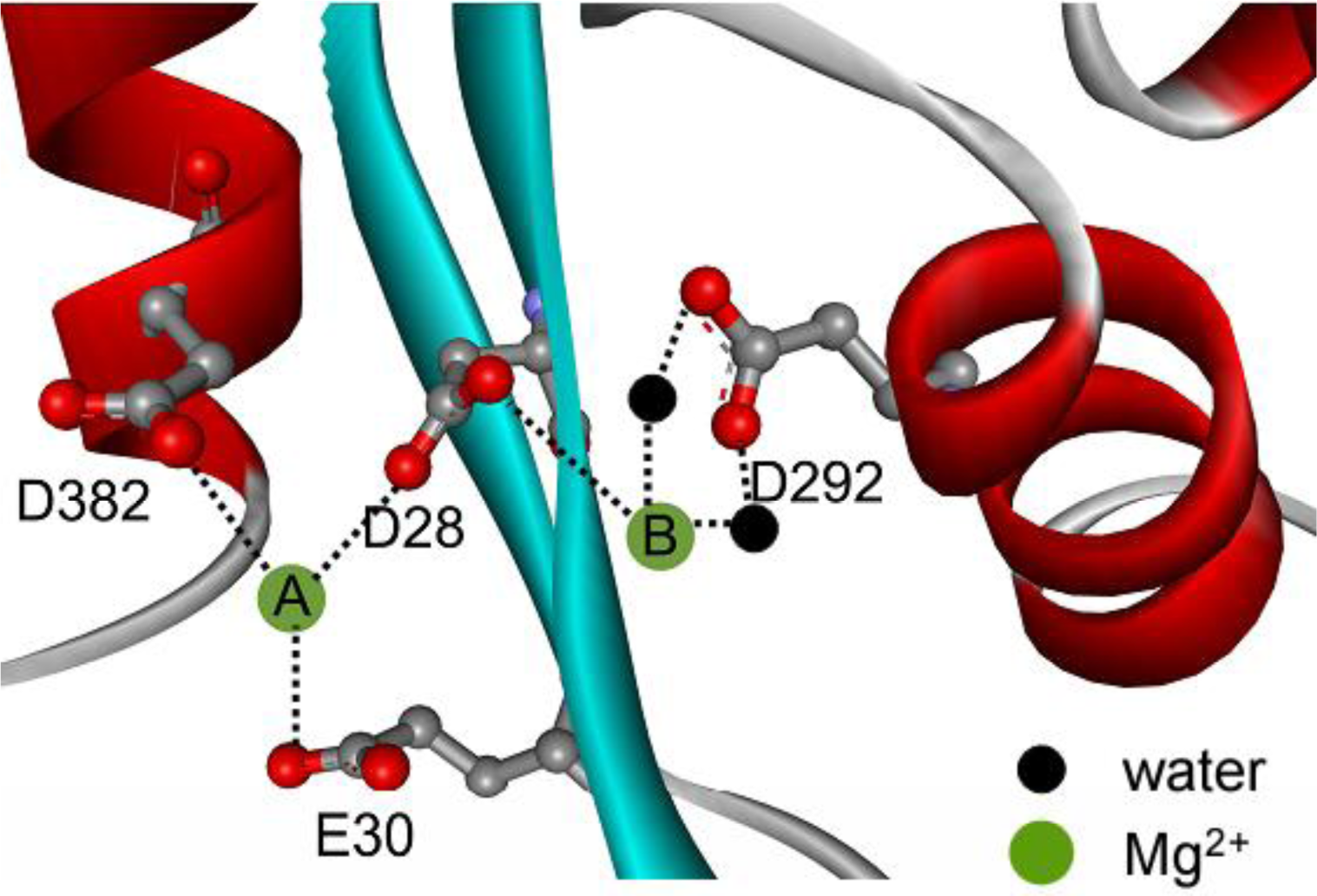 Share & Cite This Article
MDPI and ACS Style
He, G.-J.; Liu, W.-F.; Yan, Y.-B. Dissimilar Roles of the Four Conserved Acidic Residues in the Thermal Stability of Poly(A)-Specific Ribonuclease. Int. J. Mol. Sci. 2011, 12, 2901-2916.
Related Articles
Comments
[Return to top]