Antimicrobial, Cytotoxic and Antioxidant Activities and Determination of the Total Tannin Content of Bark Extracts Endopleura uchi
1
Department of Drugs and Medicines, School of Pharmaceutical Sciences of Araraquara, UNESP-São Paulo State University, Rodovia Araraquara-Jaú, Km 01, 14801-902, CP 502 Araraquara (SP), Brazil
2
Department of Pharmacy, Universidade Estadual de Maringá. Avenida Colombo, 5970, 87020-900 Maringá (PR), Brazil
3
Department of Natural Active Principles and Toxicology, School of Pharmaceutical Sciences of Araraquara, UNESP-São Paulo State University, Rodovia Araraquara-Jaú, Km 01, 14801-902, CP 502 Araraquara (SP), Brazil
*
Author to whom correspondence should be addressed.
Received: 4 January 2011 / Revised: 8 February 2011 / Accepted: 10 February 2011 / Published: 21 April 2011
Abstract
Endopleura uchi
is a typical Amazonian tree and its bark is popularly employed in the preparation of teas against myomas, arthritis, influenza, diarrhea and cancer. In this study, the antioxidant activity, cytotoxicity and antimicrobial activity of five different extracts of the bark, selected by their total tannin content, were assessed. The potential antioxidant activity of the extracts was determined by 2.2-diphenyl-1-picrylhydrazyl radical scavenging assay and the values found were very similar among the extracts and to the standards antioxidants used in the tests. Cytotoxicity analysis in mammalian cells indicated that all the tested extracts exhibited IC
50
values higher than the highest concentration used, showing that they do not present a risk when consumed under these conditions. Extract tested against five bacterial strains and one yeast strain did not show satisfactory growth inhibitory activity, and even the extracts that showed some antimicrobial activity were not effective at any dilution to determine the minimum inhibitory concentration. The results may serve as a reference for subsequent works, since such reference values described in the literature for the bark of
E. uchi
.
View Full-Text
►

▼

Figures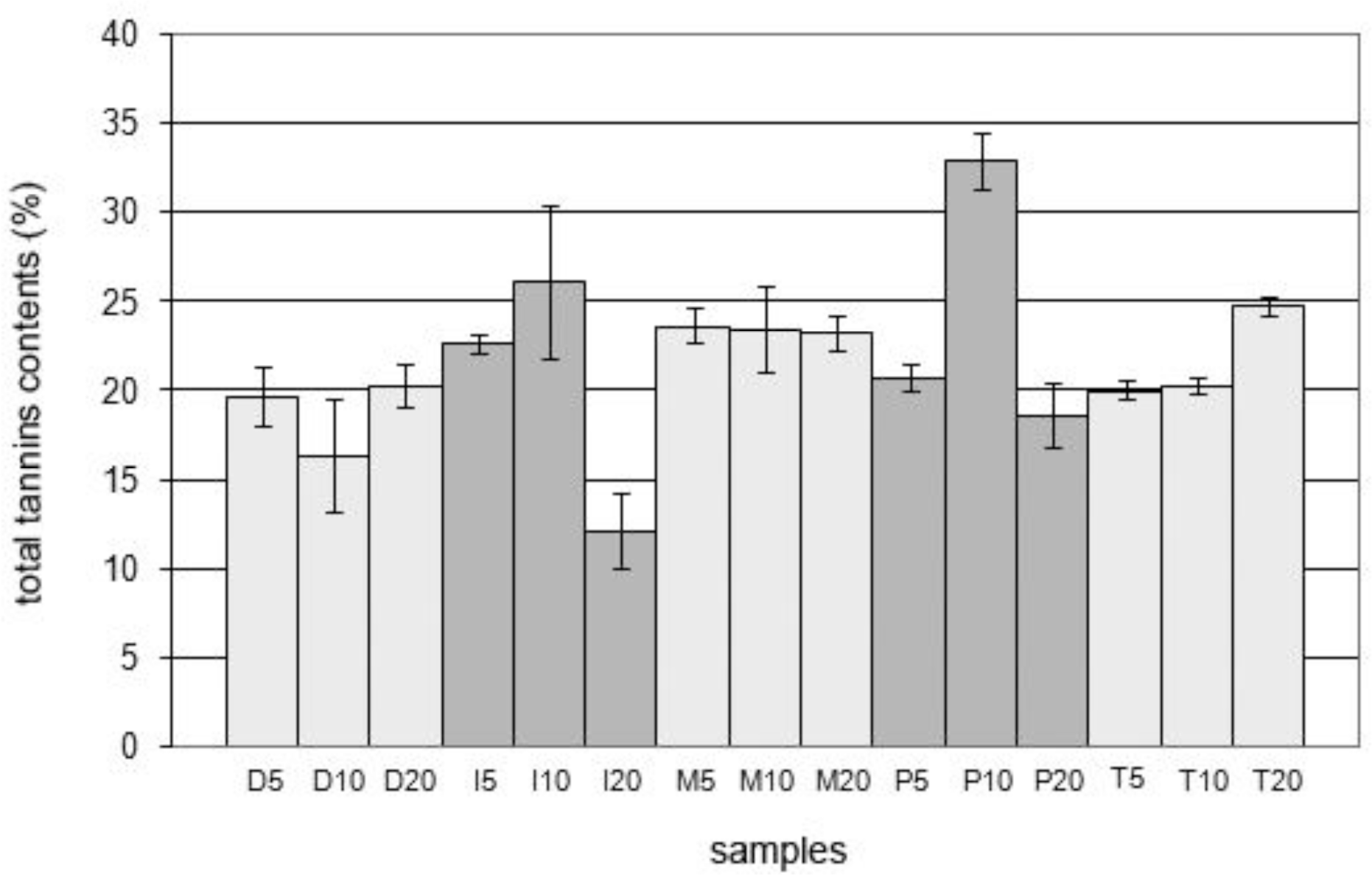 Share & Cite This Article
MDPI and ACS Style
Politi, F.A.S.; Mello, J.C.P.; Migliato, K.F.; Nepomuceno, A.L.A.; Moreira, R.R.D.; Pietro, R.C.L.R. Antimicrobial, Cytotoxic and Antioxidant Activities and Determination of the Total Tannin Content of Bark Extracts Endopleura uchi. Int. J. Mol. Sci. 2011, 12, 2757-2768.
Related Articles
Comments
[Return to top]