Lead, Cadmium and Cobalt (Pb, Cd, and Co) Leaching of Glass-Clay Containers by pH Effect of Food
1
Institute of Health Sciences, Autonomous University of Hidalgo State, Ex-Hacienda de la Concepción, Tilcuautla, 42080 Pachuca de Soto, Hgo, Mexico
2
Basic Science and Engineering Institute, Autonomous University of Hidalgo State, Ex-Hacienda de la Concepción, Tilcuautla, 42080 Pachuca de Soto, Hgo, Mexico
3
Secretary of Research and Graduate Studies, Autonomous University of Nayarit, Ciudad de la Cultura "Amado Nervo", Blvd. Tepic-Xalisco S/N. Tepic, Nayarit, Mexico
*
Author to whom correspondence should be addressed.
Received: 31 January 2011 / Revised: 19 March 2011 / Accepted: 29 March 2011 / Published: 4 April 2011
Abstract
Recent studies have shown that handcrafted glass-clay containers are a health risk because they can be contaminated by heavy metals, which can be transferred to food, thus reaching the human body to potentially cause illness. Therefore, in the present work, we evaluate the leaching of lead, cadmium, and cobalt from glass-clay containers into two types of food: tomato sauce (salsa), and chickpea puree. The containers were obtained from four regions in the Mexican state of Hidalgo. Repetitive extractions from the containers were carried out to quantify the leaching of the heavy metals into the salsa, the chickpea puree, and acetic acid using the technique proposed by the USFDA. The results show that greater use of the containers leads to more leaching of heavy metals into both types of food and into the acetic acid, with the greatest metal extraction recorded for the Ixmiquilpan vessels. These results indicate that the metals present in the glass-clay containers leach into the food and that increased reuse increases the risk to the people who use them in food preparation.
View Full-Text
►

▼

Figures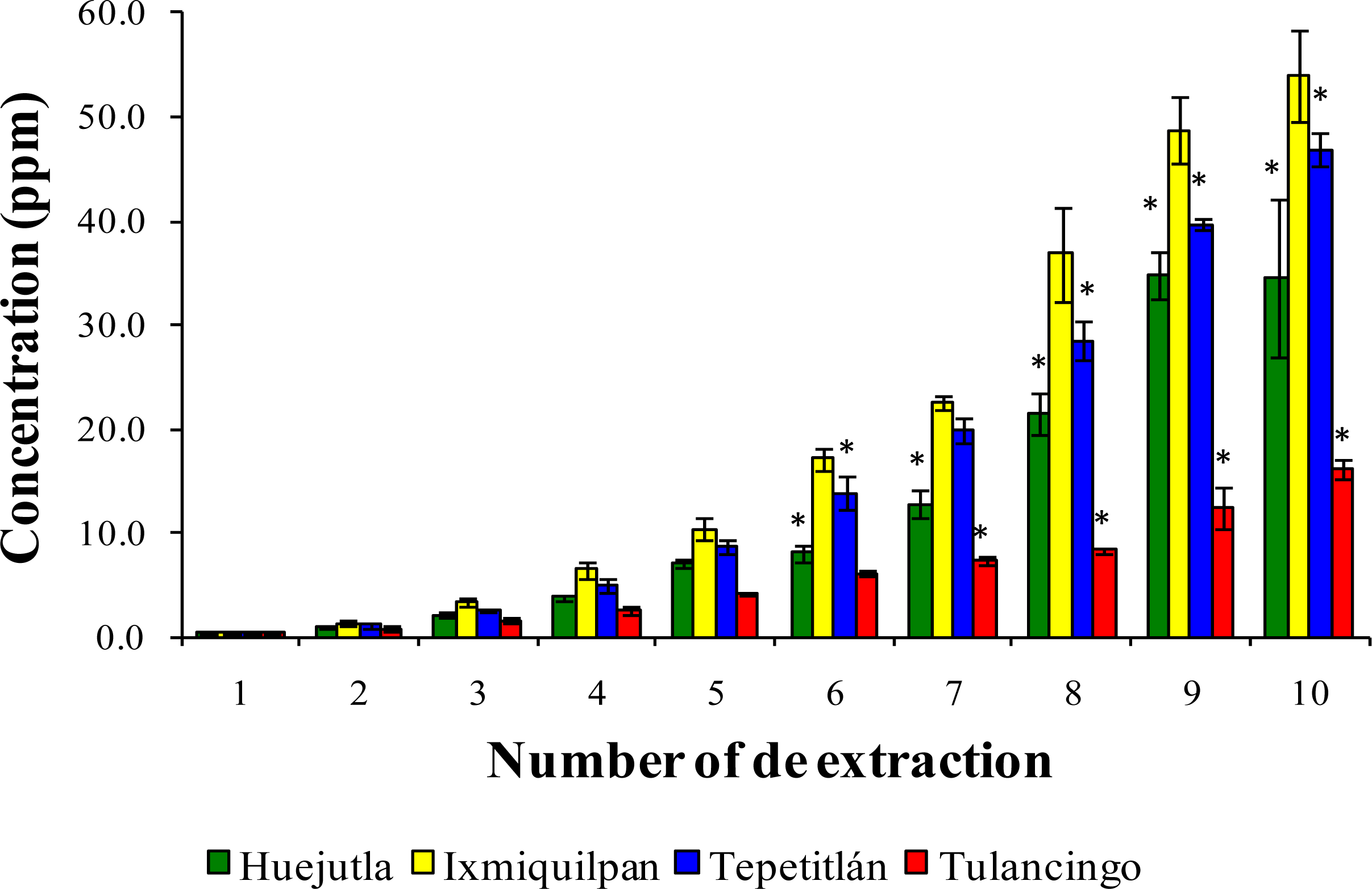 Share & Cite This Article
MDPI and ACS Style
Valadez-Vega, C.; Zúñiga-Pérez, C.; Quintanar-Gómez, S.; Morales-González, J.A.; Madrigal-Santillán, E.; Villagómez-Ibarra, J.R.; Sumaya-Martínez, M.T.; García-Paredes, J.D. Lead, Cadmium and Cobalt (Pb, Cd, and Co) Leaching of Glass-Clay Containers by pH Effect of Food. Int. J. Mol. Sci. 2011, 12, 2336-2350.
Related Articles
Comments
[Return to top]