Open Access This article is
freely available
re-usable
Review
Integrated Lipidomics in the Secreted Phospholipase A2 Biology
Lipid Metabolism Project, The Tokyo Metropolitan Institute of Medical Science, 2-1-6 Kamikitazawa, Setagaya-ku, Tokyo 156-8506, Japan; and
*
Author to whom correspondence should be addressed; Tel.: +81-3-5316-3228.
Received: 30 January 2011; in revised form: 18 February 2011 / Accepted: 24 February 2011 / Published: 25 February 2011
Abstract
: Mammalian genomes encode genes for more than 30 phospholipase A2s (PLA2s) or related enzymes, which are subdivided into several subgroups based on their structures, catalytic mechanisms, localizations and evolutionary relationships. More than one third of the PLA2 enzymes belong to the secreted PLA2 (sPLA2) family, which consists of low-molecular-weight, Ca2+-requiring extracellular enzymes, with a His-Asp catalytic dyad. Individual sPLA2 isoforms exhibit unique tissue and cellular localizations and enzymatic properties, suggesting their distinct pathophysiological roles. Recent studies using transgenic and knockout mice for several sPLA2 isoforms, in combination with lipidomics approaches, have revealed their distinct contributions to various biological events. Herein, we will describe several examples of sPLA2-mediated phospholipid metabolism

in vivo,

as revealed by integrated analysis of sPLA2 transgenic/knockout mice and lipid mass spectrometry. Knowledge obtained from this approach greatly contributes to expanding our understanding of the sPLA2 biology and pathophysiology.
Keywords:
phospholipase A
2
; phospholipid; lipidomics; transgenic mouse; knockout mouse
1. Introduction
Phospholipase A2 (PLA2) hydrolyzes the sn-2 position of glycerophospholipids to yield fatty acids and lysophospholipids. In the view of signal transduction, the PLA2 reaction has been considered to be of particular importance since arachidonic acid, one of the polyunsaturated fatty acids (PUFAs) released by PLA2, is metabolized to various lipid mediators such as prostaglandins and leukotrienes. In addition, lysophospholipids or its metabolites, such as lysophosphatidic acid and platelet-activating factor, also represent another class of lipid mediators. These lipid mediators exert numerous biological actions through their cognate G protein-coupled receptors on target cells. PLA2 has also been implicated in membrane glycerophospholipid remodeling, thereby contributing to cellular homeostasis.
Mammalian genomes encode more than 30 PLA2s or related enzymes, which are classified into several subgroups on the basis of their primary structures and functions. Critical contributions of the intracellular PLA2 families, namely cytosolic PLA2s (cPLA2s) and Ca2+-independent PLA2s (iPLA2s), to aracidnonic acid metabolism and membrane homeostasis, respectively, have been well established by numerous studies [1,2]. The secreted PLA2 (sPLA2) family represents structurally related, disulfide-rich, low molecular weight, lipolytic enzymes with a His-Asp catalytic dyad. sPLA2s occur in a wide variety of vertebrate and invertebrate animals, plants, fungus, bacteria, and viruses, and 11 sPLA2 isozymes (IB, IIA, IIC, IID, IIE, IIF, III, V, X, XIIA and XIIB) have been identified in mammals [2–4]. Of these, sPLA2s belonging to the group I/II/V/X collection (conventional sPLA2s) are closely related, 14–19-kDa secreted enzymes with a highly conserved Ca2+-binding loop (XCGXGG) and a catalytic site (DXCCXXHD). In addition to these elements, there are six absolutely conserved disulfide bonds and up to two additional unique disulfide bonds, which contribute to the high degree of stability of these enzymes. Group III and group XII sPLA2s (atypical sPLA2s) share homology with the I/II/V/X collection of sPLA2s only in the Ca2+-binding loop and catalytic site, thereby representing the group III and XII collections, respectively. sPLA2 enzymes hydrolyze the ester bond at the sn-2 position of glycerophospholipids with distinct selectivity toward sn-2 fatty acids and polar head groups in the presence of mM concentrations of Ca2+. Since individual sPLA2s display distinct cellular/tissue distributions and substrate head group specificities, they may play non-redundant, isoform-specific roles in vivo.
Although many potential functions of sPLA2s have been proposed on the basis of in vitro studies, the precise biological roles and relevant target membranes of these enzymes in vivo have remained elusive until recently. Several, if not all, sPLA2s are capable of releasing arachidonic acid from cultured cell membranes when overexpressed or added exogenously at excess amounts in vitro [2–4]. However, it still remains controversial whether this function could indeed be operated by sPLA2s in vivo. The reason why sPLA2s are secreted is most probably because sPLA2s participate in pathophysiology by regulating extracellular phospholipid metabolism, which include adjacent cell membranes (plasma membranes or microvesicles shed from cells), non-cellular lipid components such as lipoproteins and pulmonary surfactant, and foreign phospholipids such as microbe membranes and dietary lipids. The in vitro actions of individual sPLA2s on various target membranes are summarized in Table 1. This target variation may explain the molecular evolution of a number of sPLA2s with distinct localizations and substrate specificities. Therefore, once some phenotypes appear in sPLA2-knockout or -transgenic mice, this could be attributable to a combination of these varied actions rather than only by alterations in lipid mediator levels.
In the past few years, we have analyzed the phenotypes of transgenic or knockout mice for several sPLA2 isozymes, in combination with a lipid profiling technique by mass spectrometry. This integrated approach, together with studies using these mice by other research groups, has helped us understand the potential action of a given sPLA2 on particular target membranes and its impact on pathophysiology in vivo. In this article, we will give an overview of current analyses on transgenic or knockout mice for two particular conventional sPLA2s, group V and X, and an atypical sPLA2, group III. Also, we will give a brief summary of pathophysiological functions of other sPLA2s that have been clarified to date.
2. Biological Functions of sPLA2s
in Vivo
3. Conclusions
During the past decade, the biological functions of several sPLA2s and their target substrates have been clarified by studies using transgenic and knockout mice in combination with lipidomics. Nevertheless, full understanding of the biological roles of all sPLA2 isoforms is still a challenging area of research. The control of particular sPLA2s, alone or in combination of multiple isoforms, should have advantages over the inhibition of selective lipid metabolic pathways in the treatment of various diseases. Interestingly, the pan-sPLA2 inhibitor A-002 (varespladib), which inhibits the conventional class of sPLA2s, can markedly reduce the atherosclerotic lesion area in experimental animals and even in humans in early-phase clinical studies [99]. This fact points to the sPLA2 family as a potential therapeutic target for atherosclerosis, and probably other diseases in which one or more sPLA2s are involved, such as asthma, arthritis, and metabolic syndrome.
Abbreviations:
| | |
| --- | --- |
| PLA2 | phospholipase A2; |
| sPLA2 | secreted PLA2; |
| cPLA2 | cytosolic PLA2; |
| iPLA2 | Ca2+-independent PLA2; |
| Tg | transgenic; |
| ARDS | acute respiratory distress syndrome; |
| BALF | bronchoalveolar fluid; |
| LPS | lipopolysaccharide; |
| ESI-MS | electrospray ionization mass spectrometry; |
| PC | phosphatidylcholine; |
| LPC | lysophosphatidylcholine; |
| PG | phosphatidylglycerol; |
| PE | phosphatidylethanolamine; |
| PS | phosphatidylserine; |
| LDL | low-density lipoprotein; |
| HDL | high-density lipoprotein; |
| VLDL | very low-density lipoprotein; |
| ABC | ATP-binding cassette; |
| PGD2 | prostaglandin D2; |
| PGE2 | prostaglandin E2; |
| LTB4 | leukotriene B4; |
| PUFA | polyunsaturated fatty acid; |
| DHA | docosahexaenoic acid; |
| DPA | docosapentaenoic acid; |
| LXR | liver X receptor; |
| PPAR | peroxisome proliferator-activated receptor; |
| StAR | steroidogenic acute regulatory protein; |
| DRG | dorsal root ganglion; |
| COX | cyclooxygenase; |
| LOX | lipoxygenase; |
| CYP450 | cytochrome P450; |
| HPLC | high performance liquid chromatography; |
| WT | wild-type. |
Acknowledgments
This work was supported by grants-in aid for scientific research from the Ministry of Education, Science, Culture, Sports and Technology of Japan.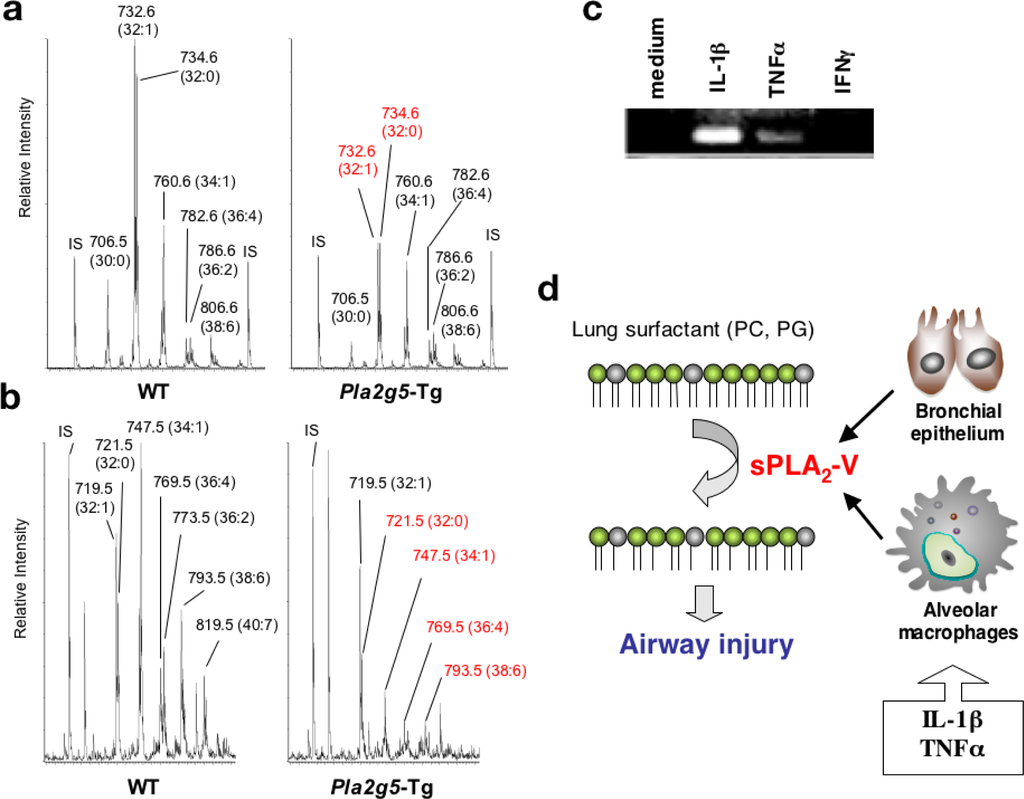 Figure 1.
Pla2g5
-Tg mice display fatal respiratory failure due to lung surfactant destruction
. (a
and
b)
ESI-MS of surfactant PC (
a
) and PG (
b
) from
Pla2g5
-Tg mice (
right
) and WT mice (
left
); Molecular peaks shown in red, such as PC32:0 (16:0–16:0) and PC32:1 (16:0–16:1) (
a
) as well as PG32:0 (16:0–16:0), PG34:1 (16:0–18:1), PG36:4 (16:0–20:4) and PG38:6 (16:0–22:6); (
b
) were dramatically reduced in
Pla2g5
-Tg mice compared with WT mice. IS, internal standard;
(c)
RT-PCR of sPLA
2
-V mRNA in cultured human bronchial epithelial cells with or without stimulation for 12 h with pro-inflammatory cytokines. sPLA
2
-V was induced by IL-1β or TNFα but not by IFNγ; (
d
) A schematic model of the role of sPLA
2
-V in lung surfactant hydrolysis. sPLA
2
-V is secreted from bronchial epithelial cells and alveolar macrophages stimulated with pro-inflammatory cytokines, and aberrant hydrolysis of surfactant PC and PG by sPLA
2
-V leads to airway injury. For details, see [
8
].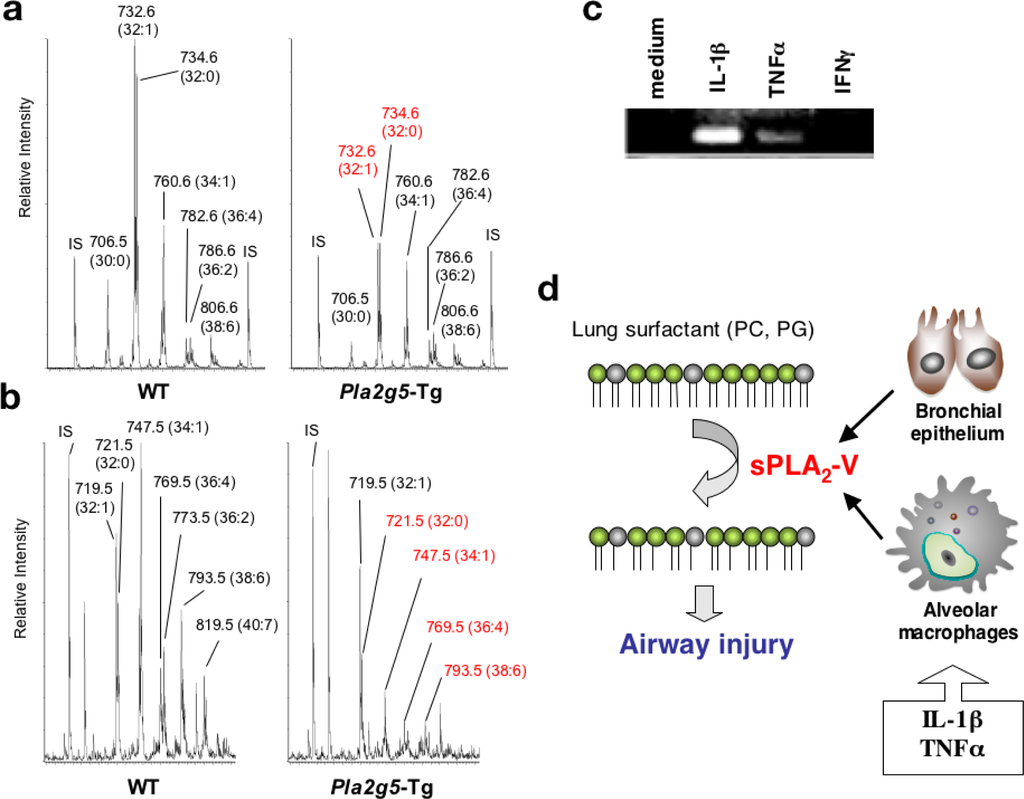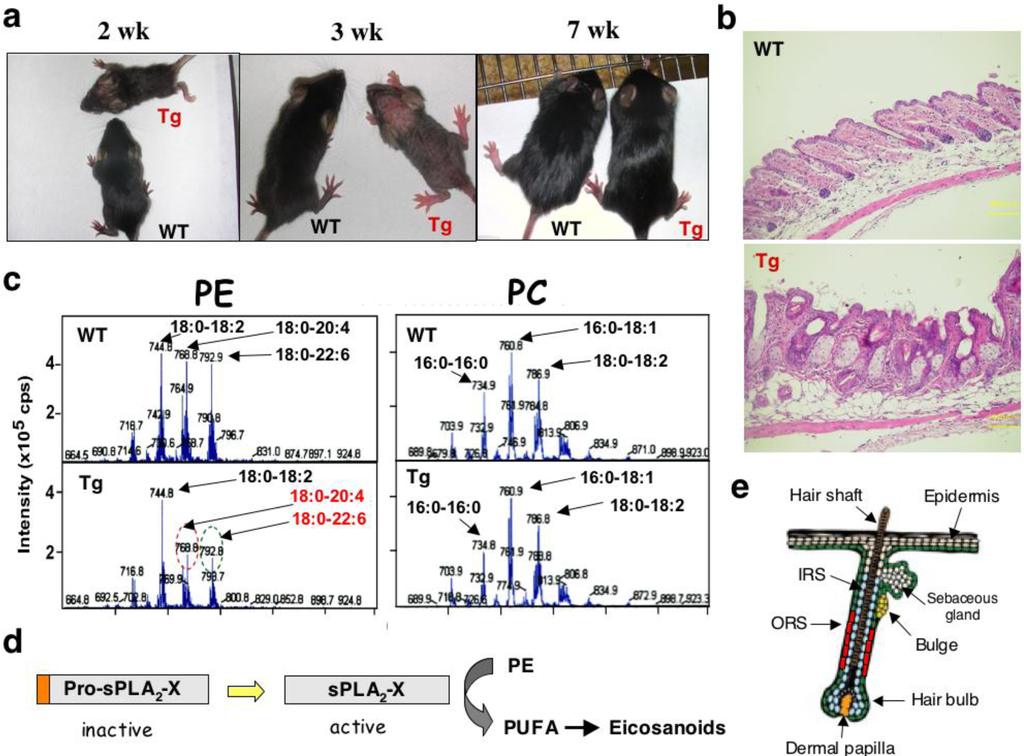 Figure 2.
Pla2g10
-Tg mice display alopecia during the postnatal hair cycle. (
a
)
Pla2g10
-Tg mice displayed temporary alopecia during 2–3 wk after birth, a period of the postnatal hair cycle; (
b
) Histology of 3-wk-old
Pla2g10
-Tg mice, in comparison with that of WT mice, revealed hair follicle distortion as well as epidermal hyperplasia, sebaceous gland enlargement, and cyst formation; (
c
) ESI-MS of skin phospholipids indicated that PE molecular species with PUFA (arachidonic acid (C20:4) and docosahexaenoic acid (C22:6)), but not PC, was markedly decreased in
Pla2g10
-Tg mice compared with WT mice; (
d
) A schematic model of the sPLA
2
-X action in the skin. sPLA
2
-X is converted by certain skin proteases to its active form, which then hydrolyzes PE in skin membranes to liberate PUFA that is further metabolized to skin-acting eicosanoids; (
e
) Endogenous sPLA
2
-X is localized in the ORS of hair follicles (shown in red). ORS, outer root sheath; IRS, inner root sheath. For details, see [
38
].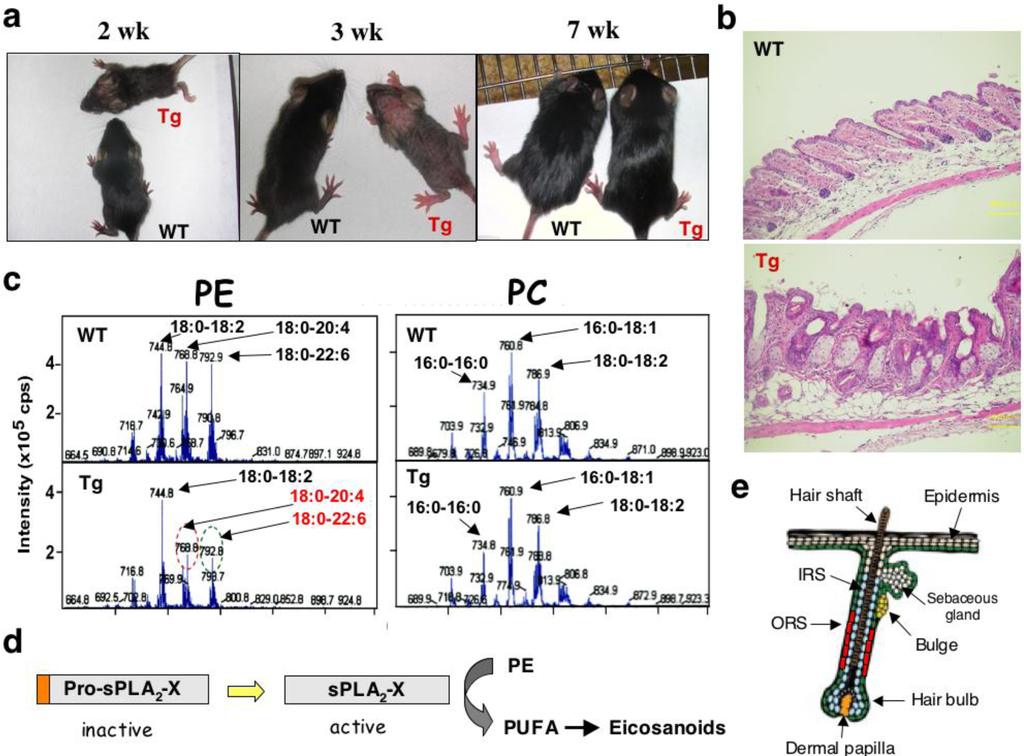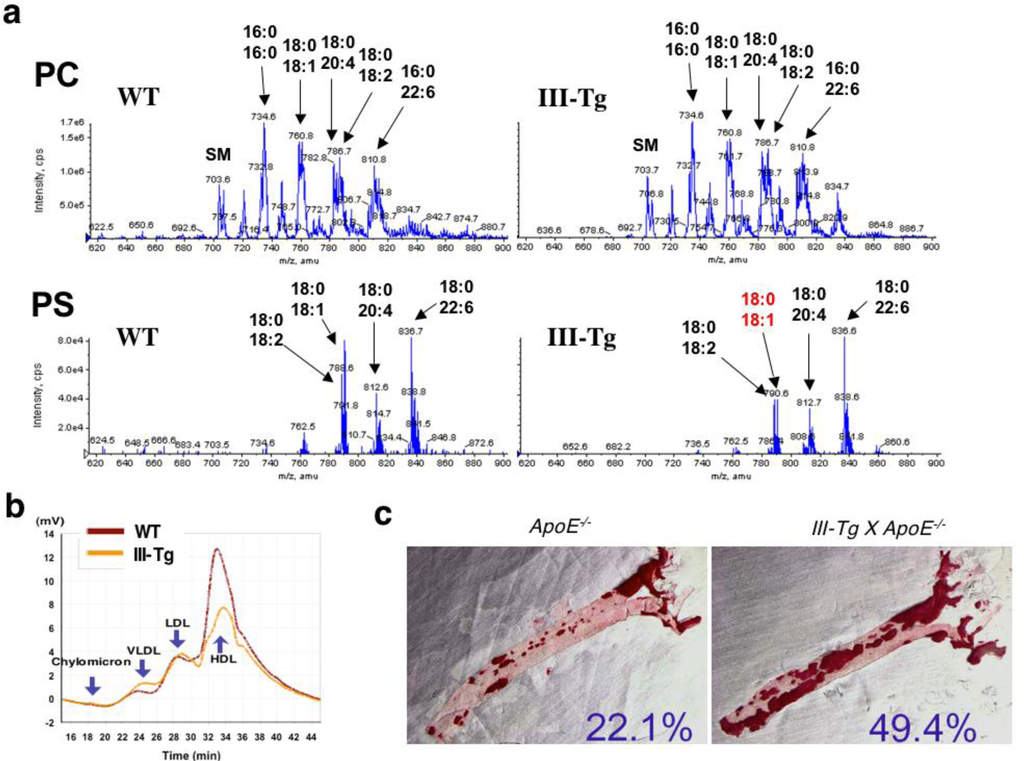 Figure 3.
Pla2g3
-Tg mice display systemic inflammatory and atherosclerotic phenotypes
. (a)
ESI-MS of PC and PS in splenocytes from
Pla2g3
-Tg (III-Tg) and wild-type (WT) mice. Major peaks are indicated by arrows. Peaks altered in III-Tg mice relative to WT mice are shown in red. SM, sphingomyelin;
(b)
HPLC profile of plasma lipoproteins in III-Tg and WT mice;
(c)
Increased atherosclerosis in III-Tg mice on the
ApoE−/−
background (male, 24-wk-old). Atheroslcerotic lesions were visualized by oil red O staining. Areas positive for the staining were quantified. For details, see [
51
,
55
].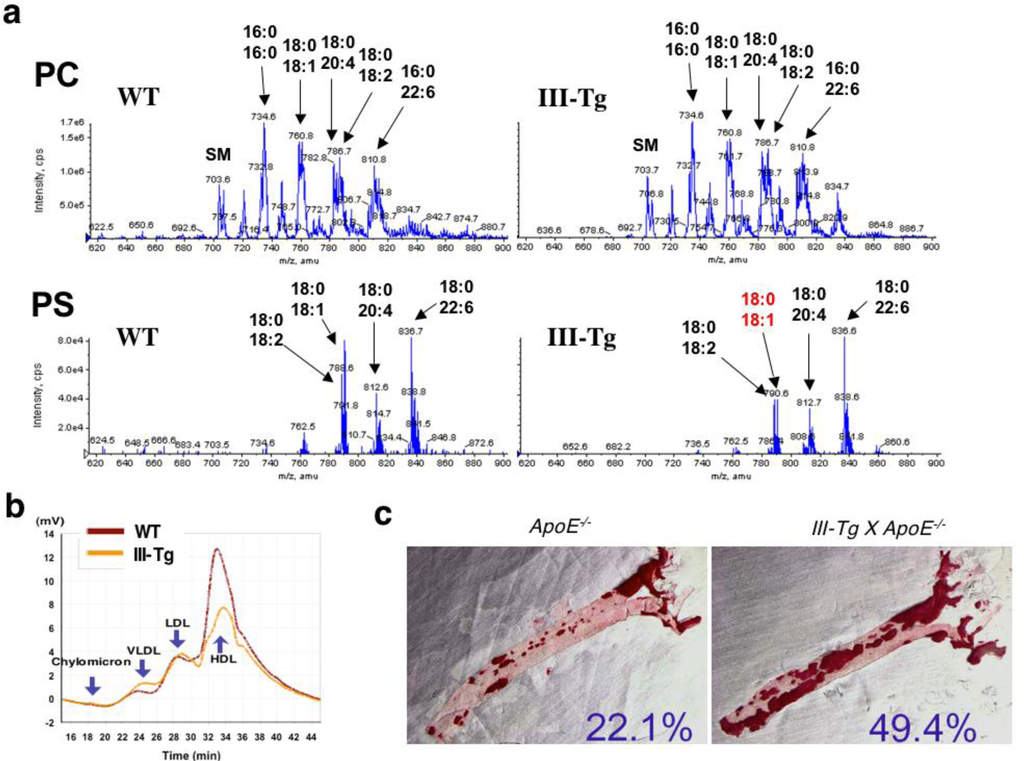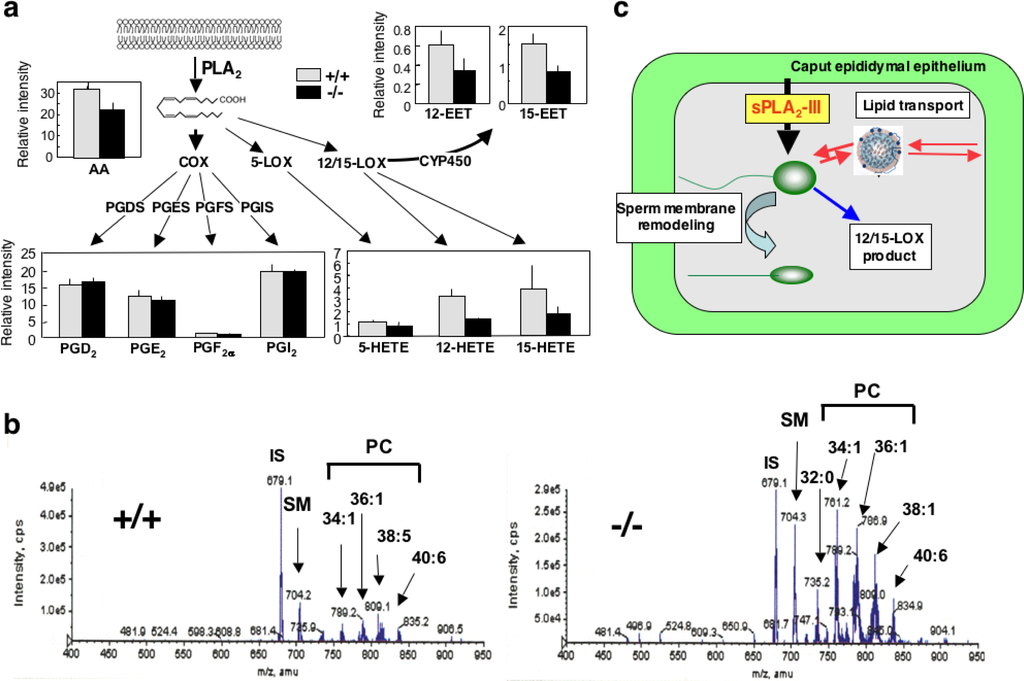 Figure 4.
Pla2g3−/−
mice have multiple defects in epididymal sperm maturation.
(a)
Altered eicosanoid levels in
Pla2g3−/−
mice. The levels of individual eicosanoids in the epididymis were determined by LC-ESI-MS/MS. sPLA
2
-III is selectively coupled with 12/15-LOX and CYP450 pathways;
(b)
Unusual accumulation of PC molecular species in the epididymal fluids from
Pla2g3−/−
mice relative to
Pla2g3+/+
mice, as assessed by ESI-MS; (
c
) The roles of sPLA
2
-III in epididymal sperm maturation are summarized. For details, see [
57
].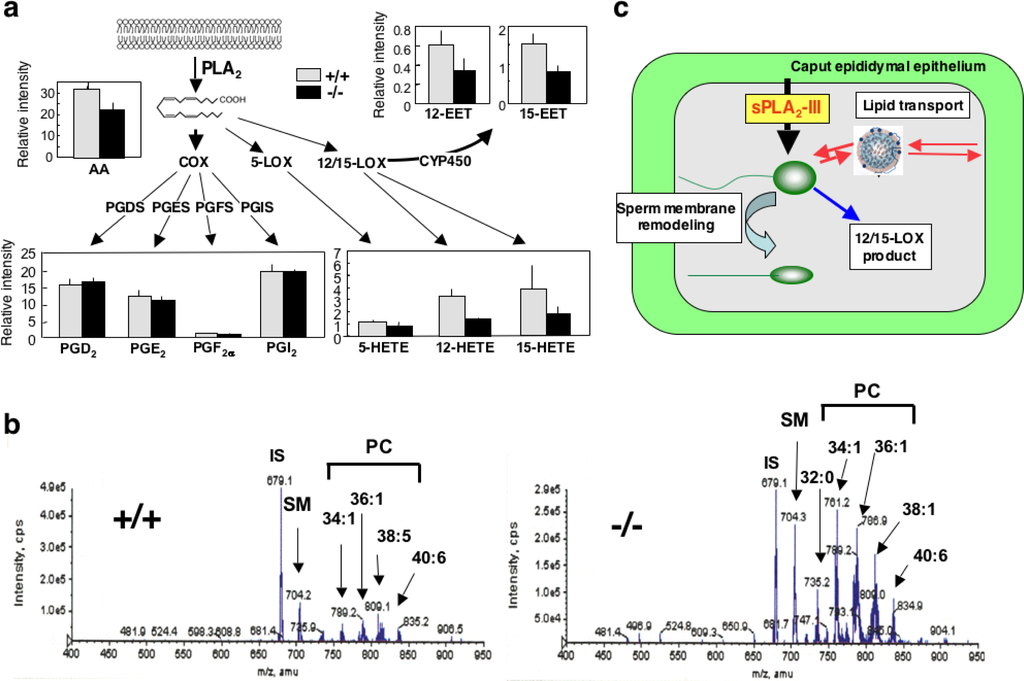 Table 1.

In vitro

actions of sPLA2s on various membranes.
sPLA2s
resting cell membrane
activated cell membrane
lipoprotein (PC)
surfactant (PC)
Gram-positive bacteria
Gram-negative bacteria
conventional sPLA2s
IB
weak
moderate
weak
weak
none
none
IIA
none
moderate
weak
weak
very high
weak*
IID
none
weak
n.d.
weak
high
none
IIE
none
weak
n.d.
n.d.
moderate
none
IIF
moderate
moderate
moderate
n.d.
none
none
V
high
very high
very high
very high
high
none
X
very high
very high
very high
high
moderate
none
atypical sPLA2s
III
moderate
moderate
high
n.d.
n.d.
none
XIIA
none
none
n.d.
n.d.
high
moderate
n.d.; not determined. sPLA2-IIC is not included since it is a pseudogene in human.*sPLA2-IIA kills Gram-negative bacteria only in the presence of bacterial permeability-increasing protein.For details, please see refs [30,31,41,47,55,79,85,94].
© 2011 by the authors; licensee MDPI, Basel, Switzerland. This article is an open-access article distributed under the terms and conditions of the Creative Commons Attribution license (http://creativecommons.org/licenses/by/3.0/).