A Single Amino Acid Substitution Changes Antigenicity of ORF2-Encoded Proteins of Hepatitis E Virus
School of Medicine, Southeast University, Nanjing, Jiangsu 210009, China
*
Author to whom correspondence should be addressed.
Received: 6 July 2010 / Revised: 25 July 2010 / Accepted: 8 August 2010 / Published: 12 August 2010
Abstract
Extensive genomic diversity has been observed among hepatitis E virus (HEV) strains. However, the implication of the genetic heterogeneity on HEV antigenic properties is uncertain. In this study, monoclonal antibodies (Mabs) against truncated ORF2-encoded proteins (aa452‑617, designated p166 proteins) derived from HEV strains of Burma (genotype 1a, p166Bur), Pakistan (1b, p166Pak) and Morocco (1c, p166Mor) were raised and used for identification of HEV antigenic diversity. Six Mabs reacted to these 3 p166 proteins as well as p166 proteins constructed from strains derived from Mexico (genotype 2), US (genotype 3) and China (genotype 4), indicating the existence of pan‑genotypic epitopes. Two Mabs, 1B5 and 6C7, reacted with p166Bur and p166Mor, but not p166Pak or p166s derived from genotypes 2, 3, and 4, indicating that these 2 Mabs recognized strain-specific HEV epitopes. Both the common and specific epitopes could not be mapped by 23 synthetic peptides spanning the p166Bur sequence, suggesting that they are confirmation‑dependent. Comparative sequence analysis showed that p166Bur and p166Mor shared an identical aa sequence along their entire lengths, whereas for p166Pak the aas occupying positions 606 and 614 are different from aas at corresponding positions of p166Bur and p166Mor. Reactivity between 1B5 and p166Bur was abrogated with mutation of p166Bur/A606V, whereas p166Pak acquired the reactivity to 1B5 with mutation of p166Pak/V606A. However, mutations of p166Bur/L614M and P166Pak/M614L did not affect the immunoreactivity. Therefore, the aa occupying position 606 plays a critical role in maintaining the antigenicity of the HEV p166 proteins.
View Full-Text
►

▼

Figures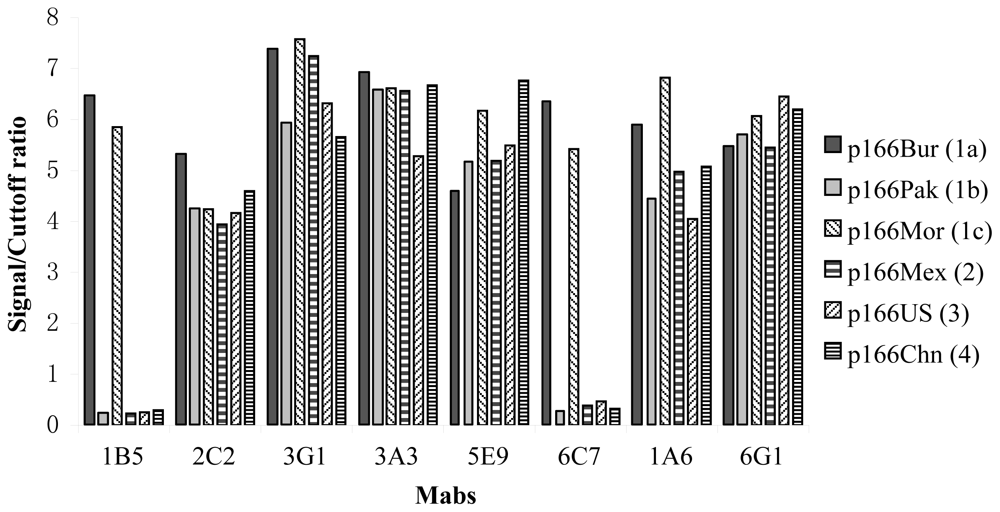 Share & Cite This Article
MDPI and ACS Style
Liang, J.-H.; Dai, X.; Dong, C.; Meng, J.-H. A Single Amino Acid Substitution Changes Antigenicity of ORF2-Encoded Proteins of Hepatitis E Virus. Int. J. Mol. Sci. 2010, 11, 2962-2975.
Related Articles
Comments
[Return to top]