Nitric Oxide: Perspectives and Emerging Studies of a Well Known Cytotoxin
1
Center for Molecular Biology of Oral Diseases, College of Dentistry, University of Illinois at Chicago, Chicago, IL 60612, USA
2
Department of Jesse Brown, Veterans Administration Medical Center, Chicago, IL 60612, USA
3
Division of Gastroenterology, Department of Internal Medicine, Charles A. Sammons Cancer Center and Baylor Research Institute, Baylor University Medical Center, Dallas, TX 75246, USA
4
Department of Otolaryngology, Wake Forest University, Winston-Salem, NC 27157, USA
5
Mount Sinai School of Medicine, New York, NY 10029, USA
6
Department of Pathology, Yale University School of Medicine, New Haven, CT 06510, USA
*
Author to whom correspondence should be addressed.
Received: 26 May 2010 / Revised: 17 June 2010 / Accepted: 13 July 2010 / Published: 16 July 2010
Abstract
The free radical nitric oxide (NO
●
) is known to play a dual role in human physiology and pathophysiology. At low levels, NO
●
can protect cells; however, at higher levels, NO
●
is a known cytotoxin, having been implicated in tumor angiogenesis and progression. While the majority of research devoted to understanding the role of NO
●
in cancer has to date been tissue-specific, we herein review underlying commonalities of NO
●
which may well exist among tumors arising from a variety of different sites. We also discuss the role of NO
●
in human physiology and pathophysiology, including the very important relationship between NO
●
and the glutathione-transferases, a class of protective enzymes involved in cellular protection. The emerging role of NO
●
in three main areas of epigenetics—DNA methylation, microRNAs, and histone modifications—is then discussed. Finally, we describe the recent development of a model cell line system in which human tumor cell lines were adapted to high NO
●
(HNO) levels. We anticipate that these HNO cell lines will serve as a useful tool in the ongoing efforts to better understand the role of NO
●
in cancer.
View Full-Text
►

▼

Figures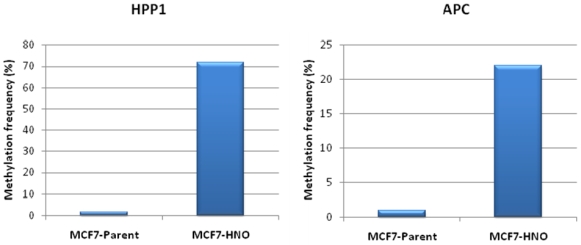 Share & Cite This Article
MDPI and ACS Style
Paradise, W.A.; Vesper, B.J.; Goel, A.; Waltonen, J.D.; Altman, K.W.; Haines, G.K., III; Radosevich, J.A. Nitric Oxide: Perspectives and Emerging Studies of a Well Known Cytotoxin. Int. J. Mol. Sci. 2010, 11, 2715-2745.
Related Articles
Comments
[Return to top]