Adsorption and Quantum Chemical Studies on the Inhibition Potentials of Some Thiosemicarbazides for the Corrosion of Mild Steel in Acidic Medium
1
Department of Chemistry, North West University (Mafikeng Campus), Private Bag X2046, Mmabatho 2735, South Africa
2
Department of Chemistry, Ahmadu Bello University, Zaria, Nigeria
*
Author to whom correspondence should be addressed.
Received: 8 May 2010 / Revised: 22 May 2010 / Accepted: 23 May 2010 / Published: 15 June 2010
Abstract
Three thiosemicarbazides, namely 2-(2-aminophenyl)-N phenylhydrazinecarbothioamide (AP4PT), N,2-diphenylhydrazinecarbothioamide (D4PT) and 2-(2-hydroxyphenyl)-N-phenyl hydrazinecarbothioamide (HP4PT), were investigated as corrosion inhibitors for mild steel in H2SO4 solution using gravimetric and gasometric methods. The results revealed that they all inhibit corrosion and their % inhibition efficiencies (%IE) follow the order: AP4PT > HP4PT > D4PT. The %IE obtained from the gravimetric and gasometric experiments were in good agreement. The thermodynamic parameters obtained support a physical adsorption mechanism and the adsorption followed the Langmuir adsorption isotherm. Some quantum chemical parameters were calculated using different methods and correlated with the experimental %IE. Quantitative structure activity relationship (QSAR) approach was used on a composite index of some quantum chemical parameters to characterize the inhibition performance of the studied molecules. The results showed that the %IE were closely related to some of the quantum chemical parameters, but with varying degrees. The calculated/theoretical %IE of the molecules were found to be close to their experimental %IE. The local reactivity has been studied through the Fukui and condensed softness indices in order to predict both the reactive centers and to know the possible sites of nucleophilic and electrophilic attacks.
View Full-Text
►

▼

Figures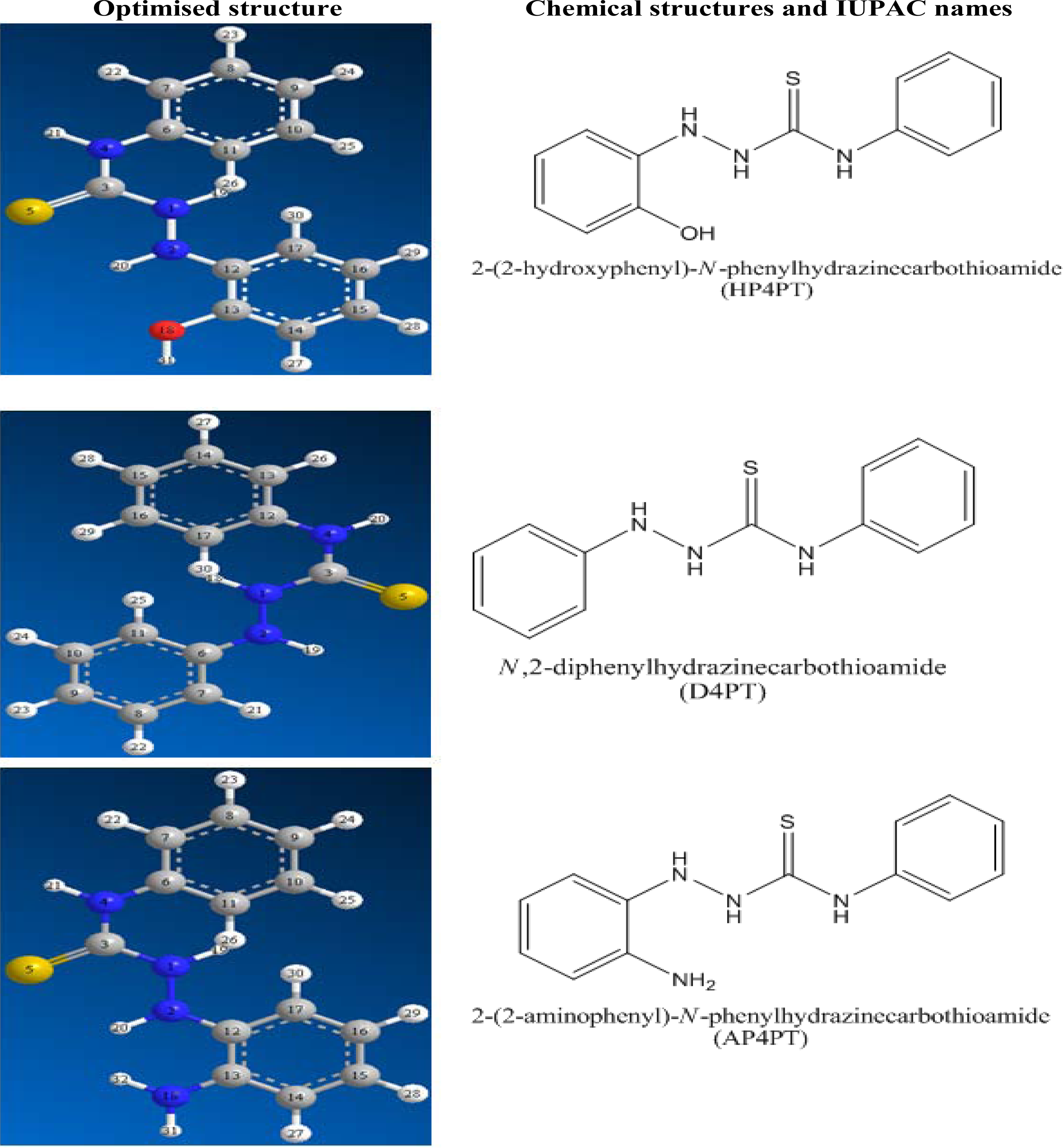 Share & Cite This Article
MDPI and ACS Style
Ebenso, E.E.; Isabirye, D.A.; Eddy, N.O. Adsorption and Quantum Chemical Studies on the Inhibition Potentials of Some Thiosemicarbazides for the Corrosion of Mild Steel in Acidic Medium. Int. J. Mol. Sci. 2010, 11, 2473-2498.
Related Articles
Comments
[Return to top]