Diversity of Phylogenetic Information According to the Locus and the Taxonomic Level: An Example from a Parasitic Mesostigmatid Mite Genus
1
Laboratoire de Parasitologie, Université de Lyon, Ecole Nationale Vétérinaire de Lyon, Marcy-L'Etoile, France
2
Department of Entomology, University of Arkansas, Fayetteville, USA
*
Author to whom correspondence should be addressed.
Received: 5 March 2010 / Revised: 8 April 2010 / Accepted: 8 April 2010 / Published: 13 April 2010
Abstract
Molecular markers for cladistic analyses may perform differently according to the taxonomic group considered and the historical level under investigation. Here we evaluate the phylogenetic potential of five different markers for resolving evolutionary relationships within the ectoparasitic genus
Dermanyssus
at the species level, and their ability to address questions about the evolution of specialization. COI provided 9–18% divergence between species (up to 9% within species), 16S rRNA 10–16% (up to 4% within species), ITS1 and 2 2–9% (up to 1% within species) and Tropomyosin intron n 8–20% (up to 6% within species). EF-1a revealed different non-orthologous copies withinindividuals of
Dermanyssus
and
Ornithonyssus.
Tropomyosin intron n was shown containing consistent phylogenetic signal at the specific level within
Dermanyssus
and represents a promising marker for future prospects in phylogenetics of Acari. Phylogenetic analyses revealed that the generalist condition is apomorphic and
D. gallinae
mightrepresent a complex of hybridized lineages. The split into
hirsutus
-group and
gallinae
-group in
Dermanyssus
does not seem to be appropriate based upon these results and
D. longipes
appears to be composed of two different entities.
View Full-Text
►

▼

Figures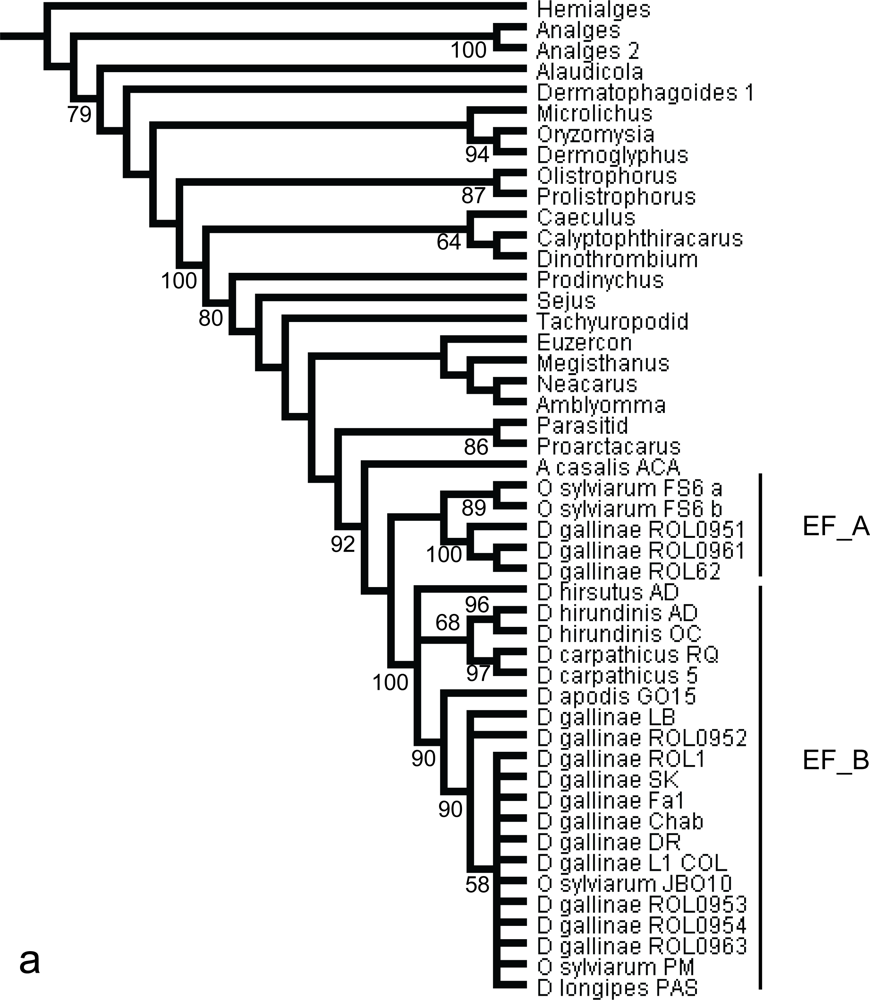 Share & Cite This Article
MDPI and ACS Style
Roy, L.; Dowling, A.P.G.; Chauve, C.M.; Buronfosse, T. Diversity of Phylogenetic Information According to the Locus and the Taxonomic Level: An Example from a Parasitic Mesostigmatid Mite Genus. Int. J. Mol. Sci. 2010, 11, 1704-1734.
Related Articles
Comments
[Return to top]