An Adsorptive Transfer Technique Coupled with Brdicka Reaction to Reveal the Importance of Metallothionein in Chemotherapy with Platinum Based Cytostatics
1
Department of Chemistry and Biochemistry, Faculty of Agronomy, Mendel University in Brno, Zemedelska 1, CZ-613 00 Brno, Czech Republic
2
Department of Natural Drugs, Faculty of Pharmacy, University of Veterinary and Pharmaceutical Sciences, Palackeho 1-3, CZ-612 42 Brno, Czech Republic
3
Department of Paediatric Haematology and Oncology, Charles University and Teaching Hospital Motol, 2nd Faculty of Medicine, V Uvalu 84, CZ-150 06 Prague 5, Czech Republic
4
Department of Ophthalmology for Children and Adults, Charles University and Teaching Hospital Motol, 2nd Faculty of Medicine, V Uvalu 84, CZ-150 06 Prague 5, Czech Republic
5
Department of Clinical Biochemistry and Pathobiochemistry, Charles University and Teaching Hospital Motol, 2nd Faculty of Medicine, V Uvalu 84, CZ-150 06 Prague 5, Czech Republic
6
Department of Chemistry, Faculty of Science, Masaryk University, Kotlarska 2, CZ-611 37 Brno, Czech Republic
*
Author to whom correspondence should be addressed.
Received: 11 October 2010 / Revised: 10 November 2010 / Accepted: 24 November 2010 / Published: 26 November 2010
Abstract
The drugs based on platinum metals represent one of the oldest, but also one of the most effective groups of chemotherapeutic agents. Thanks to many clinical studies it is known that resistance of tumor cells to drugs is a frequent cause of chemotherapy failure. With regard to platinum based drugs, multidrug resistance can also be connected with increased expression of low-molecular weight protein metallothionein (MT). This study aimed at investigating the interactions of MT with cisplatin or carboplatin, using the adsorptive transfer technique coupled with differential pulse voltammetry Brdicka reaction (AdTS DPV Brdicka reaction), and a comparison of
in vitro
results with results obtained
in vivo
. The results obtained from the
in vitro
study show a strong affinity between platinum based drugs and MT. Further, we analyzed extracts of neuroblastoma cell lines treated with cisplatin or carboplatin. It is clear that neuroblastoma UKF-NB-4 cisplatin-resistant and cisplatin-sensitive cell lines unlikely respond to the presence of the platinum-based cytostatics cisplatin and carboplatin. Finally, we determined the level of MT in samples from rabbits treated with carboplatin and patients with retinoblastoma treated with the same drug.
View Full-Text
►

▼

Figures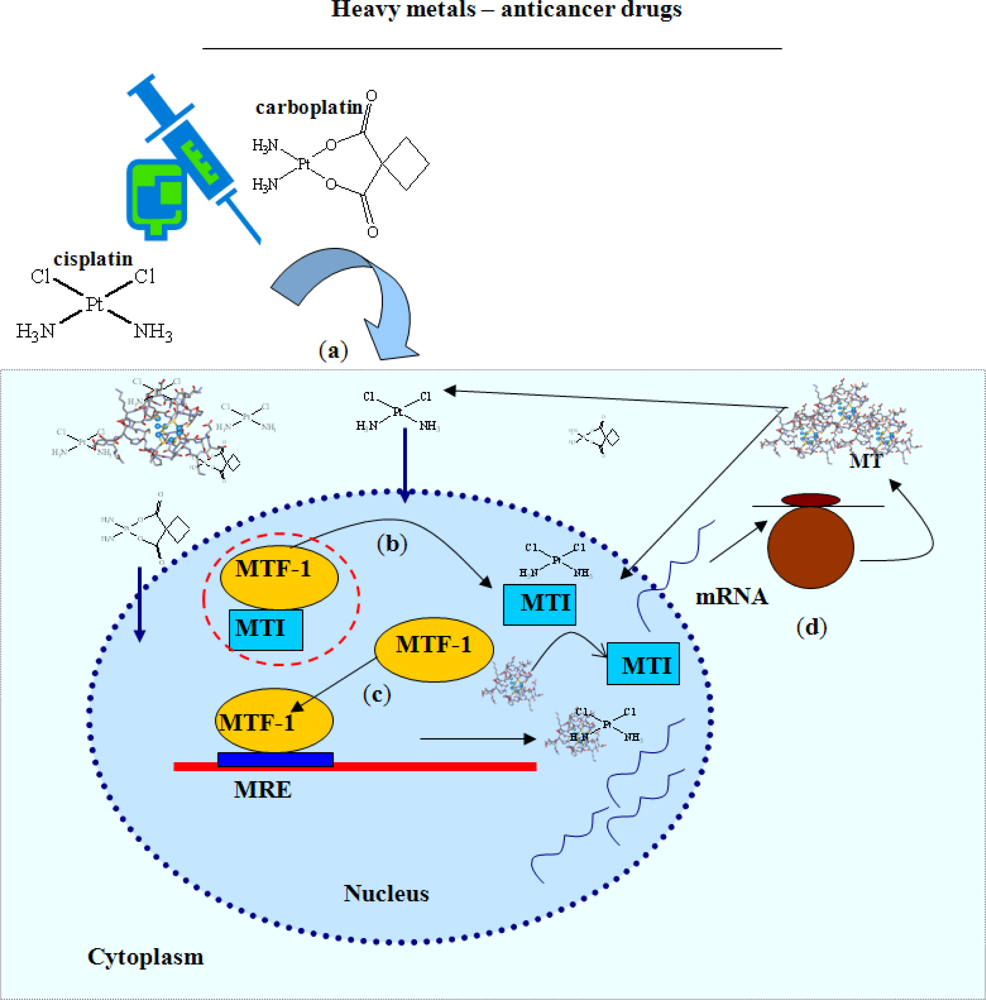 Share & Cite This Article
MDPI and ACS Style
Krizkova, S.; Fabrik, I.; Huska, D.; Adam, V.; Babula, P.; Hrabeta, J.; Eckschlager, T.; Pochop, P.; Darsova, D.; Kukacka, J.; Prusa, R.; Trnkova, L.; Kizek, R. An Adsorptive Transfer Technique Coupled with Brdicka Reaction to Reveal the Importance of Metallothionein in Chemotherapy with Platinum Based Cytostatics. Int. J. Mol. Sci. 2010, 11, 4826-4842.
Related Articles
Comments
[Return to top]