In Vitro Efficacy of Myxococcus fulvus ANSM068 to Biotransform Aflatoxin B1
1
National Key Lab for Animal Nutrition, College of Animal Science and Technology, China Agricultural University, Beijing 100193, China
2
Guelph Food Research Center, Agriculture and Agri-Food Canada, Guelph N1G5C9, Canada
†
These authors contributed equally to this work.
*
Author to whom correspondence should be addressed.
Received: 29 September 2010 / Revised: 12 October 2010 / Accepted: 15 October 2010 / Published: 20 October 2010
Abstract
Aflatoxin B
1
(AFB
1
) is commonly found in cereals and animal feeds and causes a significant threat to the food industry and animal production. Several microbial isolates with high AFB
1
transformation ability have been identified in our previous studies. The aim of this research was to characterize one of those isolates,
Myxococcus fulvus
ANSM068, and to explore its biotransformation mechanism. The bacterial isolate of
M. fulvus
ANSM068, isolated from deer feces, was able to transform AFB
1
by 80.7% in liquid VY/2 medium after incubation at 30 °C for 72 h. The supernatant of the bacterial culture was more effective in transforming AFB
1
as compared to the cells alone and the cell extract. The transformation activity was significantly reduced and eradicated after the culture supernatant was treated with proteinase K, proteinase K plus SDS and heating. Culture conditions, including nitrogen source, initial pH and incubation temperature were evaluated for an optimal AFB
1
transformation. Liquid chromatography mass spectrometry (LCMS) analyses showed that AFB
1
was transformed to a structurally different compound. Infrared analysis (IR) indicated that the lactone ring on the AFB
1
molecule was modified by the culture supernatant. Chromatographies on DEAE-Ion exchange and Sephadex-Molecular sieve and SDS-PAGE electrophoresis were used to determine active components from the culture supernatant, indicating that enzyme(s) were responsible for the AFB
1
biotransformation. This is the first report on AFB
1
transformation by a strain of myxobacteria through enzymatic reaction(s).
View Full-Text
►

▼

Figures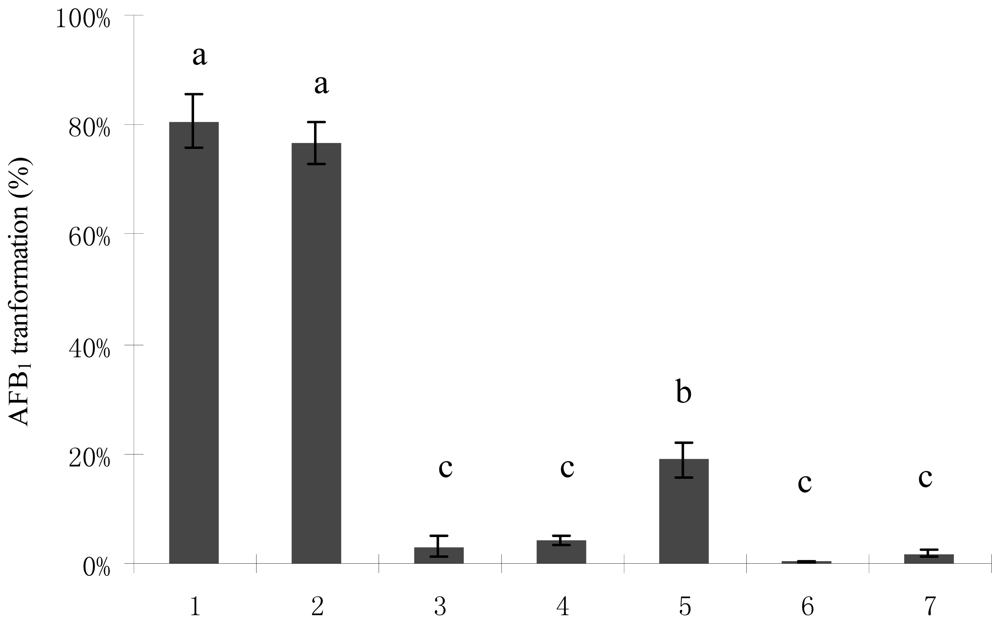 Share & Cite This Article
MDPI and ACS Style
Guan, S.; Zhao, L.; Ma, Q.; Zhou, T.; Wang, N.; Hu, X.; Ji, C. In Vitro Efficacy of Myxococcus fulvus ANSM068 to Biotransform Aflatoxin B1. Int. J. Mol. Sci. 2010, 11, 4063-4079.
Related Articles
Comments
[Return to top]