Antigenotoxic Effect of Chamomilla recutita (L.) Rauschert Essential Oil in Mouse Spermatogonial Cells, and Determination of Its Antioxidant Capacity in Vitro
1
Laboratorio de Toxicología, Instituto de Ciencias de la Salud, UAEH, Ex-Hacienda de la Concepción. Tilcuautla. Pachuca de Soto, Hgo. Cp 42080, Mexico
2
Laboratorio de Genética, Escuela Nacional de Ciencias Biológicas, IPN, Unidad Profesional A. López Mateos, Zacatenco, Av. Wilfrido Massieu. Col Lindavista, D. F. Cp 07738, Mexico
3
Laboratorio de Toxicología Preclínica, Escuela Nacional de Ciencias Biológicas, IPN, Unidad Profesional A. López Mateos, Zacatenco, Av. Wilfrido Massieu, Col Lindavista, D. F. Cp 07738, Mexico
*
Author to whom correspondence should be addressed.
Received: 21 July 2010 / Revised: 12 September 2010 / Accepted: 17 September 2010 / Published: 30 September 2010
Abstract
Chamomilla recutita
(L.) Rauschert (Asteraceae), popularly known as chamomile, is a plant used in traditional medicine for various therapeutic purposes. Chamomile essential oil (CEO) is particularly known to inhibit the genotoxic damage produced by mutagens in mice somatic cells. The aim of this research was to determine the inhibitory potential of CEO on the genotoxic damage produced by daunorubicin (DAU) in mice germ cells. We evaluated the effect of 5, 50, and 500 mg/kg of essential oil on the rate of sister chromatid exchange (SCE) induced in spermatogonia by 10 mg/kg of the mutagen. We found no genotoxicity of CEO, but detected an inhibition of SCE after the damage induced by DAU; from the lowest to the highest dose of CEO we found an inhibition of 47.5%, 61.9%, and 93.5%, respectively. As a possible mechanism of action, the antioxidant capacity of CEO was determined using the 1,1-diphenyl-2-picrylhydrazyl (DPPH) free radical scavenging method and ferric thiocyanate assays. In the first test we observed a moderate scavenging potential of the oil; nevertheless, the second assay showed an antioxidant capacity similar to that observed with vitamin E. In conclusion, we found that CEO is an efficient chemoprotective agent against the damage induced by DAU in the precursor cells of the germinal line of mice, and that its antioxidant capacity may induce this effect.
View Full-Text
►

▼

Figures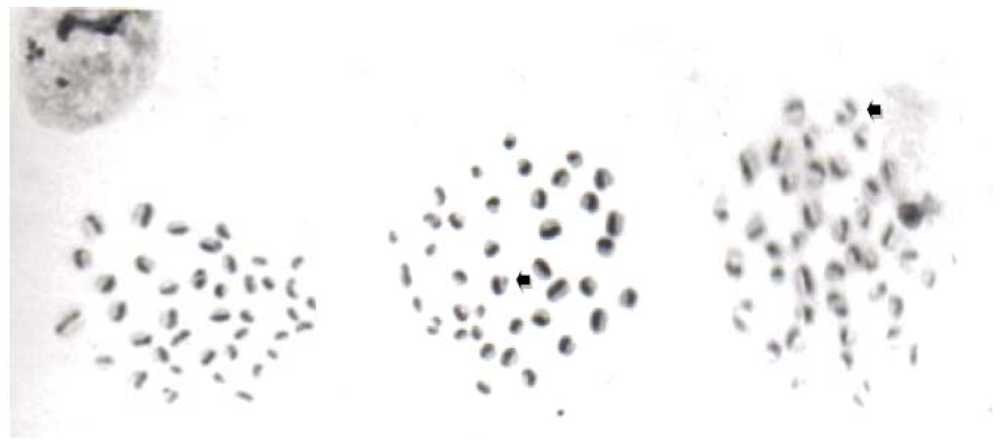 Share & Cite This Article
MDPI and ACS Style
Hernández-Ceruelos, A.; Madrigal-Santillán, E.; Morales-González, J.A.; Chamorro-Cevallos, G.; Cassani-Galindo, M.; Madrigal-Bujaidar, E. Antigenotoxic Effect of Chamomilla recutita (L.) Rauschert Essential Oil in Mouse Spermatogonial Cells, and Determination of Its Antioxidant Capacity in Vitro. Int. J. Mol. Sci. 2010, 11, 3793-3802.
Related Articles
Comments
[Return to top]