Conformational Analysis of Thioether Musks Using Density Functional Theory
Department of Chemistry, University of Alabama in Huntsville, Huntsville, AL 35899, USA
Received: 21 June 2009 / Revised: 24 July 2009 / Accepted: 3 August 2009 / Published: 4 August 2009
Abstract
A conformational analysis of nine macrocyclic thioether musks has been carried out using molecular mechanics (MMFF), density functional theory (DFT) using both B3LYP and M06 functionals, as well as Hartree-Fock and post-Hartree-Fock (MP2)
ab initio
methods. 6-Thia-, 10-thia- and 4-methyl-5-thia-14-tetradecananolide, 4-thia-, 7-thia-, 11-thia- and 12-thia-15-pentadecanolide and 6-thia- and 12-thia-16-hexadecanolide were modeled. Unfortunately, there was little agreement between the computational methods at the levels of theory used in this study.
View Full-Text
►

▼

Figures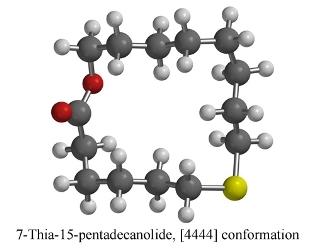 Share & Cite This Article
MDPI and ACS Style
Setzer, W.N. Conformational Analysis of Thioether Musks Using Density Functional Theory. Int. J. Mol. Sci. 2009, 10, 3488-3501.
Related Articles
Comments
[Return to top]