Inhibition of Citrinin-Induced Apoptotic Biochemical Signaling in Human Hepatoma G2 Cells by Resveratrol
Department of Bioscience Technology and Center for Nanotechnology, Chung Yuan Christian University, Chung Li, 32023, Taiwan
*
Author to whom correspondence should be addressed.
Received: 20 July 2009 / Revised: 27 July 2009 / Accepted: 28 July 2009 / Published: 29 July 2009
Abstract
The mycotoxin citrinin (CTN), a natural contaminant in foodstuffs and animal feeds, exerts cytotoxic and genotoxic effects on various mammalian cells. CTN causes cell injury, including apoptosis, but its precise regulatory mechanisms of action are currently unclear. Resveratrol, a member of the phytoalexin family found in grapes and other dietary plants, possesses antioxidant and anti-tumor properties. In the present study, we examined the effects of resveratrol on apoptotic biochemical events in Hep G2 cells induced by CTN. Resveratrol inhibited CTN-induced ROS generation, activation of JNK, loss of mitochondrial membrane potential (MMP), as well as activation of caspase-9, caspase-3 and PAK2. Moreover, resveratrol and the ROS scavengers, NAC and α-tocopherol, abolished CTN-stimulated intracellular oxidative stress and apoptosis. Active JNK was required for CTN-induced mitochondria-dependent apoptotic biochemical changes, including loss of MMP, and activation of caspases and PAK2. Activation of PAK2 was essential for apoptosis triggered by CTN. These results collectively demonstrate that CTN stimulates ROS generation and JNK activation for mitochondria-dependent apoptotic signaling in Hep G2 cells, and these apoptotic biochemical events are blocked by pretreatment with resveratrol, which exerts antioxidant effects.
View Full-Text
►

▼

Figures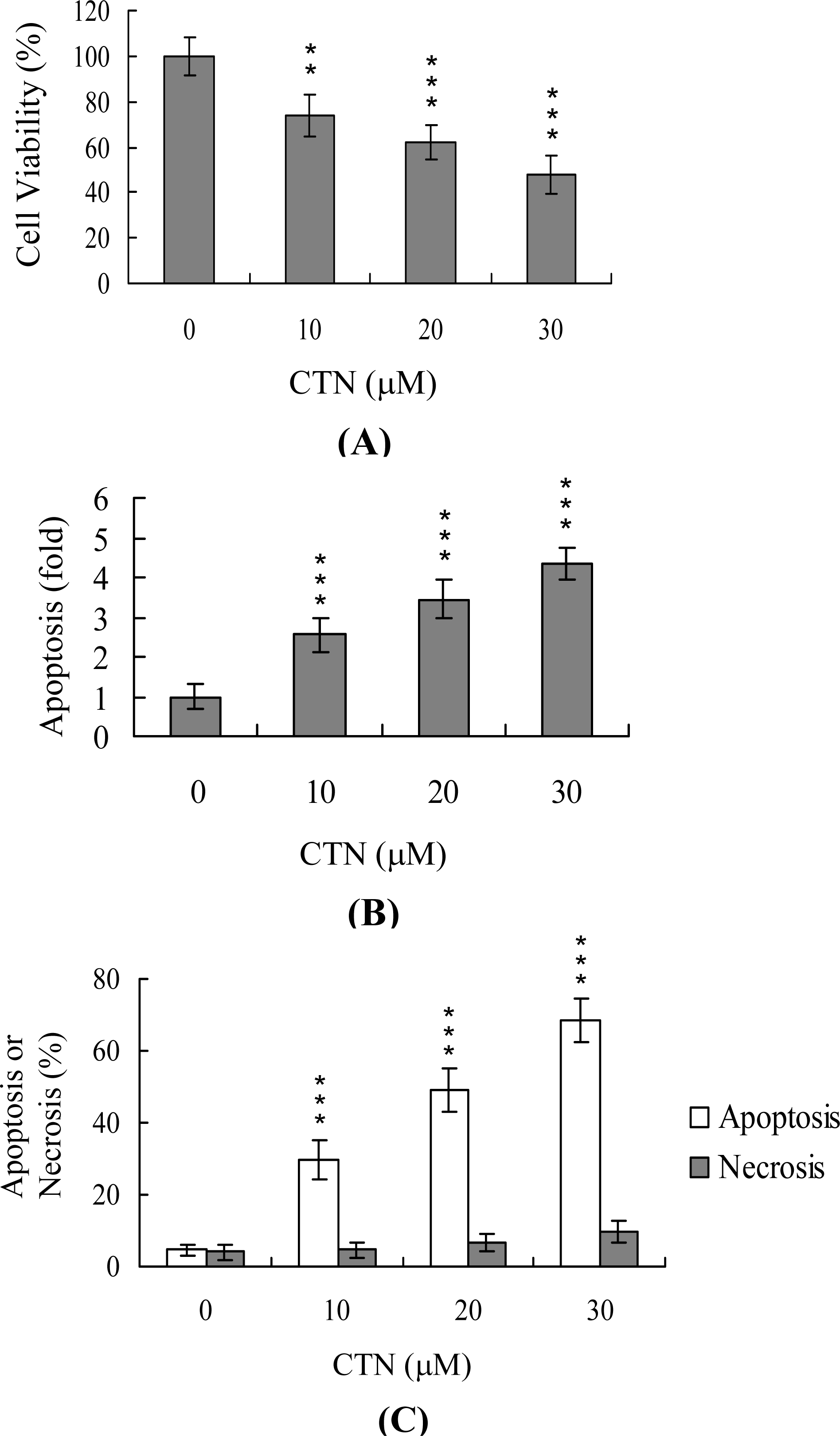 Share & Cite This Article
MDPI and ACS Style
Chen, C.-C.; Chan, W.-H. Inhibition of Citrinin-Induced Apoptotic Biochemical Signaling in Human Hepatoma G2 Cells by Resveratrol. Int. J. Mol. Sci. 2009, 10, 3338-3357.
Related Articles
Comments
[Return to top]