Changes in Metallothionein Level in Rat Hepatic Tissue after Administration of Natural Mouldy Wheat
1
Department of Animal Nutrition and Forage Production, Faculty of Agronomy, Mendel University of Agriculture and Forestry, Zemedelska 1, CZ-613 00 Brno, Czech Republic
2
Department of Chemistry and Biochemistry, Faculty of Agronomy, Mendel University of Agriculture and Forestry, Zemedelska 1, CZ-613 00 Brno, Czech Republic
*
Author to whom correspondence should be addressed.
Received: 3 January 2009 / Revised: 28 February 2009 / Accepted: 9 March 2009 / Published: 12 March 2009
Abstract
Mycotoxins are secondary metabolites produced by microfungi that are capable of causing disease and death in humans and other animals. This work was aimed at investigation of influence of mouldy wheat contaminated by pathogenic fungi producing mycotoxins on metallothionein levels in hepatic tissue of rats. The rats were administrating feed mixtures with different contents of vitamins or naturally mouldy wheat for 28 days. It was found that the wheat contained deoxynivalenol (80 ± 5 µg per kg of mouldy wheat), zearalenone (56 ± 3 µg/kg), T2-toxin (20 ± 2 µg/kg) and aflatoxins as a sum of B1, B2, G1 and G2 (3.9 ± 0.2 µg/kg). Rats were fed diets containing 0, 33, 66 and 100% naturally moulded wheat. Control group 0, 33, 66 and 100% contained vitamins according to Nutrient Requirements of Rats (NRC). Other four groups (control group with vitamins, vit33, vit66 and vit100%) were fed on the same levels of mouldy wheat, also vitamins at levels 100% higher than the previous mixtures. We determined weight, feed conversion and performed dissection to observe pathological processes. Changes between control group and experimental groups exposed to influence of mouldy wheat and experimental groups supplemented by higher concentration of vitamins and mouldy wheat were not observed. Livers were sampled and did not demonstrate significant changes in morphology compared to control either. In the following experiments the levels of metallothionein as a marker of oxidative stress was determined. We observed a quite surprising trend in metallothionein levels in animals supplemented with increased concentration of vitamins. Its level enhanced with increasing content of mouldy wheat. It was possible to determine a statistically significant decline (p<0.05) between control group and groups of animals fed with 33, 66 and 100% mouldy wheat. It is likely that some mycotoxins presented in mouldy wheat are able to block the mechanism of metallothionein synthesis.
View Full-Text
►

▼

Figures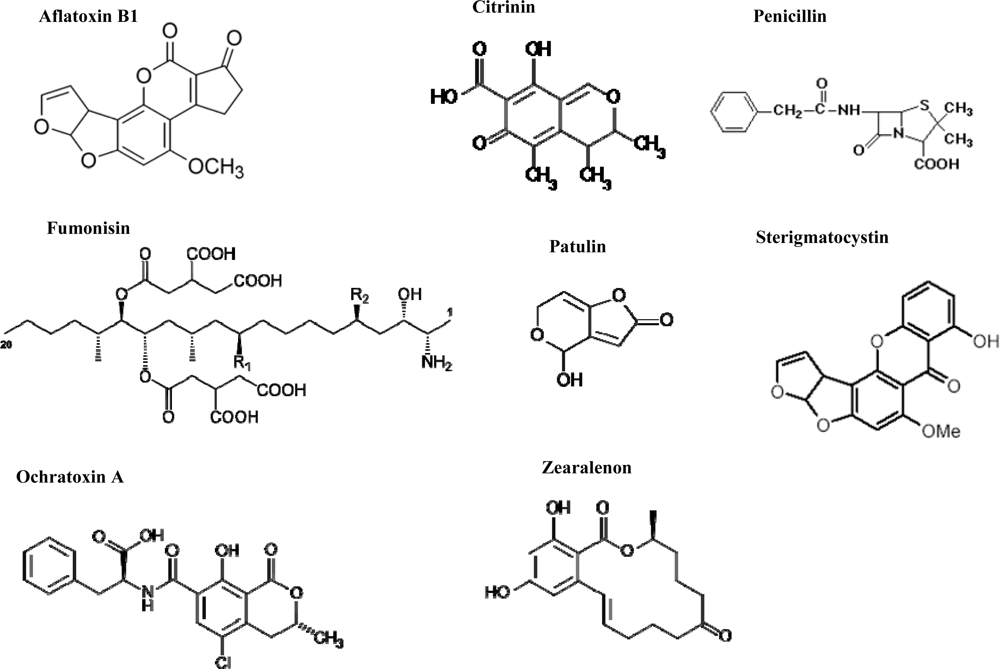 Share & Cite This Article
MDPI and ACS Style
Vasatkova, A.; Krizova, S.; Adam, V.; Zeman, L.; Kizek, R. Changes in Metallothionein Level in Rat Hepatic Tissue after Administration of Natural Mouldy Wheat. Int. J. Mol. Sci. 2009, 10, 1138-1160.
Related Articles
Comments
[Return to top]