Studies on TMPD:TCNB; a Donor-Acceptor with Room Temperature Paramagnetism and n-π Interaction†
1
Department of Chemistry, University of Wyoming, Laramie , Wyoming 82071, USA
2
National Institute of Standards and Technology, 325 Broadway, Boulder CO, 80305, USA
*
Author to whom correspondence should be addressed.
Received: 1 June 2004 / Accepted: 3 August 2004 / Published: 31 August 2004
Abstract
A donor-acceptor compound based on N,N,N′,N′-tetramethyl-p-phenylene-diamine and 1,2,4,5-tetracyanobenzene (TMPD:TCNB) has been synthesized. The crystalstructure of the black 1:1 complex formed between TMPD and TCNB has beendetermined by single crystal X-ray diffraction at room temperature. The compoundcrystallizes in the triclinic space group P-1 with cell dimensions: a = 7.4986(15) å, b =7.6772(11) å, c = 8.0764(15) å, α = 78.822(12)°, β = 83.3779(19)°, γ = 86.289(17)°.TMPD and TCNB molecules are stacked alternately in infinite columns along the a-axis.The structure does not seem to show the usual π-π interaction between the two aromaticrings, but indicates an n-π interaction localized between the nitrogen atoms of the donorand the cyano groups of the acceptor.
View Full-Text
►

▼

Figures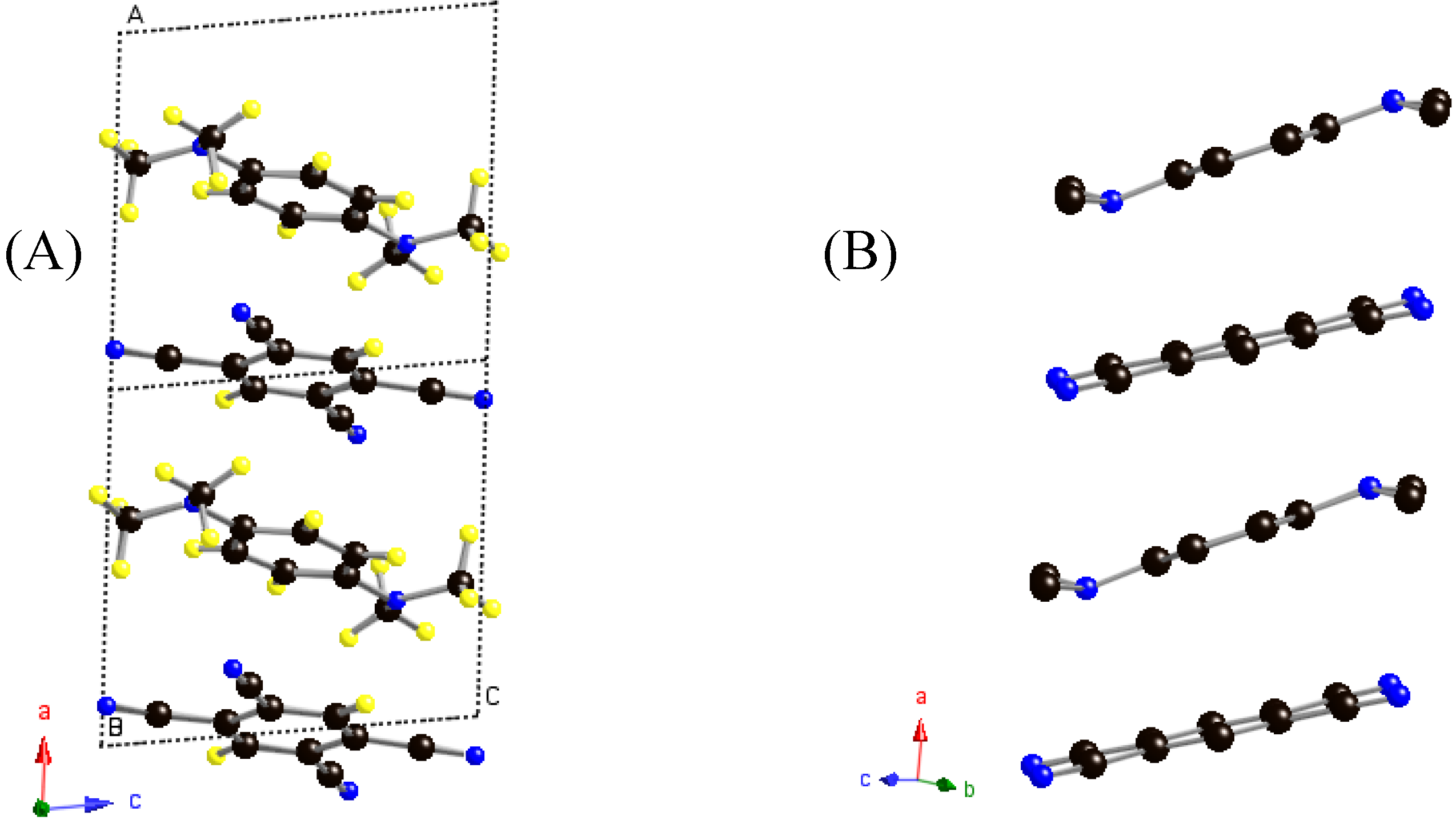 Figure 1
Share & Cite This Article
MDPI and ACS Style
Ghalsasi, P.S.; Cage, B.; Yarger, J.L. Studies on TMPD:TCNB; a Donor-Acceptor with Room Temperature Paramagnetism and n-π Interaction†. Molecules 2004, 9, 808-814.
Related Articles
Comments
[Return to top]