Dipolar Cycloaddition Reactions with Quinazolinones: A New Route for the Synthesis of Several Annelated Pyrrolo- and Pyridazinoquinazoline Derivatives
1
National Organization for Drug Control and Research, P.O. Box 29, Cairo, A.R. Egypt
2
Current address: Department of Chemistry and Biochemistry, Florida Atlantic University, 777 Glades Road, P.O. Box 3091, Boca Raton, FL 33431-0991, USA
*
Author to whom correspondence should be addressed.
Received: 26 November 2002 / Revised: 6 April 2003 / Accepted: 9 April 2003 / Published: 31 May 2003
Abstract
The novel 2-aryl-3a,4,12,12a-tetrahydropyrrolo[3',4':4,3]-pyridazino[6,1-b]-quinazoline-1,3,6-triones (6a–d), 2-aryl-10-oxopyridazino[6,1-b]-quinazoline-3-thio-carboxamides (10a–d) and 2-aryl-3-nitro-1,2,3,4-tetrahydro-pyridazino[6,1-b]quinazolin-10-ones (12a–d) were synthesized
via
a new, facile one step route involving the reactions of the zwitterion 4, formed
in situ
, with a variety of N-arylmaleimides 5, 3-aryl-2-cyano-thioacrylamides 8 and
ω
-nitrostyrenes 11. Dehydrogenation of the tetrahydro derivatives 6a–d and 12a–d in nitrobenzene resulted in the formation of 2-arylpyrrolo[3',4':4,3]-pyridazino[6,1-b]quinazoline-1,3,6-triones (7a–d) and 2-aryl-3-nitropyridazino[6,1-b]quinazolin-10-ones (13a–d), respectively. The structures of the products were confirmed by elemental analysis and spectral data.
View Full-Text
►

▼

Figures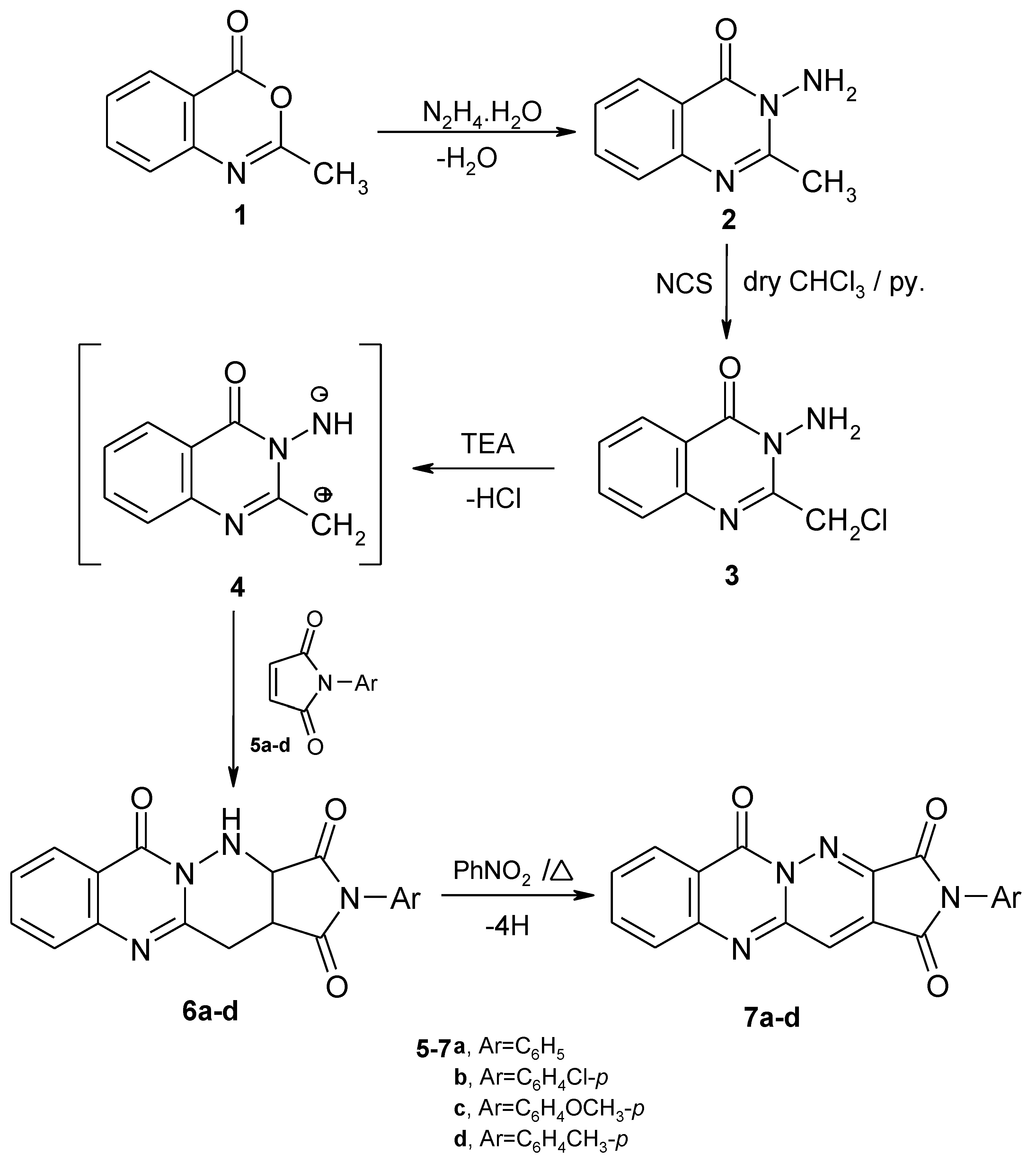 Figure 1
Share & Cite This Article
MDPI and ACS Style
Ghabrial, S.S.; Gaber, H.M. Dipolar Cycloaddition Reactions with Quinazolinones: A New Route for the Synthesis of Several Annelated Pyrrolo- and Pyridazinoquinazoline Derivatives. Molecules 2003, 8, 401-410.
Related Articles
Comments
[Return to top]