Synthesis of Polynuclear Heterocyclic Compounds Derived from Thieno[2,3-d]pyrimidine Derivatives
Photochemistry Department, National Research Center, Cairo, Egypt
*
Author to whom correspondence should be addressed.
Received: 2 August 1999 / Revised: 6 June 2000 / Accepted: 13 June 2000 / Published: 25 June 2000
Abstract
Reaction of 2-hydrazino-3-methyl-3,4-dihydrothieno[2,3-
d
]pyrimidin-4-one derivatives 2a,b with aliphatic acids afforded the thienotriazolopyrimidinone derivatives 3a-d, with nitrous acid yielded tetrazolothienopyrimidinone derivatives 4a,b and with carbon disulphide furnished 3-mercaptothienotriazolopyrimidinone derivatives 5a,b. Also, 2a,b reacted with aldehydes to afford the arylhydrazones 6a-f which cyclized into thienotriazolopyrimidinone derivatives 7a-f. Furthermore, 2a,b condensed with ethyl acetoacetate and ethyl cyanoacetate to afford 2-(1-pyrazolyl) derivatives 9a,b and 10a,b, respectively. On the other hand, 2-hydrazino derivatives 2a,b condensed with a-halo-ketones to yield thienpyrimidotriazinone derivatives 11a,b and with β-diketones, to form 2-(1-pyrazolyl) derivatives 12a-f.
View Full-Text
►

▼

Figures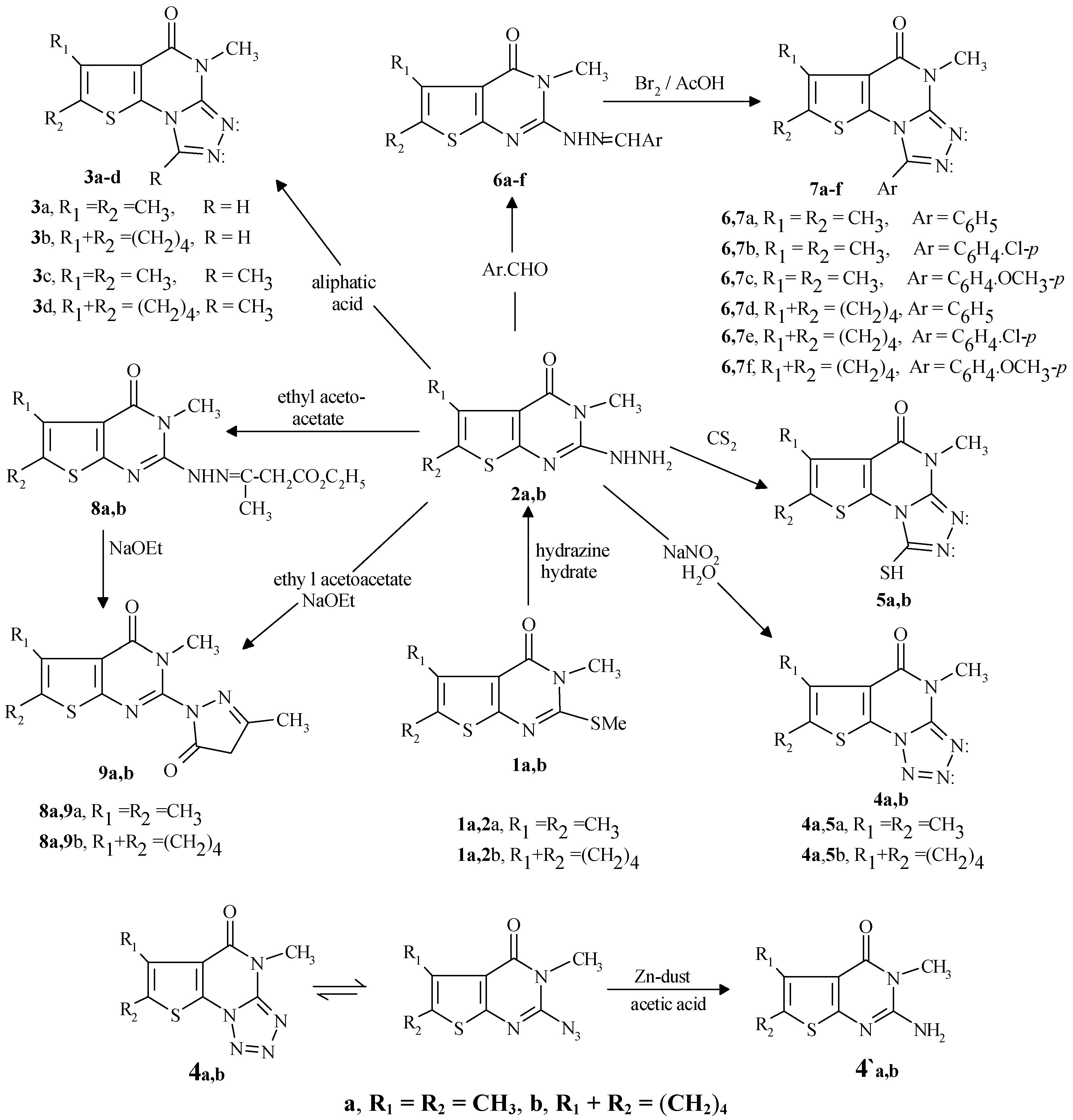 Scheme 1
Share & Cite This Article
MDPI and ACS Style
El-Gazzar, A.B.; Hassan, N.A. Synthesis of Polynuclear Heterocyclic Compounds Derived from Thieno[2,3-d]pyrimidine Derivatives. Molecules 2000, 5, 835-850.
Related Articles
Comments
[Return to top]