In Vitro Inhibitory Effects of Synthetic Cannabinoid EAM-2201 on Cytochrome P450 and UDP-Glucuronosyltransferase Enzyme Activities in Human Liver Microsomes
1
BK21 PLUS Team for Creative Leader Program for Pharmacomics-Based Future Pharmacy, Drug Metabolism & Bioanalysis Laboratory, College of Pharmacy, The Catholic University of Korea, Bucheon 14462, Korea
2
Forensic Chemistry Laboratory, Forensic Science Division, Supreme Prosecutor's Office, 157 Banpo-daero, Seocho-gu, Seoul 06590, Korea
†
These authors contributed equally to this work.
*
Author to whom correspondence should be addressed.
Academic Editor: Mauro Maccarrone
Received: 28 March 2018 / Revised: 11 April 2018 / Accepted: 13 April 2018 / Published: 16 April 2018
Abstract
EAM-2201, a synthetic cannabinoid, is a potent agonist of the cannabinoid receptors that is widely abused as an illicit recreational drug in combination with other drugs. To evaluate the potential of EAM-2201 as a perpetrator of drug–drug interactions, the inhibitory effects of EAM-2201 on major drug-metabolizing enzymes, cytochrome P450s (CYPs) and uridine 5′-diphospho-glucuronosyltransferases (UGTs) were evaluated in pooled human liver microsomes using liquid chromatography–tandem mass spectrometry (LC-MS/MS). EAM-2201 at doses up to 50 µM negligibly inhibited the activities of eight major human CYPs (1A2, 2A6, 2B6, 2C8, 2C9, 2C19, 2D6 and 3A4) and five UGTs (1A1, 1A4, 1A6, 1A9 and 2B7) in human liver microsomes. EAM-2201 exhibited time-dependent inhibition of CYP2C8-catalyzed amodiaquine
N
-deethylation, CYP2C9-catalyzed diclofenac 4′-hydroxylation, CYP2C19-catalyzed [
S
]-mephenytoin 4′-hydroxylation and CYP3A4-catalyzed midazolam 1′-hydroxylation with
Ki
values of 0.54 µM (
k
inact
: 0.0633 min
−1
), 3.0 µM (
k
inact
: 0.0462 min
−1
), 3.8 µM (
k
inact
: 0.0264 min
−1
) and 4.1 µM (
k
inact
: 0.0250 min
−1
), respectively and competitively inhibited UGT1A3-catalyzed chenodeoxycholic acid 24-acyl-glucuronidation, with a
Ki
value of 2.4 µM. Based on these in vitro results, we conclude that EAM-2201 has the potential to trigger in vivo pharmacokinetic drug interactions when co-administered with substrates of CYP2C8, CYP2C9, CYP2C19, CYP3A4 and UGT1A3.
View Full-Text
►

▼

Figures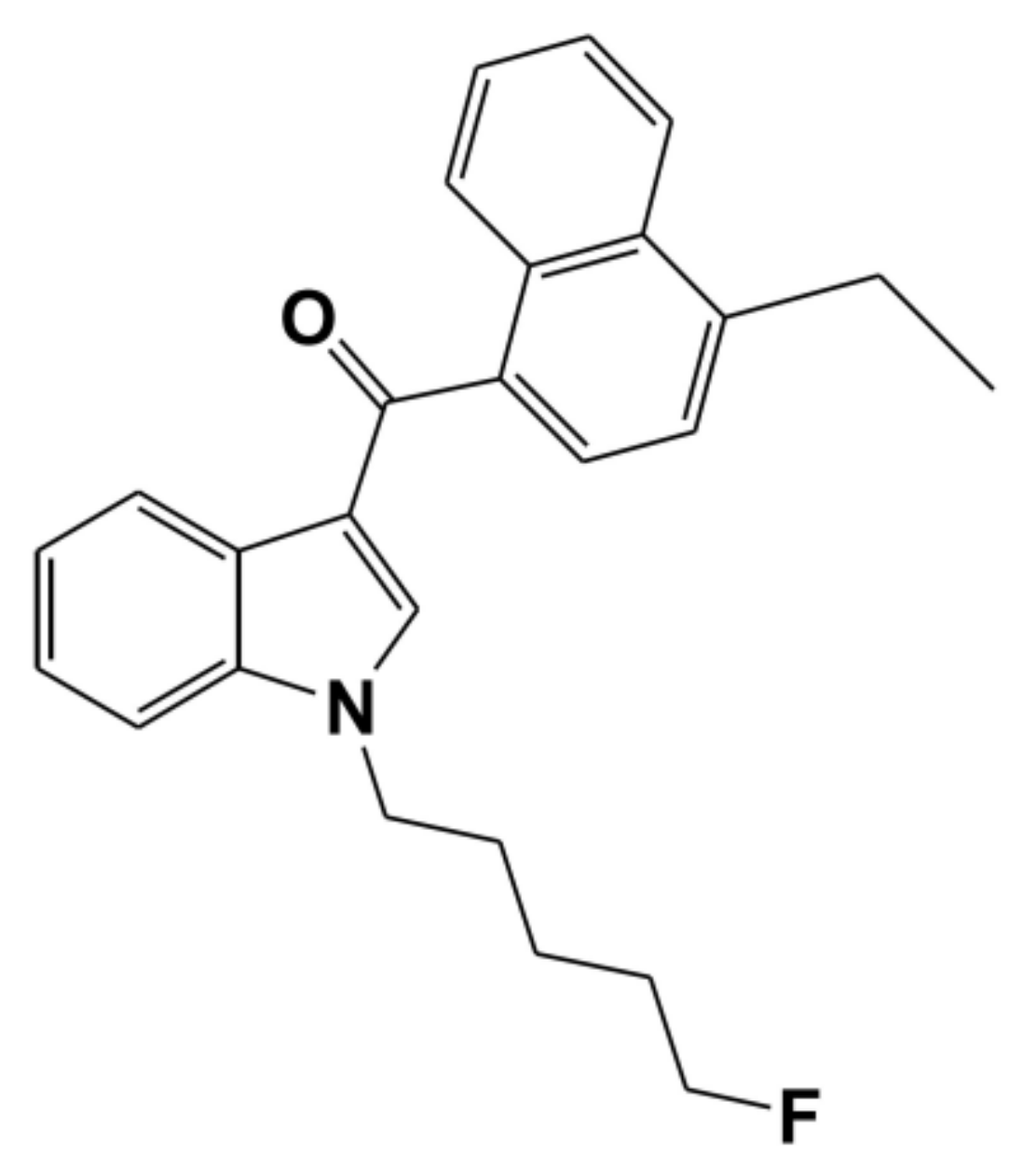 Figure 1
This is an open access article distributed under the
Creative Commons Attribution License
which permits unrestricted use, distribution, and reproduction in any medium, provided the original work is properly cited. (CC BY 4.0).
Share & Cite This Article
MDPI and ACS Style
Kong, T.Y.; Kwon, S.-S.; Cheong, J.C.; Kim, H.S.; Kim, J.Y.; Lee, H.S. In Vitro Inhibitory Effects of Synthetic Cannabinoid EAM-2201 on Cytochrome P450 and UDP-Glucuronosyltransferase Enzyme Activities in Human Liver Microsomes. Molecules 2018, 23, 920.
Note that from the first issue of 2016, MDPI journals use article numbers instead of page numbers. See further details here.
Related Articles
Comments
[Return to top]