Non-Imidazole Histamine H3 Ligands. Part VII. Synthesis, In Vitro and In Vivo Characterization of 5-Substituted-2-thiazol-4-n-propylpiperazines†
1
Department of Synthesis and Technology of Drugs, Medical University of Lodz, ul. Muszyńskiego 1, 90-145 Łódź, Poland
2
Department of Hormone Biochemistry, Medical University of Lodz, ul. Żeligowskiego 7/9, 90-752 Łódź, Poland
3
Amsterdam Institute of Molecules, Medicines & Systems, Division of Medicinal Chemistry, Vrije Universiteit Amsterdam, De Boelelaan 1108, 1081 HZ Amsterdam, The Netherlands
*
Author to whom correspondence should be addressed.
Received: 18 January 2018 / Revised: 31 January 2018 / Accepted: 1 February 2018 / Published: 3 February 2018
Abstract
H
3
receptors present on histaminergic and non-histaminergic neurons, act as autoreceptors or heteroreceptors controlling neurotransmitter release and synthesis. Previous, studies have found that the compound
N
-methyl-
N
-3-phenylalkyl-2-[2-(4-n-propylpiperazin-1-yl)-1,3-thiazol-5-yl]ethan-1-amine (
ADS-531, 2c
) exhibits high in vitro potency toward H
3
guinea pig jejunal receptors, with pA
2
= 8.27. To optimize the structure of the lead compound
ADS-531
, a series of 5-substituted-2-thiazol-4-
n
-propylpiperazines
3
were synthesized and subjected to in vitro pharmacological characterization; the alkyl chain between position 2 of the thiazole ring and the terminal secondary
N
-methylamino function was elongated from three to four methylene groups and the
N
-methylamino functionality was substituted by benzyl-, 2-phenylethyl-, and 3-phenyl-propyl- moieties. SAR studies on novel non-imidazole, 5-substituted-2-thiazol-4-
n
-propyl-piperazines
3
showed that the most active compound
3a
(pA
2
= 8.38), additionally possessed a weak competitive H
1
-antagonistic activity. Therefore, compound
ADS-531
, which did not exhibit any H
1
-antagonistic activity, was chosen for further evaluation for its affinity to the recombinant rat and human histamine H
3
receptors (rH
3
R and hH
3
R, respectively).
ADS-531
exhibited nanomolar affinity for both rH
3
R and hH
3
R receptors. It was also shown that,
ADS-531
given subchronically to rats (s.c. 3 mg/kg, 5 days) penetrated the brain, where it affected dopamine, noradrenaline and serotonin concentration; however, it did not affect histamine concentration nor feeding behavior.
View Full-Text
►

▼

Figures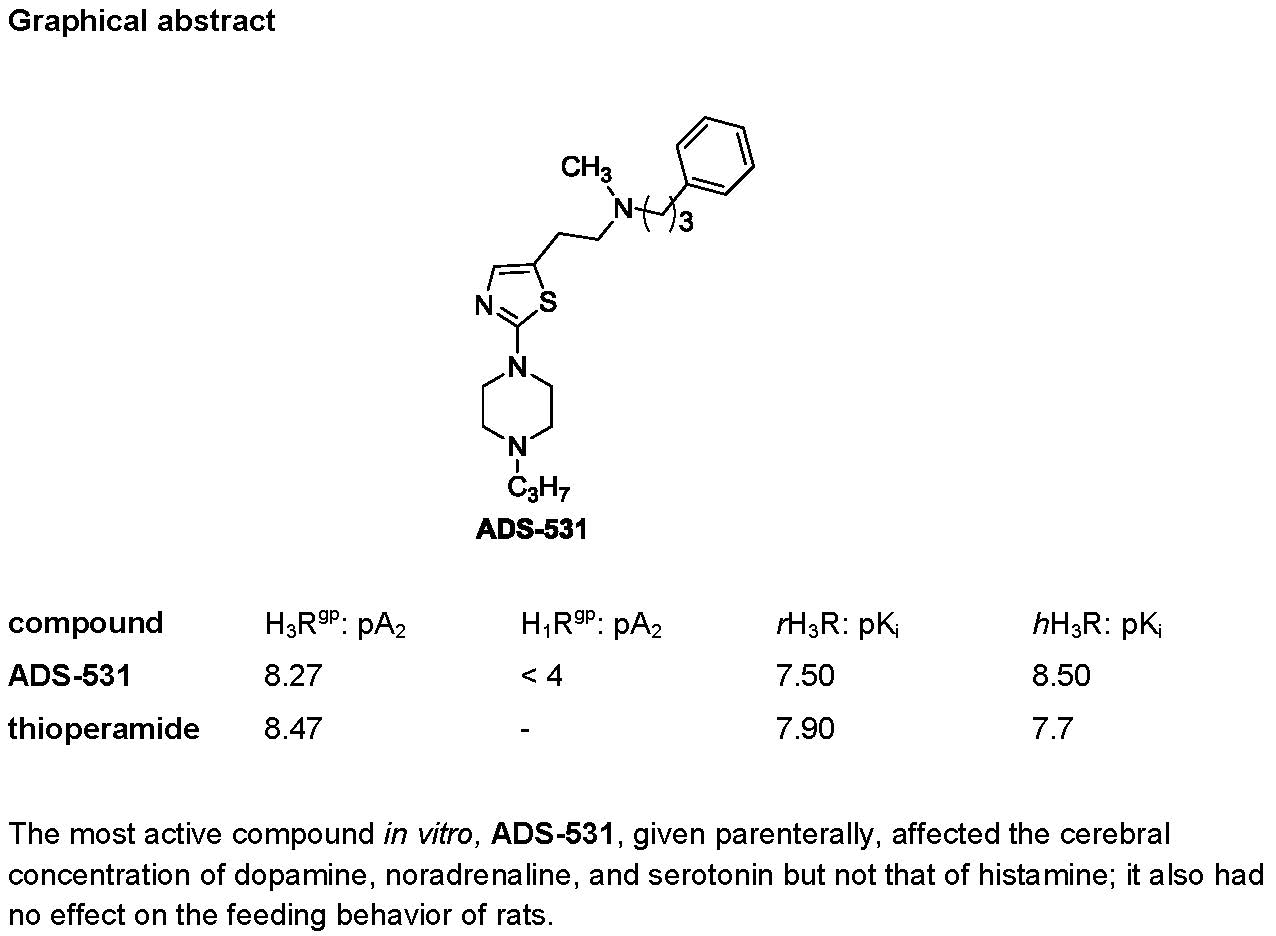 Graphical abstract
This is an open access article distributed under the
Creative Commons Attribution License
which permits unrestricted use, distribution, and reproduction in any medium, provided the original work is properly cited. (CC BY 4.0).
Share & Cite This Article
MDPI and ACS Style
Guryn, R.; Staszewski, M.; Stasiak, A.; McNaught Flores, D.; Fogel, W.A.; Leurs, R.; Walczyński, K. Non-Imidazole Histamine H3 Ligands. Part VII. Synthesis, In Vitro and In Vivo Characterization of 5-Substituted-2-thiazol-4-n-propylpiperazines. Molecules 2018, 23, 326.
Note that from the first issue of 2016, MDPI journals use article numbers instead of page numbers. See further details here.
Related Articles
Comments
[Return to top]