Immobilization of Enzymes on a Phospholipid Bionically Modified Polysulfone Gradient-Pore Membrane for the Enhanced Performance of Enzymatic Membrane Bioreactors
1
MOE Key Laboratory of Macromolecular Synthesis and Functionalization, Department of Polymer Science and Engineering, Zhejiang University, Hangzhou 310027, China
2
College of Biomedical Engineering & Instrument Science, Zhejiang University, Hangzhou 310027, China
*
Authors to whom correspondence should be addressed.
Received: 8 December 2017 / Revised: 5 January 2018 / Accepted: 6 January 2018 / Published: 11 January 2018
Abstract
Enzymatic membrane bioreactors (EMBRs), with synergistic catalysis-separation performance, have increasingly been used for practical applications. Generally, the membrane properties, particularly the pore structures and interface interactions, have a significant impact on the catalytic efficiency of the EMBR. Therefore, a biomimetic interface based on a phospholipid assembled onto a polysulfone hollow-fiber membrane with perfect radial gradient pores (RGM-PSF) has been prepared in this work to construct a highly efficient and stable EMBR. On account of the special pore structure of the RGM-PSF with the apertures decreasing gradually from the inner side to the outer side, the enzyme molecules could be evenly distributed on the three-dimensional skeleton of the membrane. In addition, the supported phospholipid layer in the membrane, prepared by physical adsorption, was used for the immobilization of the enzymes, which provides sufficient linkage to prevent the enzymes from leaching but also accommodates as many enzyme molecules as possible to retain high bioactivity. The properties of the EMBR were studied by using lipase from
Candida rugosa
for the hydrolysis of glycerol triacetate as a model. Energy-dispersive X-ray and circular dichroism spectroscopy were employed to observe the effect of lecithin on the membrane and structure changes in the enzyme, respectively. The operational conditions were investigated to optimize the performance of the EMBR by testing substrate concentrations from 0.05 to 0.25 M, membrane fluxes from 25.5 to 350.0 L·m
−2
·h
−1
, and temperatures from 15 to 55 °C. As a result, the obtained EMBR showed a desirable performance with 42% improved enzymatic activity and 78% improved catalytic efficiency relative to the unmodified membrane.
View Full-Text
►

▼

Figures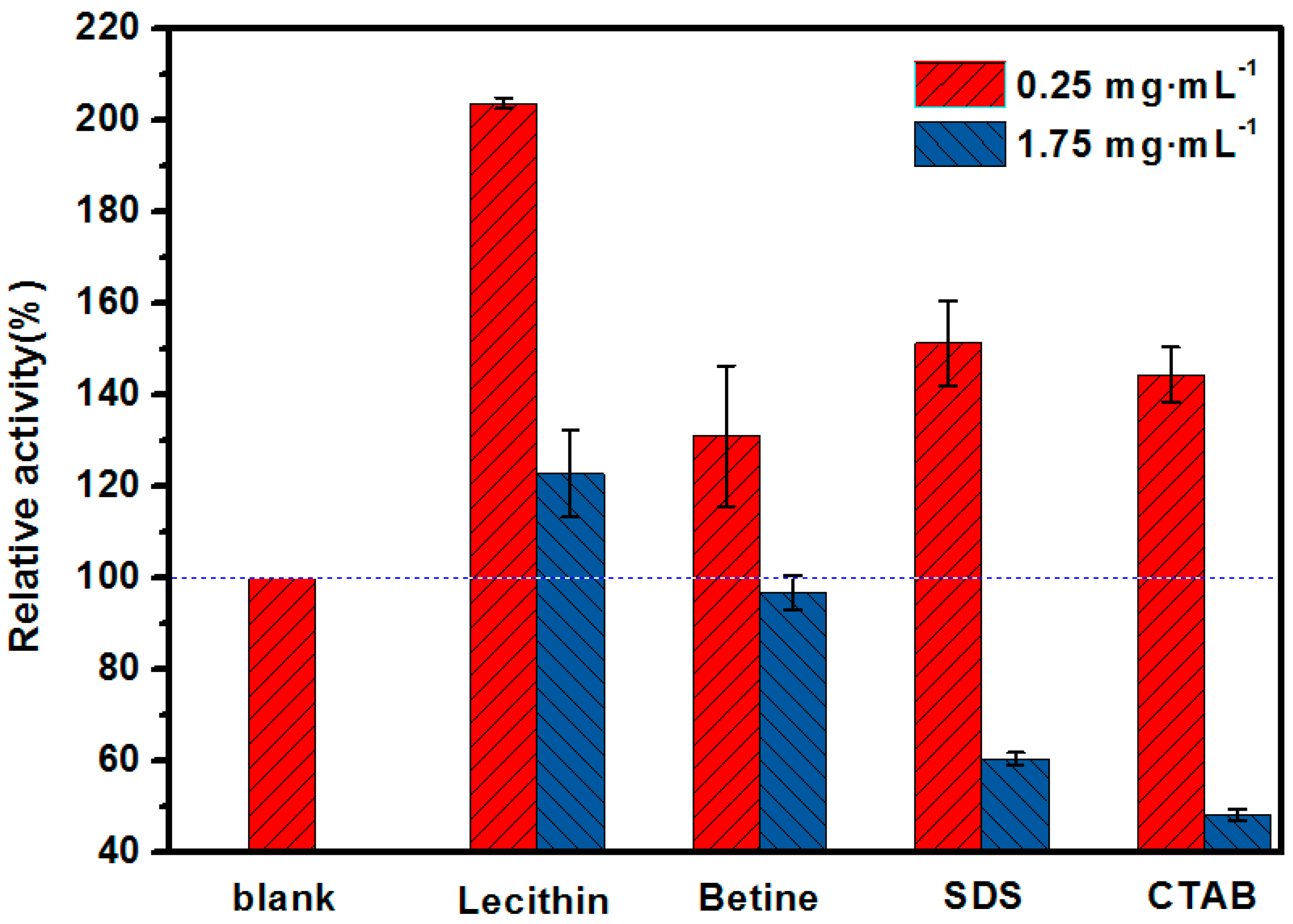 Figure 1
This is an open access article distributed under the
Creative Commons Attribution License
which permits unrestricted use, distribution, and reproduction in any medium, provided the original work is properly cited. (CC BY 4.0).
Share & Cite This Article
MDPI and ACS Style
Guo, Y.; Zhu, X.; Fang, F.; Hong, X.; Wu, H.; Chen, D.; Huang, X. Immobilization of Enzymes on a Phospholipid Bionically Modified Polysulfone Gradient-Pore Membrane for the Enhanced Performance of Enzymatic Membrane Bioreactors. Molecules 2018, 23, 144.
Note that from the first issue of 2016, MDPI journals use article numbers instead of page numbers. See further details here.
Related Articles
Comments
[Return to top]