Open Access This article is
freely available
re-usable
Article
Quantitative Structure–Activity Relationship Modeling of Kinase Selectivity Profiles
1
Department of Chemistry, Center for Structural Biology, Institute of Chemical Biology Vanderbilt University, Nashville, TN 37232, USA
2
Department of Medicine, Division of Nephrology, Vanderbilt University, Nashville, TN 37232, USA
3
Department of Medicine, Veterans Affairs Hospital, Nashville, TN 37232, USA
*
Author to whom correspondence should be addressed.
Received: 18 August 2017 / Accepted: 12 September 2017 / Published: 19 September 2017
Abstract
:
The discovery of selective inhibitors of biological target proteins is the primary goal of many drug discovery campaigns. However, this goal has proven elusive, especially for inhibitors targeting the well-conserved orthosteric adenosine triphosphate (ATP) binding pocket of kinase enzymes. The human kinome is large and it is rather difficult to profile early lead compounds against around 500 targets to gain an upfront knowledge on selectivity. Further, selectivity can change drastically during derivatization of an initial lead compound. Here, we have introduced a computational model to support the profiling of compounds early in the drug discovery pipeline. On the basis of the extensive profiled activity of 70 kinase inhibitors against 379 kinases, including 81 tyrosine kinases, we developed a quantitative structure–activity relation (QSAR) model using artificial neural networks, to predict the activity of these kinase inhibitors against the panel of 379 kinases. The model's performance in predicting activity ranges from 0.6 to 0.8 depending on the kinase, from the area under the curve (AUC) of the receiver operating characteristics (ROC). The profiler is available online at
http://www.meilerlab.org/index.php/servers/show?s_id=23
.
Keywords:
kinase selectivity profile; quantitative structure–activity relation; BCL::C
heminfo
; artificial neural networks
1. Introduction
While the phosphorylation of RTKs and/or non-RTKs is a key step in activating the receptor, their dephosphorylation by selective protein tyrosine phosphatases or their internalization and degradation is needed in order to turn off receptor-mediated signaling. Abnormal RTK phosphorylation due to either increased ligand-dependent and/or -independent receptor phosphorylation or decreased phosphatase-mediated receptor dephosphorylation is often observed in diseases such as cancer, diabetes and fibrosis. Thus, targeting RTKs has been viewed as a promising strategy to dampen receptor-mediated function in disease.
2. Results
ANN QSAR models for predicting kinase selectivity profiles were built using the cheminformatics framework implemented in BCL::C
heminfo
. The inhibition data of 70 kinase inhibitors against 379 kinases reported by Davis and colleagues [
15
] was used to train the ANNs. The chemical structure of each inhibitor was encoded using molecular descriptors. The numeric description was used as the input to the ANNs, and binary experimental kinase activity was used as the output for training. We will first describe the dataset used for building the models, followed by the molecular descriptors used for numerical encoding.
3. Discussion
The AUC value for greater than 50% of the kinases was above 0.75 for the models that considered 3 and 10 µM as their activity cutoff. The models were compared statistically using a Mann–Whitney paired test, to see which model performed better in terms of higher AUC values. The model built using an activity cutoff value of 10 µM performed better than all the other models at a confidence interval of 95%. A Fisher's test showed that the 10 µM model was statistically significantly better than a random model, which predicted 50% of cases as positive.
4. Materials and Methods
4.1. Kinase Inhibition Profile Dataset
The kinase inhibition dataset published by Davis and colleagues is available in the CHEMBL database. The dataset is available in the CHEMBL document CHEMBL1908390. The scripts for parsing and cleaning the data were written in the R programming language and are available in
supplementary information
. The protocol capture in the supplementary documents details all the steps necessary for preparing the data for building ANN models.
4.2. Software for QSAR Modeling
The software for training QSAR models was developed in-house at the Meiler Laboratory, Department of Chemistry, Vanderbilt University, Nashville, TN, USA. The software is open-source with restrictions (see
http://meilerlab.org/bclcommons/license
) and is free for academic use; a license is required for commercial use. The executable can be downloaded at
http://www.meilerlab.org
.
5. Conclusions
In this study, QSAR models were developed for predicting the activity of kinase inhibitors against a panel of 379 kinase enzymes. Kinase activity data was reported by Davis and collaborators for 70 inhibitors in terms of
K

d
values obtained using ATP site-dependent competition binding assays. Five models were developed using activities specified at different
K

d
cutoff values. Statistical tests suggest that the model using 10 µM as the cutoff for activity has a better predictive ability compared to other models. This model allows for the prediction of the kinase specificity profile for weak binders. A prerequisite to using this model is that a given small molecule to be tested should be active against at least 1 of the 379 tyrosine kinases present in the dataset, as the ANN has been trained only on a small chemical space of known inhibitors. The predictive ability of the model varies significantly; AUC values for 75% of kinases range from 0.5 to 1.0. This model is a good starting point for predicting the selectivity profile of new molecular entities against different kinases. This is especially useful after a computational high-throughput screening of a virtual compound library when compounds need to be prioritized for experimental testing. Ideally, a diverse set of drug-like molecules would be ordered and tested. The selectivity QSAR model developed here could be used for shortlisting compounds by scanning for molecules that are predicted to be selective.
Supplementary Materials
The following are available online.
Acknowledgments
This work was supported by the U.S. Department of Veterans Affairs (Merit Reviews 1I01BX002025-01 to A.P.). Work in the Meiler Laboratory was further supported through NIH (R01 GM099842, R01 DK097376) and NSF (CHE 1305874).
Author Contributions
Jens Meiler, Sandeepkumar Kothiwale and Ambra Pozzi conceived the experiments; Sandeepkumar Kothiwale designed and performed the experiments; Sandeepkumar Kothiwale and Jens Meiler analyzed the data; and Sandeepkumar Kothiwale, Ambra Pozzi, Corina Borza and Jens Meiler wrote the paper.
Conflicts of Interest
The authors declare no conflict of interest.
Sample Availability: Samples of the compounds are not available.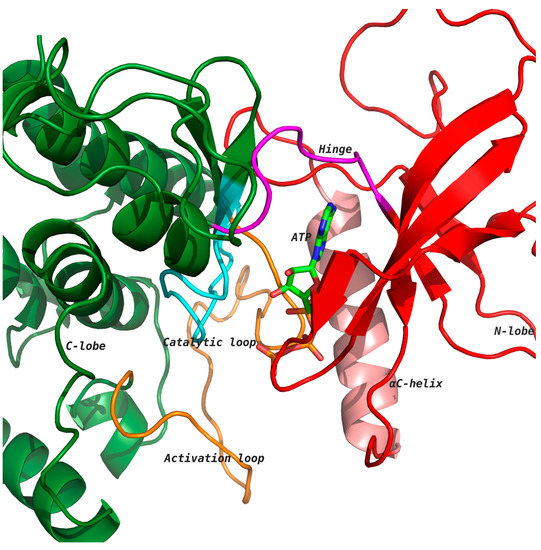 Figure 1. General structure of a kinase domain consisting of two lobes, a helix-rich C-terminal lobe (green) and a sheet-rich N-terminal lobe (red). The ATP binding pocket is present at the interface of the two lobes. The heterocyclic ring of ATP forms hydrogen bonds with the hinge loop (magenta). The activation loop (orange) undergoes a conformation change upon phosphorylation of a conserved residue allowing the substrate to bind. Arginine of the His-Arg-Asp (HRD) motif in the catalytic loop interacts with phosphate in the activation segment. Aspartate of the HRD motif accepts a proton from the substrate hydroxyl group during phosphotransfer mechanism.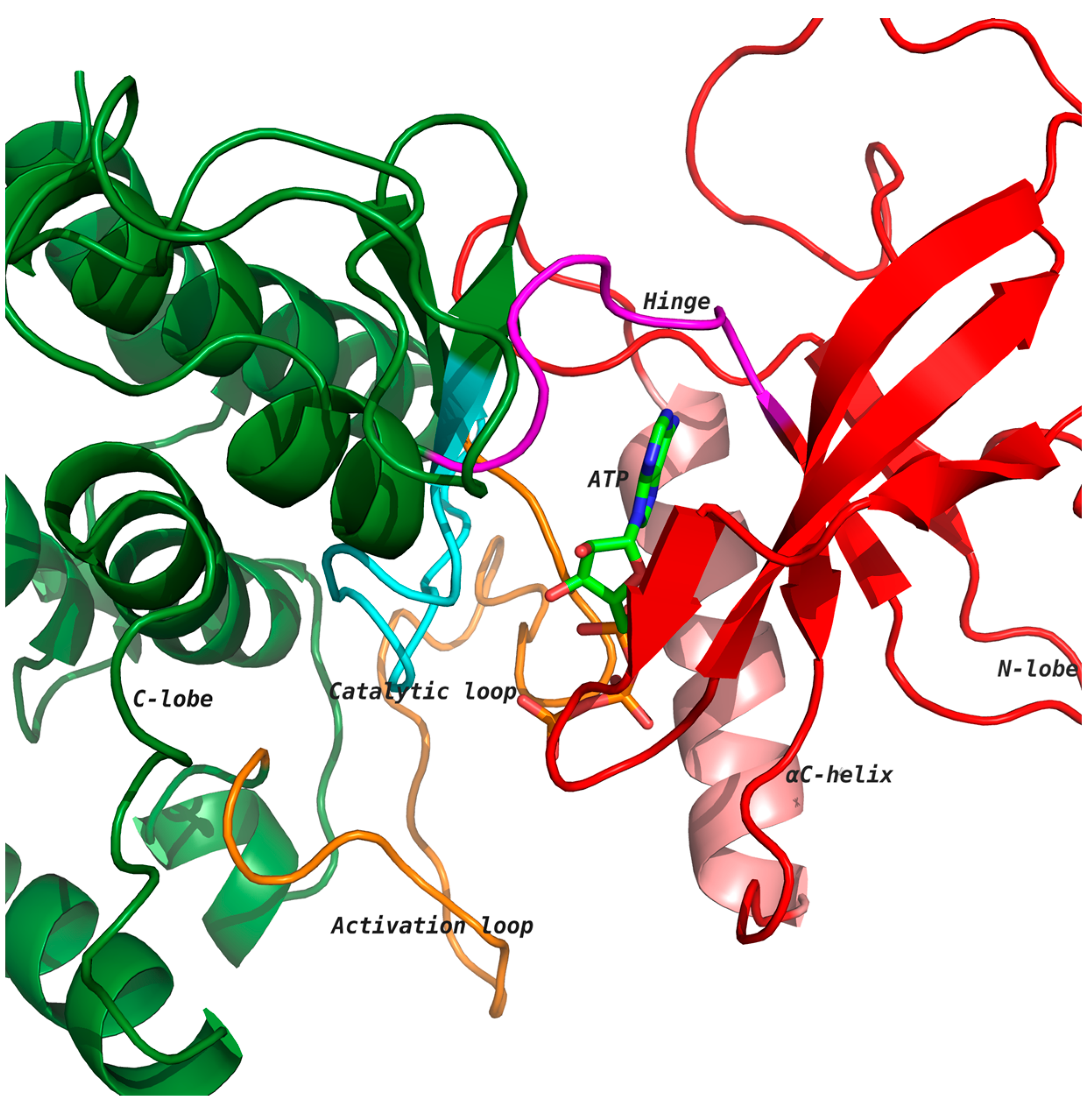 Figure 2.
Binding of type I and type II inhibitors in the ATP pocket or receptor tyrosine kinases (RTKs) alongside ATP for comparison. The inhibitors mimic the interactions that the heterocyclic ring of ATP (green) has with the hinge loop (magenta). (
A
) Dasatanib (magenta), a type I inhibitor, is shown in the binding pocket of Abl2 kinase domain (PDB: 4XLI) locked in active state. The activation loop (orange) is positioned such that it is phosphorylated and is able to recruit substrate proteins. The catalytic loop (cyan) enables the transfer of the phosphate group to the substrate protein; (
B
) Pontatinib, a type II inhibitor, is shown bound to the kinase domain of DDR1 kinase (PDB: 3ZOS) locked in an inactive state. ATP (green) is bound in the active state and is shown here for comparison to
Figure 2
A. The conformation of the activation loop and the catalytic loop differ from those found in the active state.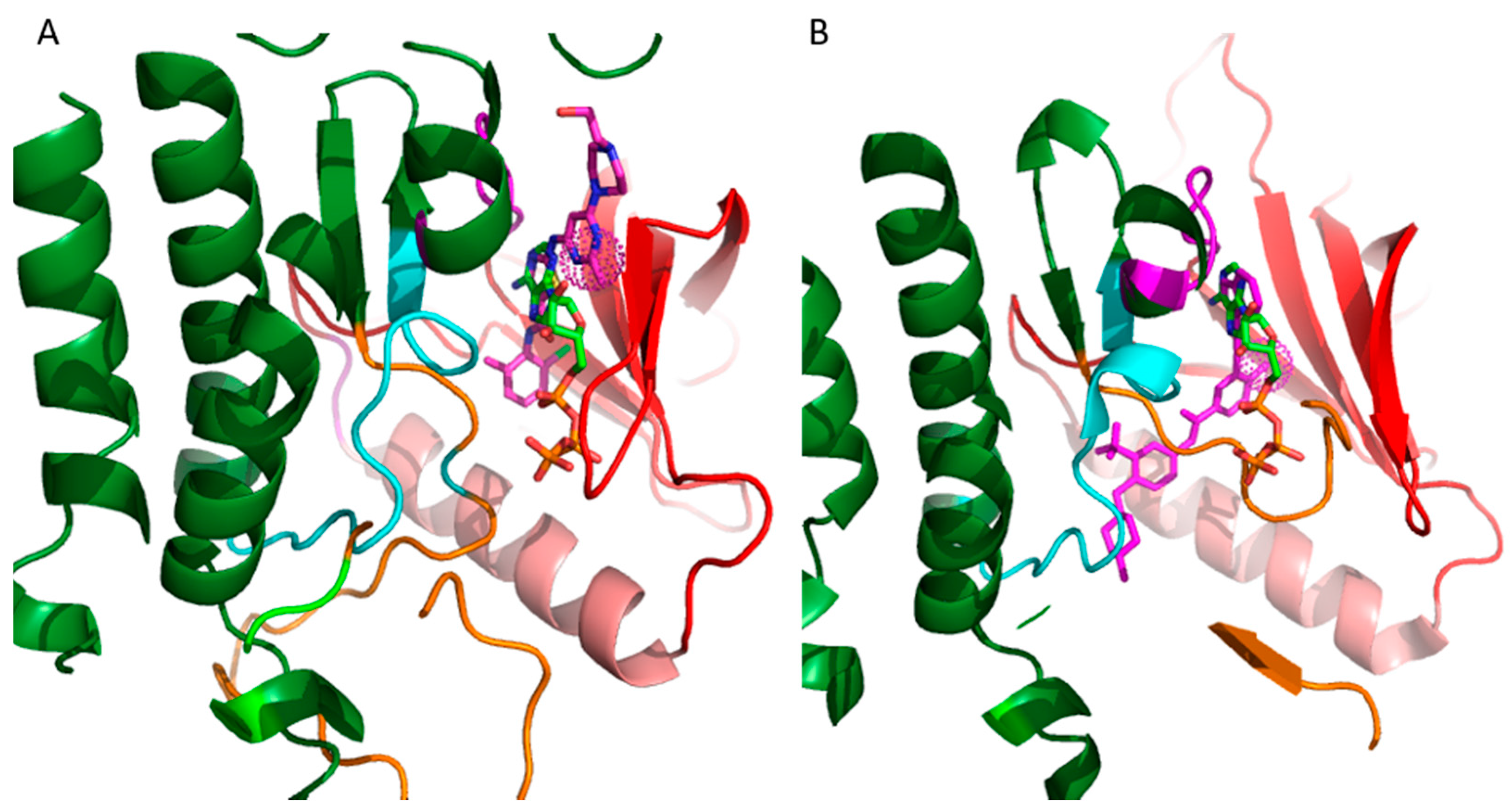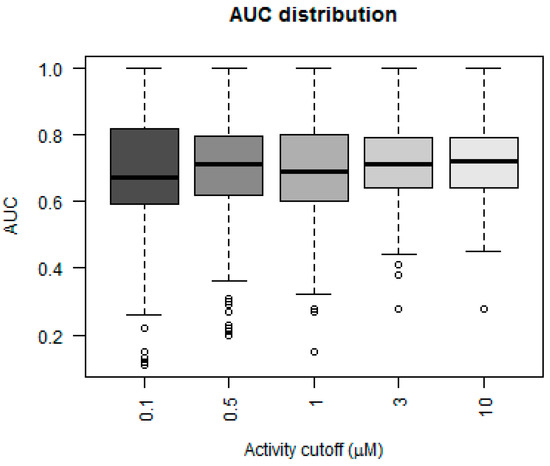 Figure 3. Area under curve distribution. Box plot showing the performance of the five models using distribution of area under the curve (AUC) values for individual kinases. The five models have been generated using activity values specified at different cutoffs as indicated on the x-axis. The upper and lower edges of the box correspond to the first and third quartiles. The horizontal dash in the box represents the median value. The whiskers extend from the edge to the highest/lowest value within the 1.5× interquartile (IQR) of the box, where the IQR is the distance between the first and third quartile.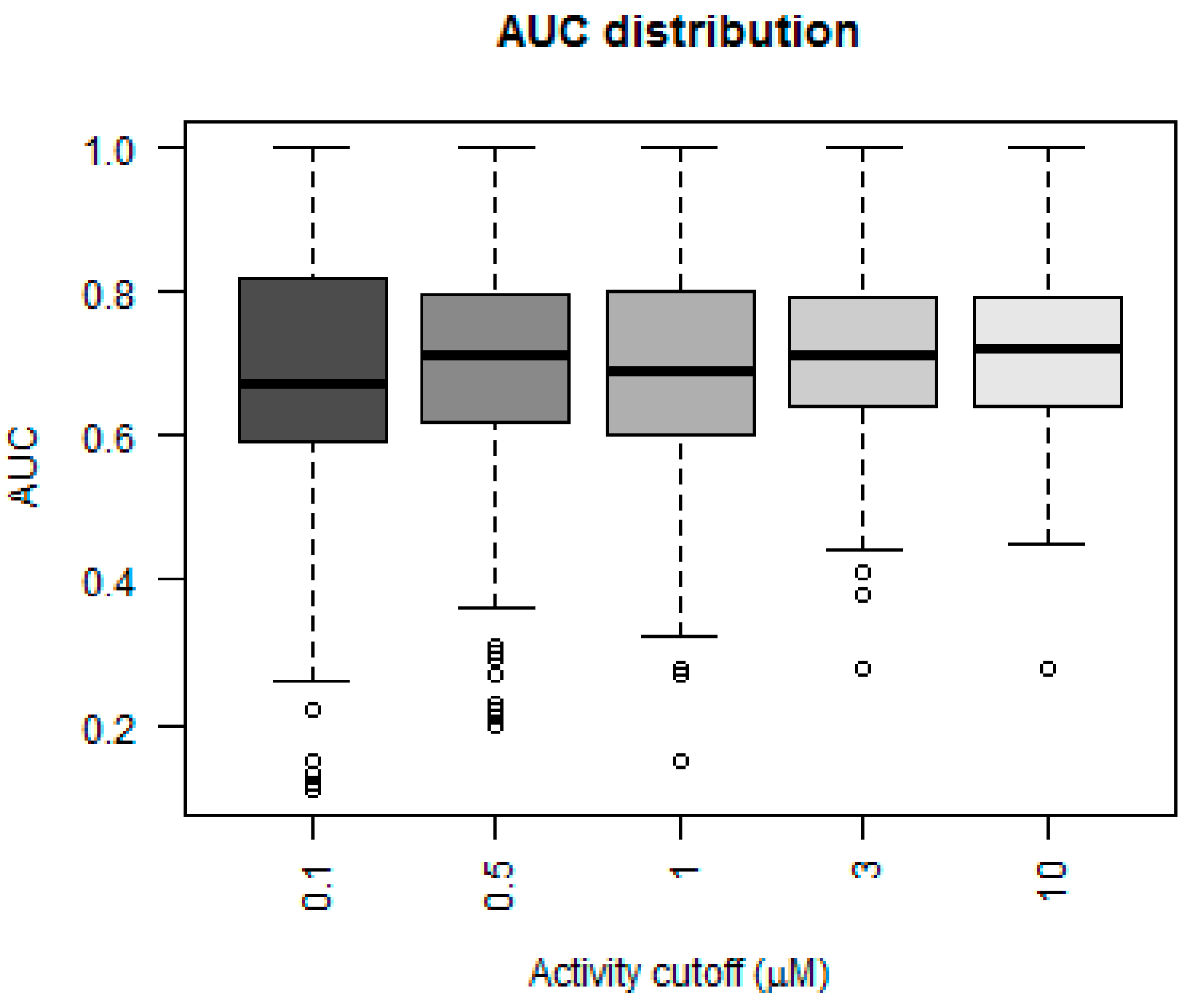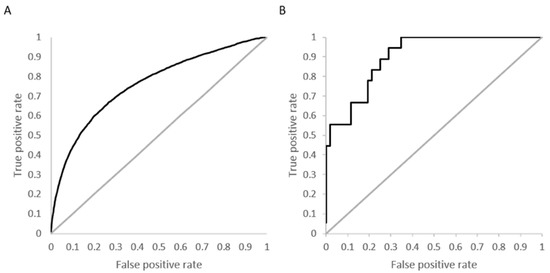 Figure 4.
Performance of neural networks for kinase selectivity: (
A
) Overall receiver operator curve (ROC) computed for model developed at activity cutoff of
K

d
= 10 µM. (
B
) Example of ROC curve for calmodulin-dependent protein kinase-1, which has 18 active molecules at
K

d
< 10 µM with an area under the curve (AUC) of 0.91.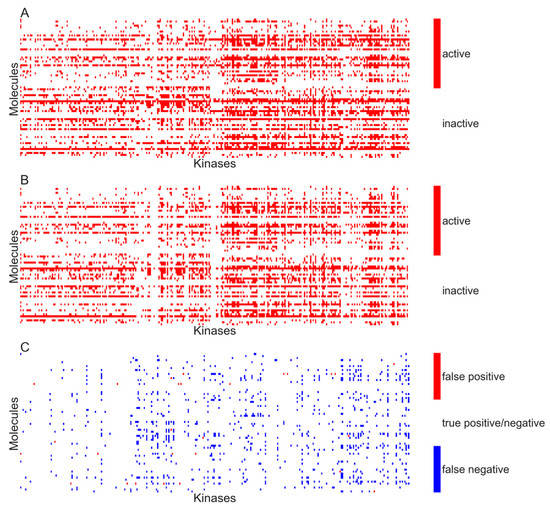 Figure 5. Activity matrix of all inhibitors versus all kinases. (A) Experimental activity matrix as reported by Davis and colleagues. The pixels in red correspond to active molecules at 10 µM; (B) Predictions made by quantitative structure–activity relationship (QSAR) model. Pixels in red correspond to compounds predicted as active; (C) Difference of experimental activity matrix and prediction activity matrix. Pixels in red correspond to false positive predictions while those in blue correspond to false negatives. White-colored pixels correspond to correct predictions (20,813 out of 26,580) made by the QSAR model.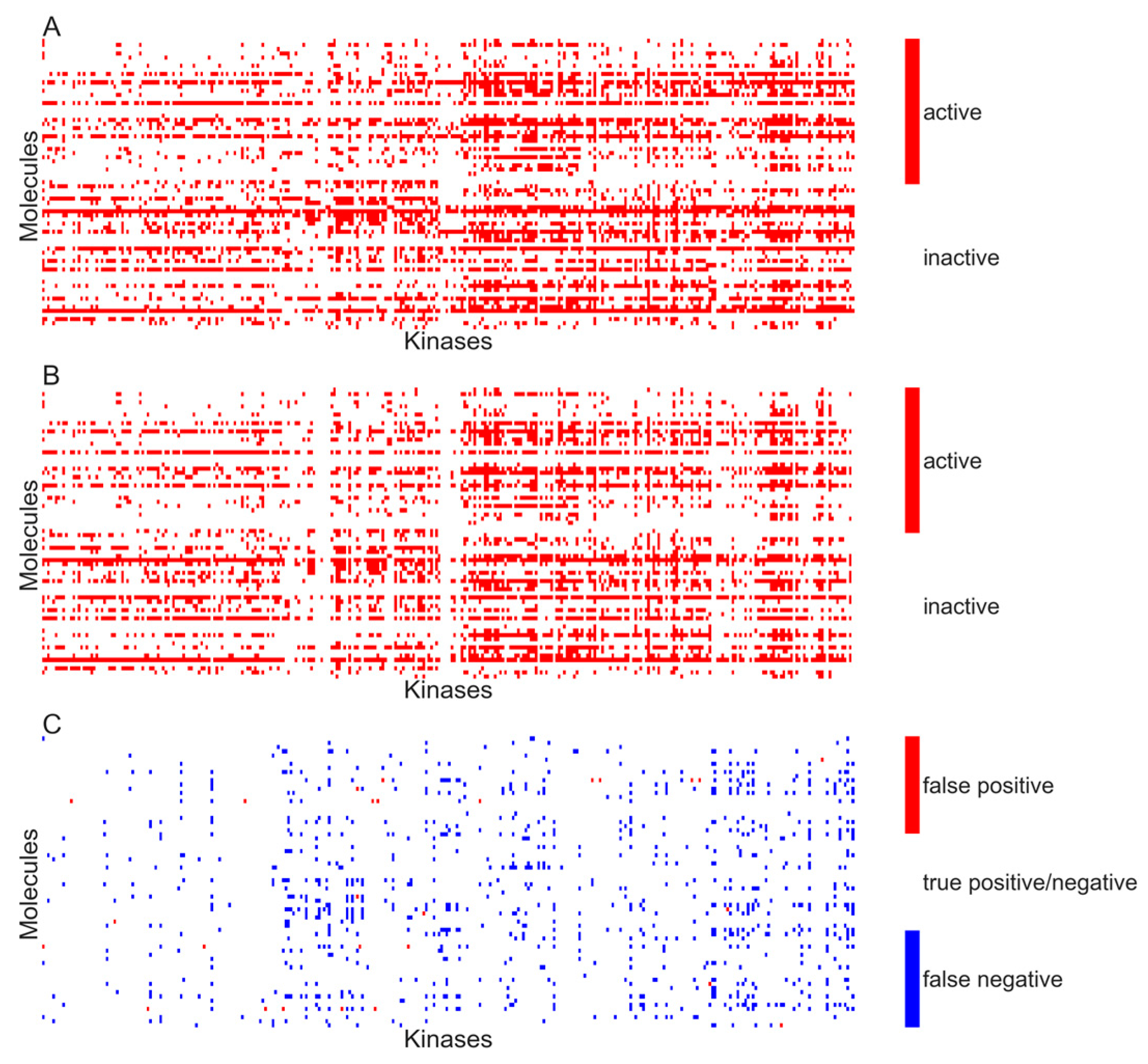 Table 1. Quality metrics for five artificial neural network (ANN) models.

| Activity Cutoff (µM) | MCC | ACC | SEN | SEL | TP | FP | TN | FN | PPV | NPV |
| --- | --- | --- | --- | --- | --- | --- | --- | --- | --- | --- |
| 0.1 | 0.14 | 68.10 | 58.99 | 68.71 | 971 | 7787 | 17097 | 675 | 0.11 | 0.96 |
| 0.5 | 0.26 | 78.18 | 54.02 | 81.26 | 1620 | 4410 | 19121 | 1379 | 0.27 | 0.93 |
| 1 | 0.31 | 78.99 | 53.13 | 83.41 | 2055 | 3760 | 18902 | 1813 | 0.35 | 0.91 |
| 3 | 0.37 | 78.59 | 54.20 | 84.79 | 2915 | 3218 | 17934 | 2463 | 0.47 | 0.88 |
| 10 | 0.42 | 78.45 | 57.59 | 85.27 | 3765 | 2944 | 17048 | 2773 | 0.56 | 0.86 |
Table 2. Comparison of model accuracy.
Cutoff (µM)
MCC
ACC
SEN
SEL
TP
FP
TN
FN
PPV
NPV
Subramanium and Colleagues [22]
0.1
0.35
87.3
52.3
90.5
185
370
3521
169
0.33
0.95
3
0.37
81.0
36.6
93.6
342
213
3098
592
0.61
0.83
BCL::C

heminfo

0.1
0.24
67.7
75.4
67.0
340
1727
3507
111
0.16
0.97
3
0.48
78.6
74.5
79.8
944
891
3526
324
0.51
0.91
10
0.52
79.3
73.8
81.4
1174
762
3332
417
0.61
0.88
© 2017 by the authors. Licensee MDPI, Basel, Switzerland. This article is an open access article distributed under the terms and conditions of the Creative Commons Attribution (CC BY) license (http://creativecommons.org/licenses/by/4.0/).