Open Access This article is
freely available
re-usable
Review
Human Erythrocyte Acetylcholinesterase in Health and Disease
Instituto de Bioquímica, Instituto de Medicina Molecular, Faculdade de Medicina, Universidade de Lisboa, Av. Professor Egas Moniz, 1649-028 Lisboa, Portugal
Received: 10 August 2017 / Accepted: 4 September 2017 / Published: 8 September 2017
Abstract
:
The biochemical properties of erythrocyte or human red blood cell (RBC) membrane acetylcholinesterase (AChE) and its applications on laboratory class and on research are reviewed. Evidence of the biochemical and the pathophysiological properties like the association between the RBC AChE enzyme activity and the clinical and biophysical parameters implicated in several diseases are overviewed, and the achievement of RBC AChE as a biomarker and as a prognostic factor are presented. Beyond its function as an enzyme, a special focus is highlighted in this review for a new function of the RBC AChE, namely a component of the signal transduction pathway of nitric oxide.
Keywords:
acetylcholinesterase; red blood cells; nitric oxide
1. Introduction
Attempting to pursue the challenge of finding a physiological function for erythrocyte membrane AChE, the nitric oxide discovery triggered by plasma ACh gave us a clue about the action of AChE. Erythrocyte membrane AChE is involved in the nitric oxide (NO) signal pathway as evidenced, for the first time at the start of this century, in several in vitro studies using blood samples from healthy donors as described below.
2. Biochemical Properties of Human Erythrocyte Membrane Acetylcholinesterase
3. Implications of Erythrocyte Membrane Acetylcholinesterase Enzyme Activity in Disease
The discovery of sex-related differences in erythrocyte AChE activity and in the membrane hydrophobic region fluidity under the adrenaline influence can contribute to understanding different responses, attitudes, and behaviors with respect to stress situations, usually verified in both genders. The existence of certain gender characteristics, at the cellular level, has important implications in disease and medication responses.
4. Enrolment of Erythrocyte AChE in the Signal Transduction Pathway of Nitric oxide
5. Conclusions
The erythrocyte membrane AChE's enzyme activity values are implicated as a biomarker of membrane integrity (normal), aging (lower), gender (higher in females than in males), inflammation (higher), neurotoxicity (higher), and pesticide poisoning (higher). The erythrocyte AChE is used as diagnostic marker in Hirschsprung's disease. The active state of AChE is modulated by the membrane band 3 protein phosphorylation, meaning that this enzyme activity can be manipulated from inside the erythrocytes.
Erythrocyte AChE is a biomarker of inflammation and is involved in the white blood cells approaches to the endothelial vessel wall and in the production of pro-inflammatory cytokines.
At microcirculation, blood flow through small vessels favors gas exchanges, such as the exchange between oxygen and nitric oxide with carbon dioxide, delivers nutrients metabolites, and removes waste products. Erythrocytes deliver NO in tissues with lower oxygen partial pressure (PaO
2
) and scavenge it at high PaO
2
through the band 3 protein [
80
]. The ability of erythrocytes to deliver or retain NO depends of the membrane integrity, of the AChE activation state and of its molecular protein conformations.
The signal transduction pathways associated with NO mobilization in erythrocytes were described under the influence of the endogenous plasma compounds, namely, ACh and fibrinogen, whose levels increase in inflammation. There are specific key points in those pathways where activators or inhibitor molecules of AChE, PTK, PTP, AC, PDE3 and PKC change the NO efflux from erythrocytes, which, in the future, might be considered as therapeutic targets in vascular inflammatory diseases.
It is mandatory to highlight the new function for erythrocyte enzyme membrane AChE acting as receptor for hydrophilic blood circulating molecules in the NO signal transduction pathway.
Acknowledgments
This work was funded by
Fundação para a Ciência e Tecnologia
: LISBOA-01-0145-FEDER-007391, project cofunded by FEDER, through POR Lisboa 2020—Programa Operacional Regional de Lisboa, PORTUGAL 2020. The author is grateful to Teresa Freitas for technical support in some of the studies in the references here. The author is also grateful to Emilia Alves for type-writing the references and to Ana Silva-Herdade for the language revision.
Conflicts of Interest
The authors declare no conflict of interest.
Sample Availability: Not available.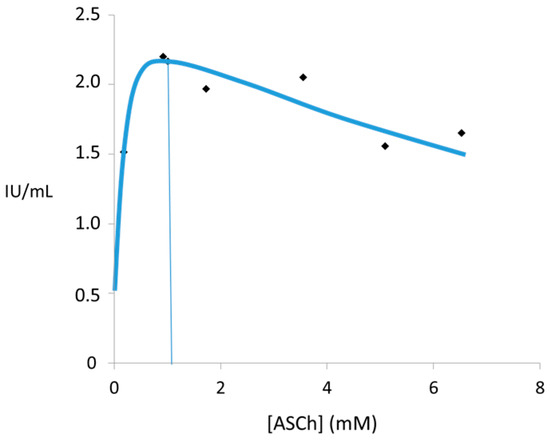 Figure 1.
Bell-shape curve of enzymatic hydrolysis of hydrolysis of acetylthiocholine (ASCh) by AChE purified from human erythrocytes indicate the inhibition of the reaction by the substrate. Applying the Ellman's method, AChE 0.04 IU/mL was added to preincubated for 10 min, at 25 °C, in 1 mL assay solutions with 100 mM PO
4
buffer, pH 8.0, and 0.2 mM DTNB [5,5-dithiobis(2-nitrobenzoic acid)] before adding the substrate at 0.0025 to 6 mM final concentrations. All experiments were repeated three times, and similar results were obtained. All the values obtained above 1 mM of ASCh were diminished with those obtained in non-enzymatic hydrolysis. All data were analyzed applying the least square method to the velocity equation coupled with the iterative non-linear method [
24
].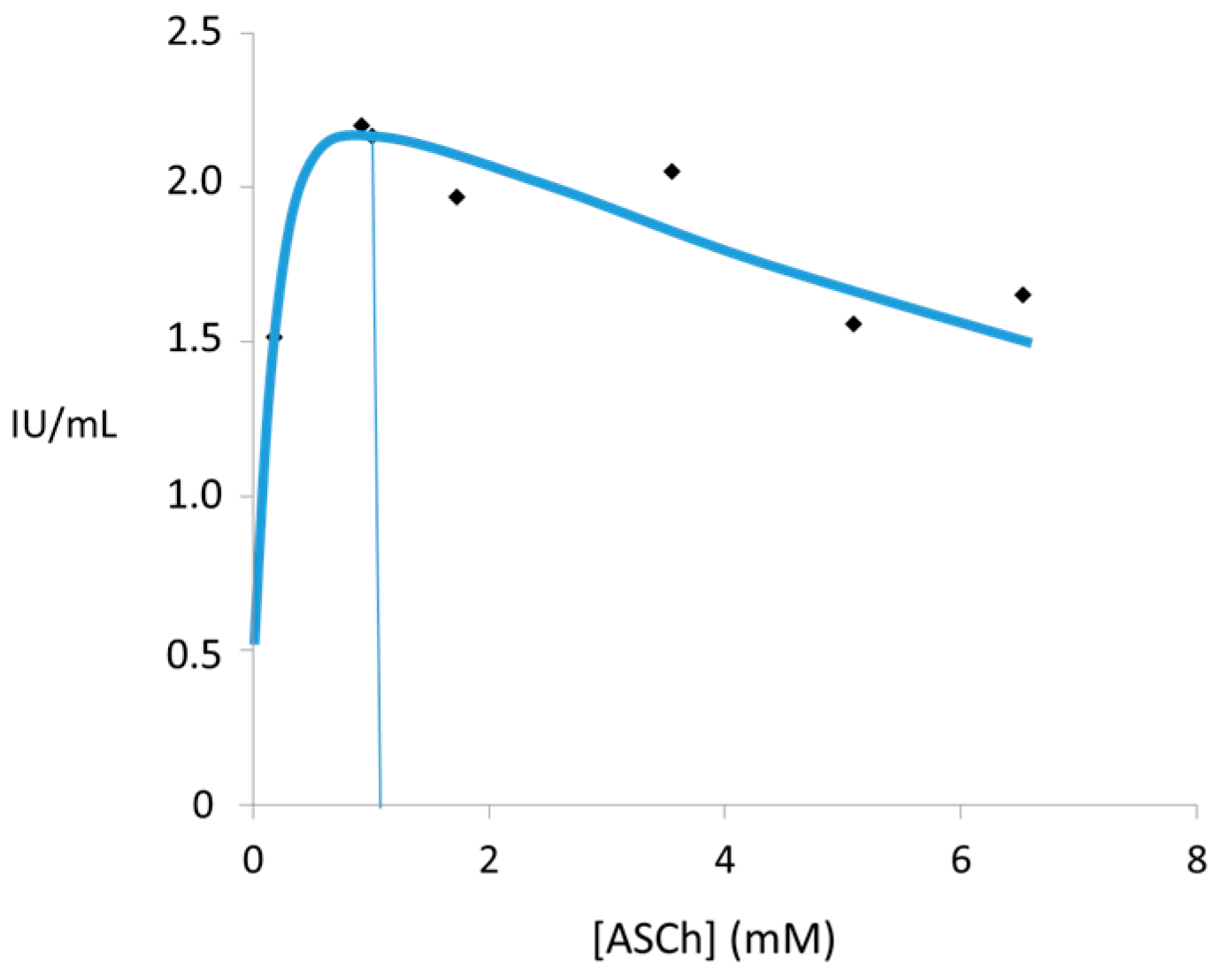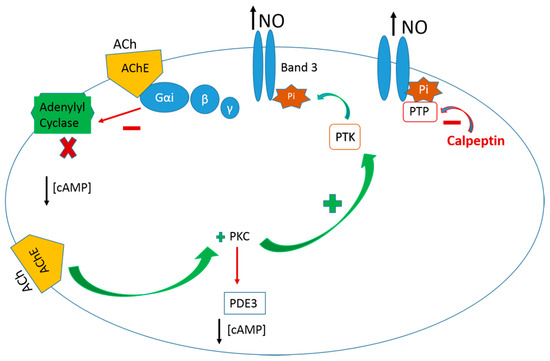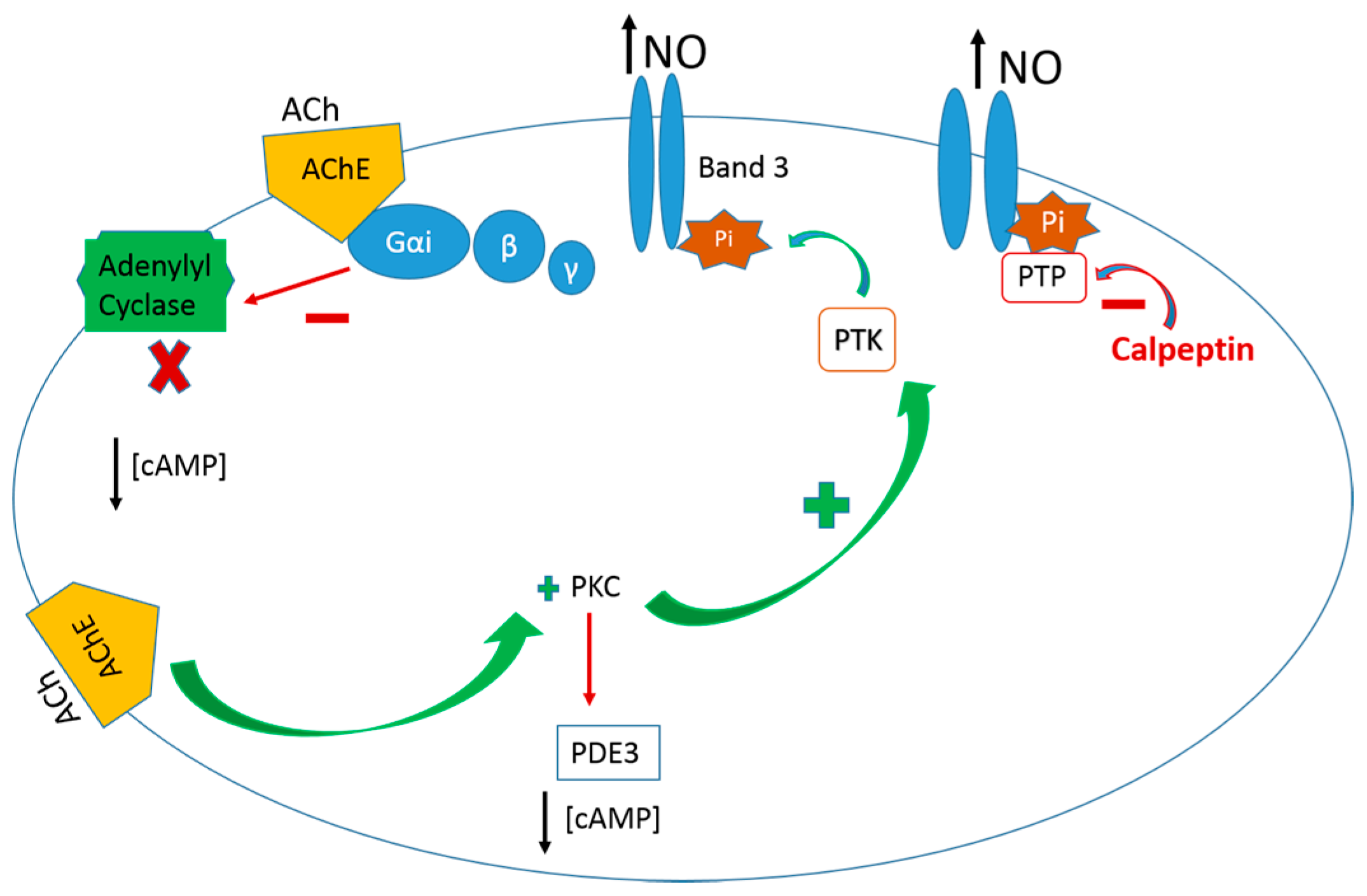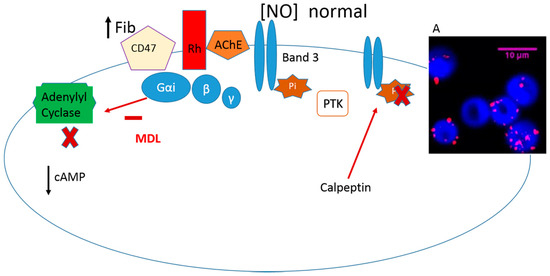 Figure 3.
Schematic representation of the soluble fibrinogen transduction pathway of NO efflux from human erythrocytes supported by in vitro studies of hyperfibrinogenemia model under the presence of calpeptin inhibitor of PTP [
70
,
71
,
72
,
73
]. A: The soluble fibrinogen binding to erythrocyte membrane (blue color) CD47 (red color) [
73
].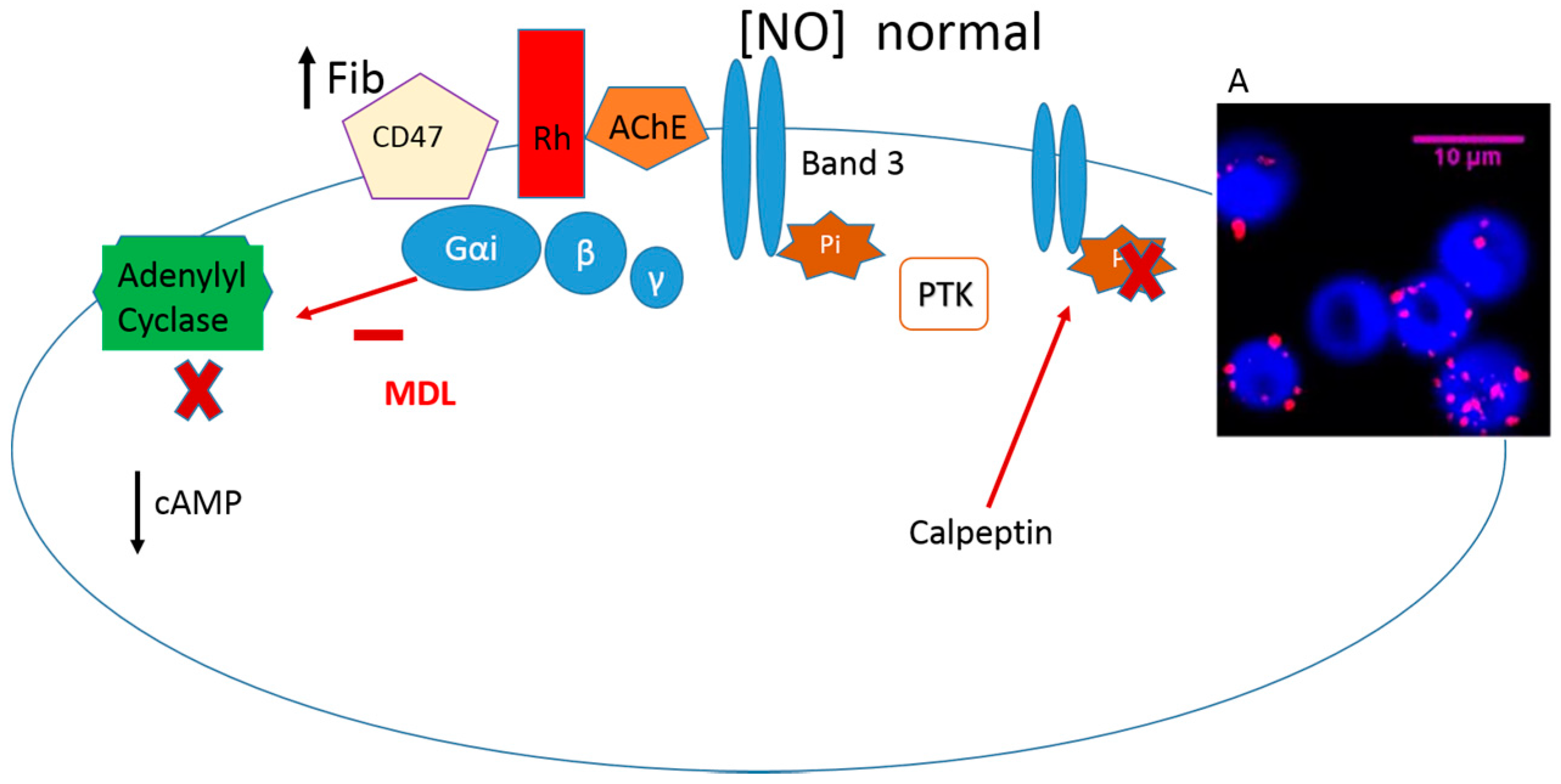 © 2017 by the author. Licensee MDPI, Basel, Switzerland. This article is an open access article distributed under the terms and conditions of the Creative Commons Attribution (CC BY) license (http://creativecommons.org/licenses/by/4.0/).