Open Access This article is
freely available
re-usable
Article
NO-Donor Iron Nitrosyl Complex with
N
-Ethylthiourea Ligand Exhibits Selective Toxicity to Glioma A172 Cells
1
Institute of Problems of Chemical Physics RAS, Chernogolovka 142432, Russia
2
Medicinal Chemistry Research and Education Center, Moscow Region State University, Moscow 105005, Russia
3
Faculty of Fundamental Physical and Chemical Engineering, M.V. Lomonosov Moscow State University, Moscow 119991, Russia
*
Correspondence: Tel.: +7-496-522-1168
Received: 10 July 2017 / Accepted: 22 August 2017 / Published: 29 August 2017
Abstract
:
We studied effects of NO-donor iron nitrosyl complex with
N
-ethylthiourea ligand (ETM) on normal or tumor-derived cell lines. ETM was mildly toxic to most cell lines studied except the human glioma cell line A172 that proved to be highly sensitive to the complex and underwent cell death after ETM exposure. The high susceptibility of A172 cells to ETM was attributed to its NO-donor properties since no toxicity was detected for the
N
-ethylthiourea ligand.
Keywords:
nitric oxide; NO donor; iron nitrosyl complex;
N
-ethylthiourea; cytotoxicity; glioma
1. Introduction
In this study, we examined the antiproliferative effects of ETM in a range of cell lines of different origin: breast, colon, brain, epidermoid, pancreatic, hepatic tumor, and non-cancerous Vero cells.
2. Results
Effects of ETM on Еру Viability of Cells of Different Origin
Toxicity of ETM was studied on cell lines originated from non-cancerous epithelium (Vero cell line) or from different tumors: ER-negative and ER-positive breast carcinomas BT-20 and BT-474, breast carcinosarcoma Hs578T, pancreas carcinoma PANC-1, colon carcinoma Caco2, epidermoid carcinoma A431 and glioma A172 cell lines.
After 72 h exposure ETM exhibited little toxicity to most cell lines studied (
Table 1
) with IC
50
values ranging from 200 μM for BT-474 cells to 640 μM for PANC-1 cells. Within this range, cell lines originated from tumors of breast (BT-474, Hs578T) and colon (Caco2) are more susceptible to ETM, while other tumor cells (epidermoid A431, breast BT-20, hepatic HepG2 and pancreatic PANC-1 cells) are less sensitive to ETM than non-cancerous Vero cells. On the other hand, ETM is highly toxic to glioma A172 cells with the IC
50
approximately three degrees of magnitude lower than that for other cell lines.
Decomposition of DNICs results in the release of NO and thiolates. To find out if the observed toxic effect of ETM was conferred by its ligand or NO, the cytotoxicity of
N
-ethylthiourea was studied. At concentrations of up to 10 mM,
N
-ethylthiourea exerted very low toxicity towards A172 cells (
Figure 2
), thus suggesting that the effect ETM can be attributed to its NO-donor ability.
Flow cytometry analysis revealed that ETM can induce cell death in A172 cells. The cell cycle was assessed after 24 h exposure since growth of cells for a long time leads to changes in the cell cycle—even in untreated cells—that occur when the culture reaches high density. The IC
50
for ETM after 24 h is approximately 50 μM (
Figure 3
a). When used at this concentration, ETM caused cell cycle perturbation and cell death: a decreased number in G1 phase, some increased cell number in G2/M phases, and accumulation of cells in sub-G1 fraction (
Figure 3
b,
Table 2
).
Thus, NO-donor complex ETM specifically suppresses the viability of cells in the glioma A172 cell line, being substantially less toxic towards other tumor cells and non-cancerous Vero cells. ETM can induce cell death in A172 cells. The toxicity to glioma A172 cells is attributed mainly to NO, since the
N
-ethylthiourea ligand generated during the decomposition of ETM is not toxic towards the cells.
3. Discussion
The pivotal question to be addressed is the mechanism that accounts for the observed phenomenon of selective toxicity of ETM (and, probably, other compounds of, at least, the DINC class of NO donors). This is also the subject for further investigation.
4. Materials and Methods
4.1. Synthesis
Complex ETM was synthesized by method [
26
].
4.2. Cell Culture
Vero, A431, PANC-1, A172 cells were cultured in DMEM (PanEco, Moscow, Russia). BT-20, HepG2, Hs578T cells were cultured in EMEM (PanEco, Russia). BT-474 cells were cultured in RPMI (PanEco, Russia). All cell lines were cultured at 37 °C under 5% CO2 in the presence of 10% fetal calf serum (BioWest, France), penicillin/streptomycin (PanEco, Russia). BT-474 and Hs578T cells were maintained in medium supplemented with 1 μg/mL insulin (PanEco, Russia). All cell lines were obtained from the All-Russian Collection of Vertebrate Cell Cultures (Institute of Cytology RAS, St.-Petersburg, Russia).
4.3. Cytotoxicity Studies and Determination of IC50 Doses
For all experiments, ETM and
N
-ethylthiourea were dissolved in 400 μM Tris-HCl buffer (pH 7.5). The final concentration of Tris-HCl in all samples was 40 μM. Cytotoxicity was studied using the MMT test. The cells were plated in 96-well plates (5 × 10
3
cells per well) in standard incubation media. 24 h after plating, cells were exposed to ETM or
N
-ethylthiourea for 72 h, then 3-(4,5-dimethylthiazol-2-yl)-2,5-diphenyltetrazolium bromide (MTT) was added to cells at the final concentration of 0.45 mg·mL
−1
, and cells incubated in the presence of MTT for more 4 h. After incubation, medium was discarded, and formazan crystals were dissolved in 100 μL DMSO. The staining intensity of reduced formazan was determined with photometry at wavelength of 570 nm. The intensity of MTT staining of cells treated with Tris-HCl was taken as 100%. The IC
50
values were calculated using the median effect analysis [
42
].
4.4. Flow Cytometry
The A172 cells were plated in 6-well plates in the standard incubation medium (4 × 10
5
cells per well). 24 h after the plating, cells were exposed to ETM at concentration of 50 μM. To study the cell cycle, cells were collected by trypsinization, washed three times with PBS (pH 7.4), and then fixed and permeabilized by a dropwise addition of 70% aqueous ethanol precooled to −20 °C. The samples were kept for 4 h at +4 °C. Ethanol was removed from fixed samples by washing with PBS, then cells were resuspended in PI staining solution (0.01 mg·mL
−1
propidium iodide and 0.1 mg·mL
−1
RNase A in PBS) and incubated at room temperature for 30 min [
43
]. The samples were subjected to flow cytometry on a Guava easyCyte System (Millipore, Hayward, CA, USA) with Guava
®
Cell Cycle Assay software (guavaSoft™ 3.1.1, Millipore, Hayward, CA, USA ). Fluorescence of propidium iodide was detected with a 488 nm excitation laser and a 695 nm emission filter.
4.5. Statistical Analysis
All data are expressed as mean ± SD of three independent experiments. Statistical significance was analyzed using Student's
t
-test. The criterion of statistical significance was *
p
< 0.01; **
p
< 0.001.
5. Conclusions
This study described, for the first time, the cytotoxic effects of NO-donor iron nitrosyl complex with
N
-ethylthiourea ligand in normal and different tumor cells. The complex specifically inhibited the viability of glioma A172 cells, while having little effect on cells from breast, skin, colon, hepatic and pancreatic tumors as well as on normal cells.
Acknowledgments
The work was performed with financial support of the Federal Agency of Scientific Organizations (State registration N 0089-2014-0037).
Author Contributions
Nataliya Sanina and Alexei Terent'ev conceived and designed the experiments, wrote the paper, Natal'ya Shmatko performed the synthetic experiments and attestation of samples; Tatiana Stupina and Anastasiya Balakina performed the cell culture experiments and analyzed the data.
Conflicts of Interest
The authors declare no conflict of interest.
Sample Availability: Samples of the compounds are available from the authors.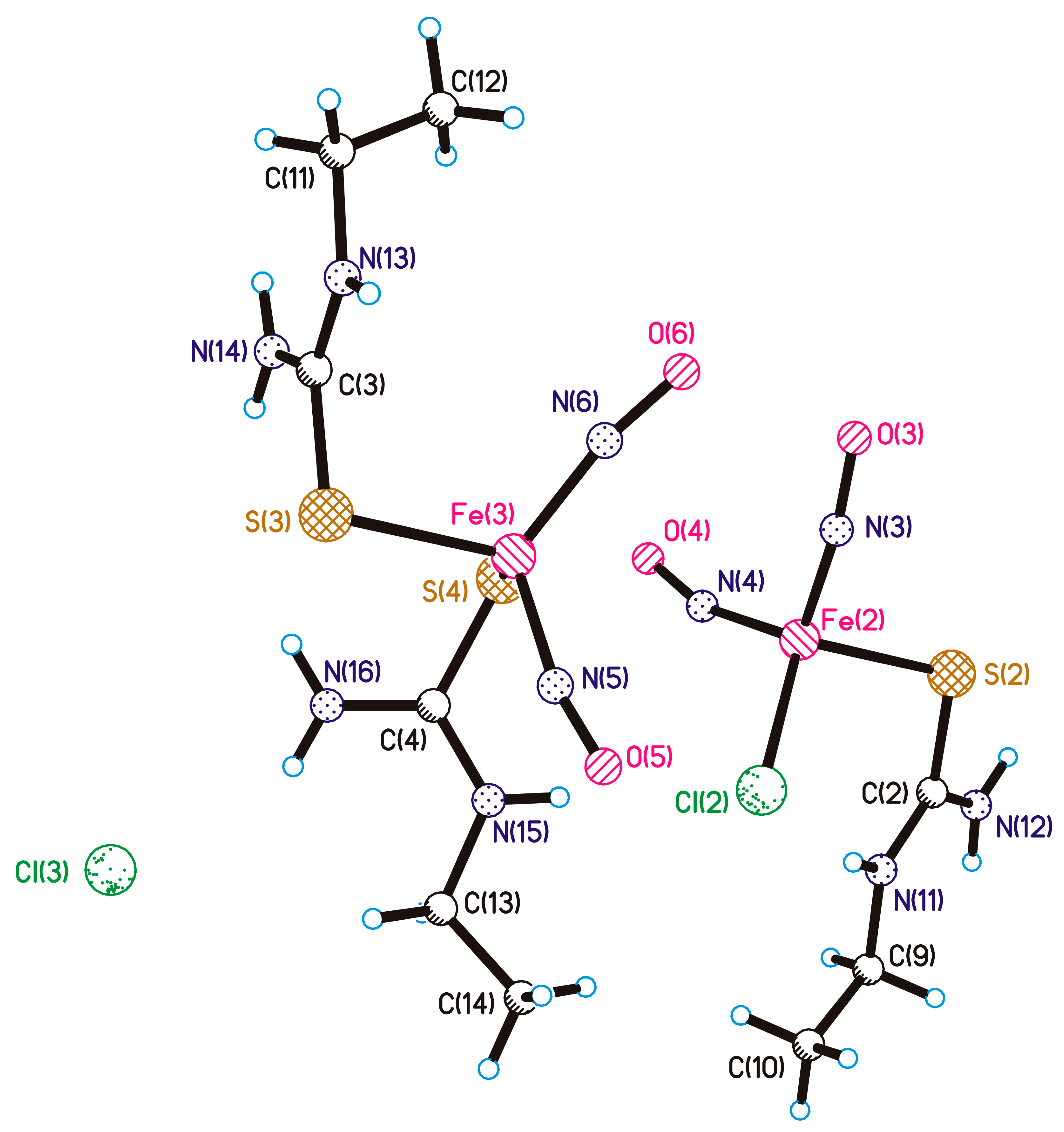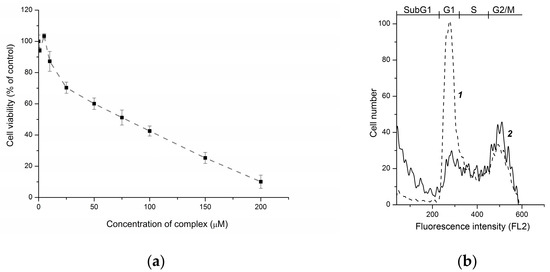 Figure 3. Cell viability inhibition (a) and cell cycle changes (b) caused by ETM in A172 cells after 24 h exposure. A, the dose-effect curve. B, the histograms of propidium iodide DNA staining in the untreated (1) and ETM-treated cells (2); on the top, the cell cycle phases, as well as cell population with decreased DNA content (SubG1, dying cells) are marked. Table 1. Toxicity of ETM to normal and tumor cell lines.

| Cell Line | Mean IC50 ± SD (µM) |
| --- | --- |
| Vero | 359.80 ± 14.94 |
| A431 | 412.84 ± 35.76 |
| BT-20 | 393.62 ± 10.56 |
| BT-474 | 202.71 ± 9.25 ** |
| Hs578T | 275.30 ± 22.88 * |
| HepG2 | 356.07 ± 8.30 |
| Caco2 | 240.89 ± 5.43 ** |
| A172 | 0.41 ± 0.15 ** |
| PANC-1 | 638.95 ± 17.62 ** |
*

p

< 0.01; **

p

< 0.001 versus Vero cells.
Table 2. Cell cycle distribution of A172 cells after treatment with ETM.

| | SubG1 | G1 | S | G2/M |
| --- | --- | --- | --- | --- |
| control | 5.72% | 48.54% | 21.90% | 23.84% |
| ETM, 50 μM, 24 h | 30.90% | 15.08% | 21.71% | 32.31% |
© 2017 by the authors. Licensee MDPI, Basel, Switzerland. This article is an open access article distributed under the terms and conditions of the Creative Commons Attribution (CC BY) license (http://creativecommons.org/licenses/by/4.0/).