GPCR Modulation of Thieno[2,3-b]pyridine Anti-Proliferative Agents
1
School of Chemical Sciences, University of Auckland, 23 Symonds Street, 1142 Auckland, New Zealand
2
Faculty of Pharmacy, Hacettepe University, 06100 Ankara, Turkey
3
Auckland Cancer Society Research Centre and Department of Molecular Medicine and Pathology, University of Auckland, 1142 Auckland, New Zealand
*
Author to whom correspondence should be addressed.
Received: 30 November 2017 / Revised: 11 December 2017 / Accepted: 15 December 2017 / Published: 18 December 2017
Abstract
A panel of docking scaffolds was developed for the known molecular targets of the anticancer agents, thieno[2,3-
b
]pyridines, in order to glean insight into their mechanism of action. The reported targets are the copper-trafficking antioxidant 1 protein, tyrosyl DNA phosphodiesterase 1, the colchicine binding site in tubulin, adenosine A2A receptor, and, finally, phospholipase C-δ1. According to the panel, the A2A receptor showed the strongest binding, inferring it to be the most plausible target, closely followed by tubulin. To investigate whether the thieno[2,3-
b
]pyridines modulate G protein-coupled receptors (GPCRs) other than A2A, a screen against 168 GPCRs was conducted. According to the results, ligand
1
modulates five receptors in the low µM region, four as an antagonist; CRL-RAMP3 (IC
50
—11.9 µM), NPSR1B (IC
50
—1.0 µM), PRLHR (IC
50
—9.3 µM), and CXCR4 (IC
50
—6.9 µM). Finally, one agonist, GPRR35, was found (EC
50
of 7.5 µM). Molecular modelling showed good binding to all of the receptors investigated; however, none of these surpass the A2A receptor. Furthermore, the newly-identified receptors are relatively modestly expressed in the cancer cell lines most affected by the thieno[2,3-
b
]pyridines, making them less likely to be the main targets of the mechanism of action for this compound class. Nevertheless, new modulators against GPCRs are of an interest as potential hits for further drug development.
View Full-Text
►

▼

Figures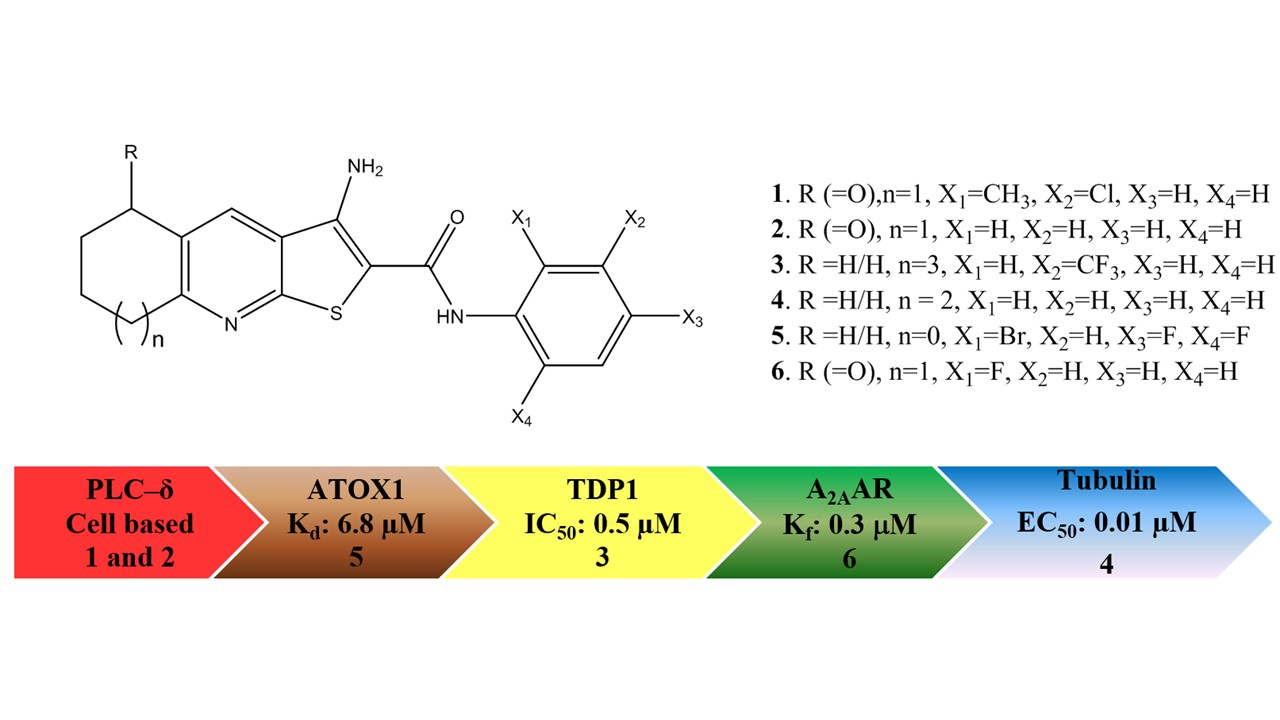 This is an open access article distributed under the
Creative Commons Attribution License
which permits unrestricted use, distribution, and reproduction in any medium, provided the original work is properly cited. (CC BY 4.0).
Share & Cite This Article
MDPI and ACS Style
Zafar, A.; Sari, S.; Leung, E.; Pilkington, L.I.; van Rensburg, M.; Barker, D.; Reynisson, J. GPCR Modulation of Thieno[2,3-b]pyridine Anti-Proliferative Agents. Molecules 2017, 22, 2254.
Note that from the first issue of 2016, MDPI journals use article numbers instead of page numbers. See further details here.
Related Articles
Comments
[Return to top]