Blue and Red LED Illumination Improves Growth and Bioactive Compounds Contents in Acyanic and Cyanic Ocimum basilicum L. Microgreens
1
Faculty of Food Engineering, Stefan Cel Mare University, Universitatii Street 13, 720229 Suceava, Romania
2
CERNESIM Research Center, Alexandru Ioan Cuza University, Carol I Boulevard 20A, 700506 Iasi, Romania
3
Interdisciplinary Research Department-Field Science, Alexandru Ioan Cuza University, Lascar Catargi 54, 700107 Iasi, Romania
4
Faculty of Chemistry, Alexandru Ioan Cuza University, Carol I Boulevard 20A, 700506 Iasi, Romania
5
Faculty of Biology, Alexandru Ioan Cuza University, Carol I Boulevard 20A, 700506 Iasi, Romania
*
Author to whom correspondence should be addressed.
Received: 30 October 2017 / Revised: 29 November 2017 / Accepted: 29 November 2017 / Published: 30 November 2017
Abstract
Microgreens are an excellent source of health-maintaining compounds, and the accumulation of these compounds in plant tissues may be stimulated by exogenous stimuli. While light quality effects on green basil microgreens are known, the present paper aims at improving the quality of acyanic (green) and cyanic (red) basil microgreens with different ratios of LED blue and red illumination. Growth, assimilatory and anthocyanin pigments, chlorophyll fluorescence, total phenolic, flavonoids, selected phenolic acid contents and antioxidant activity were assessed in microgreens grown for 17 days. Growth of microgreens was enhanced with predominantly blue illumination, larger cotyledon area and higher fresh mass. The same treatment elevated chlorophyll a and anthocyanin pigments contents. Colored light treatments decreased chlorophyll fluorescence ΦPSII values significantly in the green cultivar. Stimulation of phenolic synthesis and free radical scavenging activity were improved by predominantly red light in the green cultivar (up to 1.87 fold) and by predominantly blue light in the red cultivar (up to 1.73 fold). Rosmarinic and gallic acid synthesis was higher (up to 15- and 4-fold, respectively, compared to white treatment) in predominantly blue illumination. Red and blue LED ratios can be tailored to induce superior growth and phenolic contents in both red and green basil microgreens, as a convenient tool for producing higher quality foods.
View Full-Text
►

▼

Figures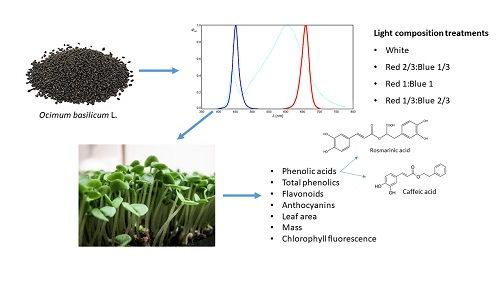 This is an open access article distributed under the
Creative Commons Attribution License
which permits unrestricted use, distribution, and reproduction in any medium, provided the original work is properly cited. (CC BY 4.0).
Share & Cite This Article
MDPI and ACS Style
Lobiuc, A.; Vasilache, V.; Oroian, M.; Stoleru, T.; Burducea, M.; Pintilie, O.; Zamfirache, M.-M. Blue and Red LED Illumination Improves Growth and Bioactive Compounds Contents in Acyanic and Cyanic Ocimum basilicum L. Microgreens. Molecules 2017, 22, 2111.
Note that from the first issue of 2016, MDPI journals use article numbers instead of page numbers. See further details here.
Related Articles
Comments
[Return to top]