Antibacterial Synthetic Peptides Derived from Bovine Lactoferricin Exhibit Cytotoxic Effect against MDA-MB-468 and MDA-MB-231 Breast Cancer Cell Lines
1
Biotechnology Institute, Universidad Nacional de Colombia, Carrera 45 No 26-85, 11321 Bogotá, Colombia
2
Pharmacy Department, Universidad Nacional de Colombia, Carrera 45 No 26-85, Building 450, Office 213, 11321 Bogotá, Colombia
3
Chemistry Department, Universidad Nacional de Colombia, Carrera 45 No 26-85, Building 450, Office 213, 11321 Bogotá, Colombia
4
Medicine Faculty, Universidad Nacional de Colombia, Carrera 45 No 26-85, Building 450, Office 213, 11321 Bogotá, Colombia
5
University Children's Hospital, University of Wurzburg, 97080 Wurzburg, Germany
†
These authors contributed equally to this work, they are considered as first author.
*
Author to whom correspondence should be addressed.
Received: 8 September 2017 / Revised: 27 September 2017 / Accepted: 28 September 2017 / Published: 29 September 2017
Abstract
Linear, dimeric, tetrameric, and cyclic peptides derived from lactoferricin B, containing the RRWQWR motif, were designed, synthesized, purified, and characterized using RP-HPLC chromatography and MALDI-TOF mass spectrometry. The antibacterial activity of the designed peptides against
E. coli
(ATCC 11775 and 25922) and their cytotoxic effect against MDA-MB-468 and MDA-MB-231 breast cancer cell lines were evaluated. Dimeric and tetrameric peptides showed higher antibacterial activity in both bacteria strains than linear peptides. The dimeric peptide (RRWQWR)
2
K-Ahx exhibited the highest antibacterial activity against the tested bacterial strains. Furthermore, the peptides with high antibacterial activity exhibited significant cytotoxic effect against the tested breast cancer cell lines. This cytotoxic effect was fast and dependent on the peptide concentration. The tetrameric molecule containing RRWQWR motif has an optimal cytotoxic effect at a concentration of 22 µM. The evaluated dimeric and tetrameric peptides could be considered as candidates for developing new therapeutic agents against breast cancer. Polyvalence of linear sequences could be considered as a novel and versatile strategy for obtaining molecules with high anticancer activity.
View Full-Text
►

▼

Figures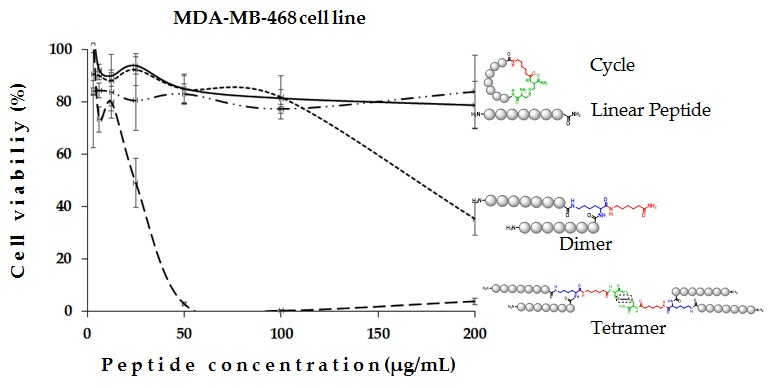 This is an open access article distributed under the
Creative Commons Attribution License
which permits unrestricted use, distribution, and reproduction in any medium, provided the original work is properly cited. (CC BY 4.0).
Share & Cite This Article
MDPI and ACS Style
Vargas Casanova, Y.; Rodríguez Guerra, J.A.; Umaña Pérez, Y.A.; Leal Castro, A.L.; Almanzar Reina, G.; García Castañeda, J.E.; Rivera Monroy, Z.J. Antibacterial Synthetic Peptides Derived from Bovine Lactoferricin Exhibit Cytotoxic Effect against MDA-MB-468 and MDA-MB-231 Breast Cancer Cell Lines. Molecules 2017, 22, 1641.
Note that from the first issue of 2016, MDPI journals use article numbers instead of page numbers. See further details here.
Related Articles
Comments
[Return to top]