Open Access This article is
freely available
re-usable
Review
Surfing the Protein-Protein Interaction Surface Using Docking Methods: Application to the Design of PPI Inhibitors
Department of Basic Pharmaceutical Sciences, School of Pharmacy, University of Louisiana at Monroe, 1800 Bienville Drive, Monroe, LA 71201, USA
*
Author to whom correspondence should be addressed.
Academic Editor: Rino Ragno
Received: 27 March 2015 / Accepted: 15 June 2015 / Published: 23 June 2015
Abstract
:
Blocking protein-protein interactions (PPI) using small molecules or peptides modulates biochemical pathways and has therapeutic significance. PPI inhibition for designing drug-like molecules is a new area that has been explored extensively during the last decade. Considering the number of available PPI inhibitor databases and the limited number of 3D structures available for proteins, docking and scoring methods play a major role in designing PPI inhibitors as well as stabilizers. Docking methods are used in the design of PPI inhibitors at several stages of finding a lead compound, including modeling the protein complex, screening for hot spots on the protein-protein interaction interface and screening small molecules or peptides that bind to the PPI interface. There are three major challenges to the use of docking on the relatively flat surfaces of PPI. In this review we will provide some examples of the use of docking in PPI inhibitor design as well as its limitations. The combination of experimental and docking methods with improved scoring function has thus far resulted in few success stories of PPI inhibitors for therapeutic purposes. Docking algorithms used for PPI are in the early stages, however, and as more data are available docking will become a highly promising area in the design of PPI inhibitors or stabilizers.
Keywords:
protein-protein interactions; docking; protein docking; hot spots; virtual screening; drug-like molecules
1. Introduction
Rational drug design has revolutionized the pharmaceutical industry with the idea that drugs can be designed or engineered according to an identified protein or DNA target. This is an efficient alternative method in the drug design and discovery areas as opposed to screening thousands of samples extracted from natural products for therapeutic purposes. However, such a rational design of drugs is knowledge-based and requires an understanding of the intermolecular forces involved, as well as an understanding of protein structure and function. Although compounds are created based on the structure of the protein that is targeted, once a basic template is developed several possible combinations of the functional groups that are spatially separated by a particular distance must be investigated to obtain a lead compound to be optimized. In other words, designed compounds have to be optimized for drug-like properties in three-dimensional space. This type of optimization necessitates knowledge of the 3D structures of the protein receptors involved as well as the conformational space of the ligand drug [
1
]. This method of optimization has gained momentum as the number of available 3D structures of proteins has increased rapidly in the last two decades. Along with advances in genomics and proteomics, the methods to obtain the X-ray crystal or NMR-based structure of proteins have enabled new protein targets that have therapeutic potential. With detailed information about the binding site of a protein receptor available, computational methods such as docking have gained importance in optimizing drug-like compounds. Such computational methods were established in the 1980s [
2
] for the drug discovery process; however, there were several limitations. With advances in high-speed computers, development of efficient parallel processing algorithms, and availability of high-resolution 3D structures of receptor proteins, docking methods have become more reliable for optimizing the compounds for therapeutic purposes. In addition, docking methods are also used for analysis of drug metabolites using the structure of cytochrome p450 isoforms [
3
].
Drug creation involves several stages, starting from the design of a compound to lead identification (hit-to-lead), optimization, preclinical and toxicology reports for a New Drug Application (NDA), and final approval from the Food and Drug Administration (FDA) [
4
,
5
]. As drug-like molecules are taken to the next level in each stage described above, the cost of optimization increases significantly [
6
]. As the overall cost of creating a drug and bringing it to the market has skyrocketed, computational methods of creating drug-like molecules have gained importance. Most of the process of screening using docking occurs in the early stages of drug discovery. Typically, high-throughput screening (HTS) of compounds is used in the drug creation process, even in the rational drug discovery process, to find a lead compound. HTS involves screening of compounds using biochemical or cellular methods to determine the optimum pharmacological activity. For such methods, the proposed number of compounds is large, and synthesizing and evaluating such large numbers is a difficult task. Docking
in silico
methods provide a faster and less expensive way of screening compounds [
7
]. However, there are few successful examples of drug design using such methods. For the past two decades, computational and docking methods have gained popularity in different stages of drug design [
1
,
8
,
9
]. In the drug creation process, docking is a virtual screening method for possible target identification and lead optimization. Docking involves prediction of ligand orientation and different possible conformations within the receptor cavity or near the protein surface. In its simplest form, the binding cavity in the receptor or protein surface of the receptor protein is assumed to be rigid with only the ligand allowed to be flexible. The overall docking process involves two steps: namely, a conformational search of the ligand molecule within the defined grid box near the binding surface of a protein to represent different possible conformations and scoring, where different possible conformations generated in different orientations are scored based on energy function [
10
,
11
]. Based on the scoring method used, ligand conformations are arranged from lowest to highest energy order with the lowest energy conformers considered as a possible "pose" of the molecule in the bound form with the receptor. Depending on the application, users can employ an exhaustive search method and then optimize the scoring or search with optimized values and use the robust scoring function [
12
,
13
]. In most cases, searching methods are time-consuming, and searching for all possible conformations and orientations of a molecule on the receptor surface is an impossible task.
2. Protein-Protein Interactions
Cells communicate with one another via protein-protein interactions. All of the physiological processes of life are controlled via interactions of different proteins that are well regulated. In an organism, PPI form a huge complex network known as an "interactome," which contributes significantly to the biological processes that are carried out in that organism [
14
]. It is estimated that there are nearly 650,000 interactions that regulate human life, and any deregulation of this process leads to a disease state [
15
]. These interactions control signal transduction, immune response, transcription,
etc.
Hence, among these PPI, at least a sizable number of proteins can be used as drug targets [
16
,
17
,
18
]. Many proteins interact in an obligatory fashion, maintaining a stable interaction for a longer period of time whereas some protein-protein interactions are transient. The affinity of PPI varies, depending on the type of interaction and signaling needed; this affinity can vary from millimolar to picomolar [
19
]. Although their affinity varies over a wide range, all PPI maintain a high degree of specificity for their partners, including many proteins that exhibit specificity for multiple partners [
20
]. How one protein can form specific interactions with different partners either simultaneously or separately depends on the nature of the interaction surface. In other words, the "molecular recognition" is a key concept in PPI, its affinity, specificity, and selectivity. A detailed knowledge of the interaction surfaces of proteins and their energetics is necessary to understand the regulatory mechanisms of biochemical pathways with the goal of modulating or blocking these pathways for therapeutic purposes using drug-like molecules. The analysis of 3D structures of many protein complexes and the nature of interfaces forming PPI has revealed that the contact surface involved in PPI is relatively large, ranging from 1000 to 4000 Å
2
. It is reported that standard-sized interfaces are 1200 to 2000 Å
2
[
21
]. Smaller interfaces of 1150–1200 Å
2
size normally constitute short-lived and low-stability complexes, and large surfaces ranging from 2000 to 4600 Å
2
are observed between proteases and particular inhibitors and between G-proteins and other components of the signal transduction system [
22
]. In comparison, protein-small molecule interaction surfaces have an area of 300 to 1000 Å
2
. In addition to this, surfaces of PPI are generally flat and lack the grooves and pockets that are present at the surfaces of proteins that bind to small molecules [
23
,
24
,
25
,
26
]. Although a description of PPI was known more than two decades ago, because of the large surface area of PPI, small molecules that were targeted were unsuccessful. It was viewed that targeting PPI had high risk and such targets were considered "undruggable." However, this concept was challenged, and now there are drugs on the market [
18
,
27
,
28
] and drug-like candidates that target PPI are in clinical trials [
29
]. Since PPI surfaces are relatively flat and the docking methods applied use probe atoms or ligand atoms on the flat surface, we use the word "surfing" for identification of hot spots and ligand-binding mode at PPI interface.
The most significant contribution to understanding the PPI surface comes from structural biology via X-ray crystallography or NMR as well as mutational studies. Detailed 3D structure analysis of PPI revealed that PPI interfaces can form a continuous epitope that often forms a single secondary structure or discontinuous epitope originating from multiple secondary structures. These continuous or discontinuous epitopes form small pockets and groove-like structures that together form a binding site for proteins. Protein-protein interaction surfaces are generally hydrophobic in nature. This was assessed by measuring the area of accessible surface on the protein surface that forms the interface region of partner proteins that becomes inaccessible to solvent due to protein-protein contacts. It is known that the PPI interface area is large; however, only certain hydrophobic spots contribute to the free energy of binding and help to hold the two proteins together. Such regions on PPI interfaces that contribute more to the binding energy are called hot spots. Hot spots account for less than 50% of the contact area of PPI. A region of protein surface is called a hot spot when replacement of an amino acid residue by alanine in that spot lowers the free energy of binding by at least 2 kcal/mol [
30
]. The hot spots have a core region and rim region with more accessible rim region residues surrounding the more buried core region residues. The amino acid composition in the rim region is similar to that of the rest of the protein surface, whereas the core region contains aromatic residues [
31
,
32
,
33
]. Analysis of the amino acid composition of hot spots shows that some residues are found more frequently in hot spots, namely, Tyr, Trp, and Arg [
34
]. The hot spots are surrounded by energetically less important residues that probably separate/prevent bulk water from hot spots. The presence of these hot spots provides an opportunity to target PPI with therapeutic agents because compounds that are designed to interact with hot spots should prevent or block PPI since a large part of the binding energy contributes to interaction in these areas. For hot spots that are discontinuous and distributed over an area, relatively large molecules such as peptides have been designed to prevent PPI. In terms of amino acid functional groups, Trp, Tyr, Leu, Ile, Phe, and Arg are frequently found in PPI hot spots [
34
]. Among these, Trp has a hydrophobic surface and contributes to π-interactions that contribute to binding energy. Apart from this, Trp can form hydrogen bonds with ligand molecules without the introduction of water at the PPI site. Tyr also has a hydrophobic surface that can produce π-interactions and can form hydrogen bonds. Arg can form up to five hydrogen bonds and salt bridges as well as hydrophobic interactions with its long side chain. Between the amino acids Leu and Ile, Ile seems to be preferred at PPI [
21
]. While there is much detailed structural information available about the PPI, there are still many challenges in the design of PPI inhibitors. Some of these challenges have been discussed in reviews [
26
,
32
,
35
,
36
,
37
,
38
,
39
,
40
]. Recent literature suggests that the modulation or inhibition of PPI has advanced rapidly in the last few years [
41
,
42
,
43
,
44
,
45
,
46
,
47
,
48
,
49
,
50
,
51
].
3. Identification of Hot Spots on Proteins and Docking in PPI
Docking methods are used in several stages during the design of PPI inhibitors (
Figure 1
). Even before docking methods are applied to find the interface residues, the first question asked is whether the two proteins of interest interact with one another or not [
52
].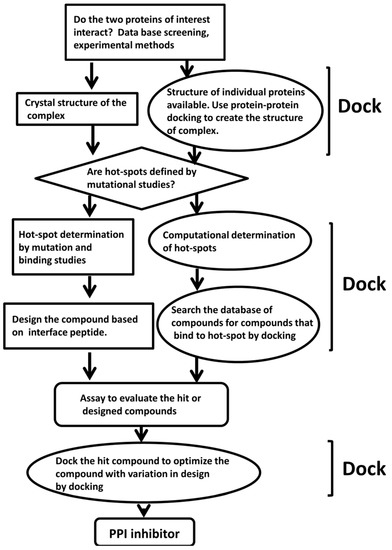 Figure 1. A schematic diagram for the design of PPI inhibitors and docking methods used at different stages of the design.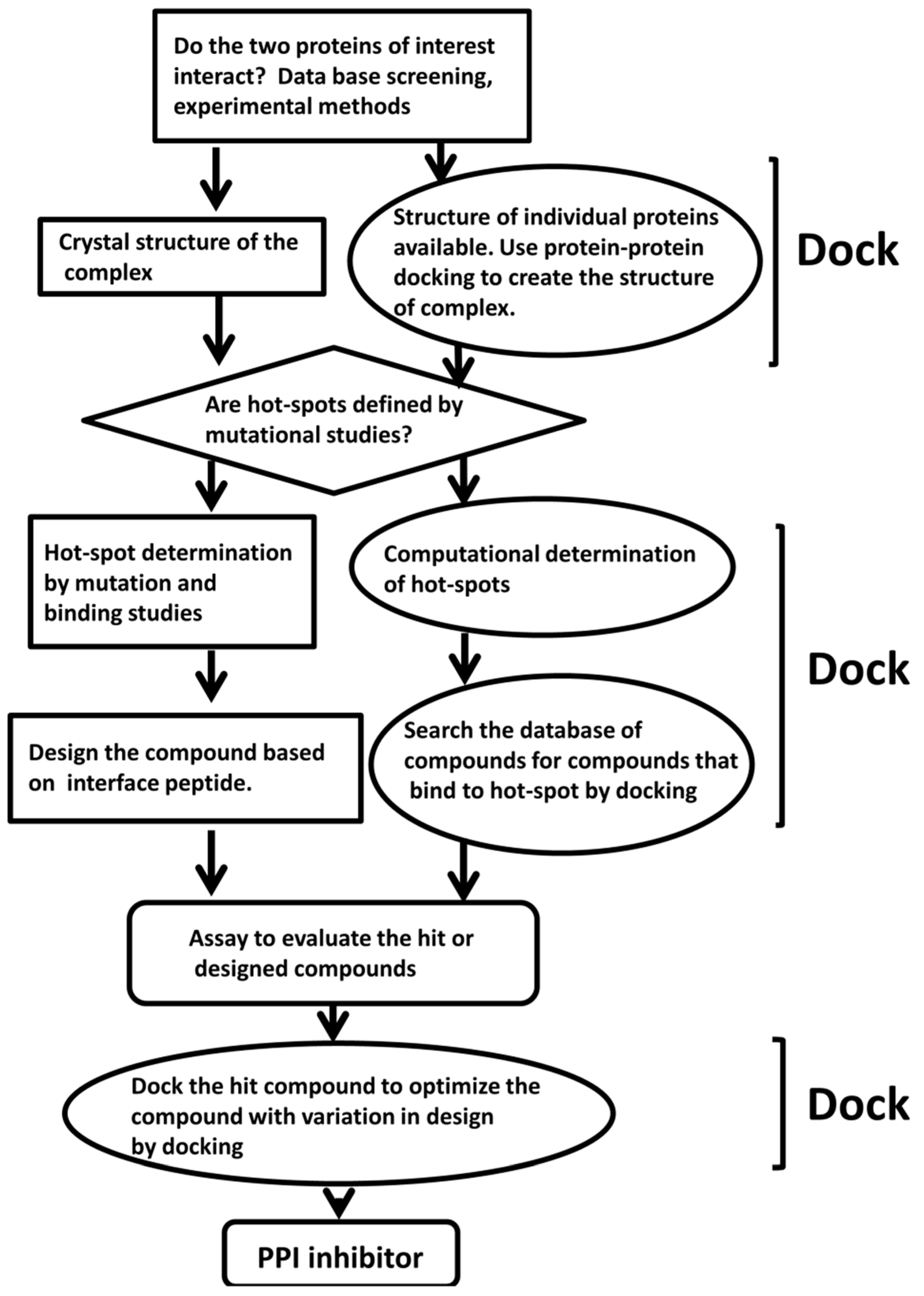 Experimental procedures such as yeast two-hybrid method, co-immunoprecipitation, pull-down assay, and protein chip- or mass spectrometry-based assays can be used to identify the protein partner interactions. Several PPI databases are available in the literature (
Table 1
). Advances in molecular biology and proteomics methods as well as interest in PPI in many research laboratories have led to large amounts of data being produced. Genome-scale analysis of PPI in organisms such as bacteria, yeast, worm, fly, and human have produced enormous amounts of data [
53
]. PPI network data generated has been used to elucidate biochemical pathways [
54
] as well as protein function [
55
] and disease associated with deregulation of these pathways [
56
]. However, the data generated from PPI network may or may not be successful in providing information about underlying PPI. This is because analysis of the data and the results obtained depend on the technique used. Wodak
et al.
[
57
] have discussed the limitations of the databases and the fact that they are highly dependent on the detection method used, the error generated, and the challenges faced by PPI network databases. The same data analyzed by different computational procedures yield poor overlap in the results obtained which is a major concern. They suggest that the poor overlap between the PPI datasets seems to arise from the fact that quite a large fraction of data about interactions comes from non-functional interactions. They suggest that future studies should use approaches that incorporate identification of the functional portions of the interactome as well as characterizing its non-functional complement.
Table 1. List of protein-protein interaction databases and servers.

| Database | Website | Reference |
| --- | --- | --- |
| 2P2I | http://2p2idb.cnrs-mrs.fr/ | [58,59] |
| PrePPI | http://bhapp.c2b2.columbia.edu/PrePPI | [60] |
| STRING | http://string-db.org/ | [61,62] |
| IBIS | http://www.ncbi.nlm.nih.gov/Structure/ibis/ibis_help.shtml#whatisIBIS | [63,64] |
| PIPS | http://www.compbio.dundee.ac.uk/www-pips/ | [65,66] |
| PredUS | https://bhapp.c2b2.columbia.edu/PredUs/ | [67,68] |
| DIP, LiveDIP | dip.doe-mbi.ucla.edu/ldipc/tmpl/livedip.cgi | [69] |
| BIND | http://www.bindingdb.org/bind/index.jsp | [70] |
| MPact/MIPS | http://mips.helmholtz-muenchen.de/proj/ppi/ | [71] |
| YPD and WormPD | https://portal.biobase-international.com/build_ghpywl/idb/1.0/html/bkldoc/source/bkl/proteome/proteome_wormpd_intro.html | [72,73] |
| MINT | http://mint.bio.uniroma2.it/mint/Welcome.do | [74,75] |
| IntAct | http://www.ebi.ac.uk/intact/ | [76] |
| BioGRID | http://thebiogrid.org/ | [77] |
| HPRD | http://www.hprd.org/ | [78,79] |
| ProtCom | http://www.ces.clemson.edu/compbio/protcom | [80,81] |
| 3did, Interprets | http://3did.irbbarcelona.org/ | [82,83] |
| Pibase, ModBase | http://modbase.compbio.ucsf.edu/pibase/introduction.html | [84,85] |
| CBM | http://www.cazy.org/Carbohydrate-Binding-Modules.html | [86,87] |
| SCOPPI | http://scoppi.biotec.tu-dresden.de/scoppi/ | [88,89] |
| iPfam | http://www.ipfam.org/ | [90,91] |
| InterDom | http://interdom.i2r.a-star.edu.sg/ | [92] |
| DIMA | http://webclu.bio.wzw.tum.de/dima/ | [93] |
| Prolinks | http://prl.mbi.ucla.edu/prlbeta/ | [94] |
Before extensive docking studies, hot-spot identification studies, and design of PPI can begin, experimental methods must be used to show that the two proteins of interest interact with one another or to identify the partner of a known protein of interest. If the structure of the complex of protein partners is available along with mutational data, hot spots are readily available for docking of designed drug-like molecules to one of the proteins. However, if the structure of the complex is not available but the structures of individual proteins are available along with molecular biology data on mutation of residues and binding, protein complexes may be built to identify the binding interface. In the first step when the structures of monomers of interacting partners are available, docking methods are used to determine the complex structure of the protein. There are two types of docking used for protein-protein docking: (1) Template-based docking, where the structures of individual proteins are manually docked using the template structure of a dimer in the same homologous family. This method is fast and simple in the sense that no automatic docking and scoring algorithms are used. The generated structure of the complex based on a template is minimized to obtain the docked conformation; (2) Template-free docking, in which the structures of monomers are docked using docking algorithms with or without the support of experimental data. Several protein-protein docking methods are available. Some available databases (
Table 1
), docking methods (
Table 2
) that have been used for several years, and scoring/refining methods (
Table 3
) that have been improved over time are provided. An updated list of all these methods and functions is available at
http://www.vls3d.com/index.php/links/bioinformatics/protein-protein-interaction/protein-protein-docking
.
We discuss few methods of protein-protein docking here. ZDOCK is a software developed by Chen
et al.
[
136
] in which proteins were treated as rigid objects and 6-dimenional rotational and translational degrees of freedom were explored. For this initial stage, surface complementarity, electrostatic complementarity, and desolvation parameters were used to search for different conformations using the fast Fourier transform method (FFT). After an initial search, a number of conformers were identified and ranked according to the scoring criteria used. In the second stage, these conformers were re-ranked, and energy minimization was performed to refine the structures. Later, to improve the performance of the docking, ZDOCK 3.0 was used. It has a scoring function that includes shape complementarity, electrostatics, and a pairwise atomic statistical potential developed using contact propensities of transient protein complexes [
103
,
137
]. As an example to show the efficiency of the computational method developed, the authors applied the method to predict the structure of the yeast interactome using a large supercomputing cluster [
103
,
138
]. The method was efficient in terms of the use of computational resources. ZRANK, a scoring algorithm that [
139
] relies on the usage of a combination of three atom-based terms,
i.e.
, van der Waals, electrostatics, and desolvation, was used to rank the structures.
Protein-protein docking methods developed use a similar general approach in which one protein is fixed in space and the second is rotated and translated around the first one. For each new configuration, the energy of interaction is calculated based on terms such as surface complementarities, electrostatic interactions, van der Waals interaction, and additional terms depending on the method developed. The calculated configurations are given a score based on energy functions used. One of the drawbacks of these methods is that it is almost impossible to search every possible rotation and translation for two interacting objects, and the search through the entire conformational space of the complex geometry makes the calculation very time-consuming, seldom resulting in a unique solution. A docking method that incorporates experimental data to dock the two protein structures was developed by Domingues
et al.
[
140
,
141
]. In the high ambiguity driven docking approach (HADDOCK), the user must provide information obtained from biochemical and chemical shift perturbation data from NMR titration, as well as mutagenesis experiments [
140
]. Based on the information input on the interacting residues, ambiguous interaction restraints (AIRs) are introduced during the docking to arrive at the most possible orientation of the two proteins. Structures are ranked according to their intermolecular energy, that is, the sum of electrostatic, van der Waals, desolvation, and AIR energy terms after the docking calculations are completed.
A new computational method that uses an assembly of structures of molecules that can fit into an electron density map data generated by cryo-electron microscopy (cryo-EM) electron density maps was described by de Vries
et al.
[
142
]. The method is based upon ATTRACT, an atom-based protein-protein docking program [
142
,
143
,
144
]. Compared to other protein docking methods, this technique is unique. Since the cryoelectron microscopy data does not provide high-resolution structures of proteins at the atomic level, the starting model uses a coarse-grained force field where proteins are represented by up to four (pseudo-)atoms per amino acid. The protocol uses an atom-to-grid cryo-EM fitting, using ATTRACT's coarse-grained atom model; the generated models are energy-minimized, and these generated structures are mapped onto the electron density map. In a two-step model, the initial models are fitted using low-resolution data and are then re-scored using a gradient vector matching algorithm to generate models of protein complexes. The models with the best fit with the electron density map and the best scored models are refined to obtain a higher resolution model that is optimized using the ATTRACT force field.
Since different docking programs developed by different researchers around the world use different criteria for scoring based on the need and the problem encountered, a general assessment method for results of docking was established to compare the quality of docked protein complex structures. Performances of docking algorithms are compared biannually in the Critical Assessment of Predicted Interaction competition (CAPRI) [
145
] and are evaluated against larger protein docking benchmarks [
146
,
147
,
148
,
149
]. The model of the protein complex generated using docking method can be evaluated with CAPRI criteria. It provides information about how reliable and accurate the model is likely to be compared to the experimentally generated structures.
3.1. Identification of Hot Spots and Druggability
3.2. Examples of Design of PPI Inhibitors
The literature suggests that PPI hot spots have some common features; however, PPI surfaces in different proteins are different, which makes the interactions highly specific. When homologous protein partners are involved, how do we design PPI inhibitors that bind specifically to one protein and inhibit PPI interaction? We have studied such cases in our laboratory using experimental and computational approaches.
4. Conclusions
The design of PPI inhibitors is gaining confidence as more molecules that have drug-like properties are generated. Without defining the proper surface for PPI, the design of molecules that inhibit PPI will be vague. Docking methods are used in various stages of PPI inhibitor design whether it is small molecule-based or peptide-peptidomimetic-based drug design. Improved docking methods are necessary as a starting point for PPI inhibitor design. A combination of experimental and computational techniques with scoring functions appropriate for particular cases is necessary for designing PPI inhibitors. Docking algorithms used for PPI are in the early stages; however, as more data are available, it will become a highly promising area in the design of PPI inhibitors or stabilizers.
Acknowledgments
Research reported in this publication was supported by an Institutional Development Award (IDeA) from the National Institute of General Medical Sciences of the National Institutes of Health under grant number 8P20GM103424 and NIH/NCI 1R01CA179902-01A1. The authors would also like to acknowledge the BBC core facility and HPC facility at LSU and LONI for providing the support for computational studies.
Author Contributions
Both the authors, Sable and Jois, contributed equally towards writing and editing the manuscript.
Conflicts of Interest
The authors declare no conflict of interest.
© 2015 by the authors. Licensee MDPI, Basel, Switzerland. This article is an open access article distributed under the terms and conditions of the Creative Commons Attribution license ( http://creativecommons.org/licenses/by/4.0/).