Novel Triphenylantimony(V) and Triphenylbismuth(V) Complexes with Benzoic Acid Derivatives: Structural Characterization, in Vitro Antileishmanial and Antibacterial Activities and Cytotoxicity against Macrophages
1
Department of Chemistry, Institute of Exact Sciences, Federal University of Minas Gerais (UFMG), Av. Antônio Carlos 6627, 31270-901 Belo Horizonte, MG, Brazil
2
Department of Pharmacy, Federal University of Juiz de Fora (UFJF), Campus Governador Valadares, Av. Dr. Raimundo Monteiro de Rezende, 330, Centro, 35010-177 Governador Valadares, MG, Brazil
3
Department of Physiology and Biophysics, Institute of Biological Sciences, Federal University of Minas Gerais (UFMG), Av. Antônio Carlos 6627, 31270-901 Belo Horizonte, MG, Brazil
4
Laboratory of Parasitology, Institute of Biomedical Sciences, Federal University of Uberlândia (UFU), Av Amazonas, s/n, , 38400-902 Uberlândia, Minas Gerais, Brazil
5
Department of Parasitology, Institute of Biological Sciences, Federal University of Minas Gerais (UFMG), Av. Antônio Carlos 6627, 31270-901 Belo Horizonte, MG, Brazil
*
Author to whom correspondence should be addressed.
Received: 10 April 2014 / Revised: 30 April 2014 / Accepted: 5 May 2014 / Published: 12 May 2014
Abstract
Two novel organoantimony(V) and two organobismuth(V) complexes of the type ML
2
were synthesized, with L = acetylsalicylic acid (HL1) or 3-acetoxybenzoic acid (HL2) and M = triphenylantimony(V) (M1) or triphenylbismuth(V) (M2). Complexes, [M1(L1)
2
]
(
1
), [M1(L2)
2
]∙CHCl
3
(
2
), [M2(L1)
2
], (
3
) and [M2(L2)
2
] (
4
), were characterized by elemental analysis, IR and NMR. Crystal structures of triphenylantimony(V) dicarboxylate complexes
1
and
2
were determined by single crystal X-ray diffraction. Structural analyses revealed that
1
and
2
adopt five-coordinated extremely distorted trigonal bipyramidal geometries, binding with three phenyl groups in the equatorial position and two deprotonated organic ligands (L) in the axial sites. The metal complexes, their metal salts and ligands were evaluated
in vitro
for their activities against
Leishmania infantum
and
amazonensis
promastigotes and
Staphylococcus aureus
and
Pseudomonas aeruginosa
bacteria. Both the metal complexes showed antileishmanial and antibacterial activities but the bismuth complexes were the most active. Intriguingly, complexation of organobismuth(V) salt reduced its activity against
Leishmania
, but increased it against bacteria.
In vitro
cytotoxic test of these complexes against murine macrophages showed that antimony(V) complexes were the least toxic. Considering the selectivity indexes, organoantimony(V) complexes emerge as the most promising antileishmanial agents and organobismuth(V) complex
3
as the best antibacterial agent.
View Full-Text
►

▼

Figures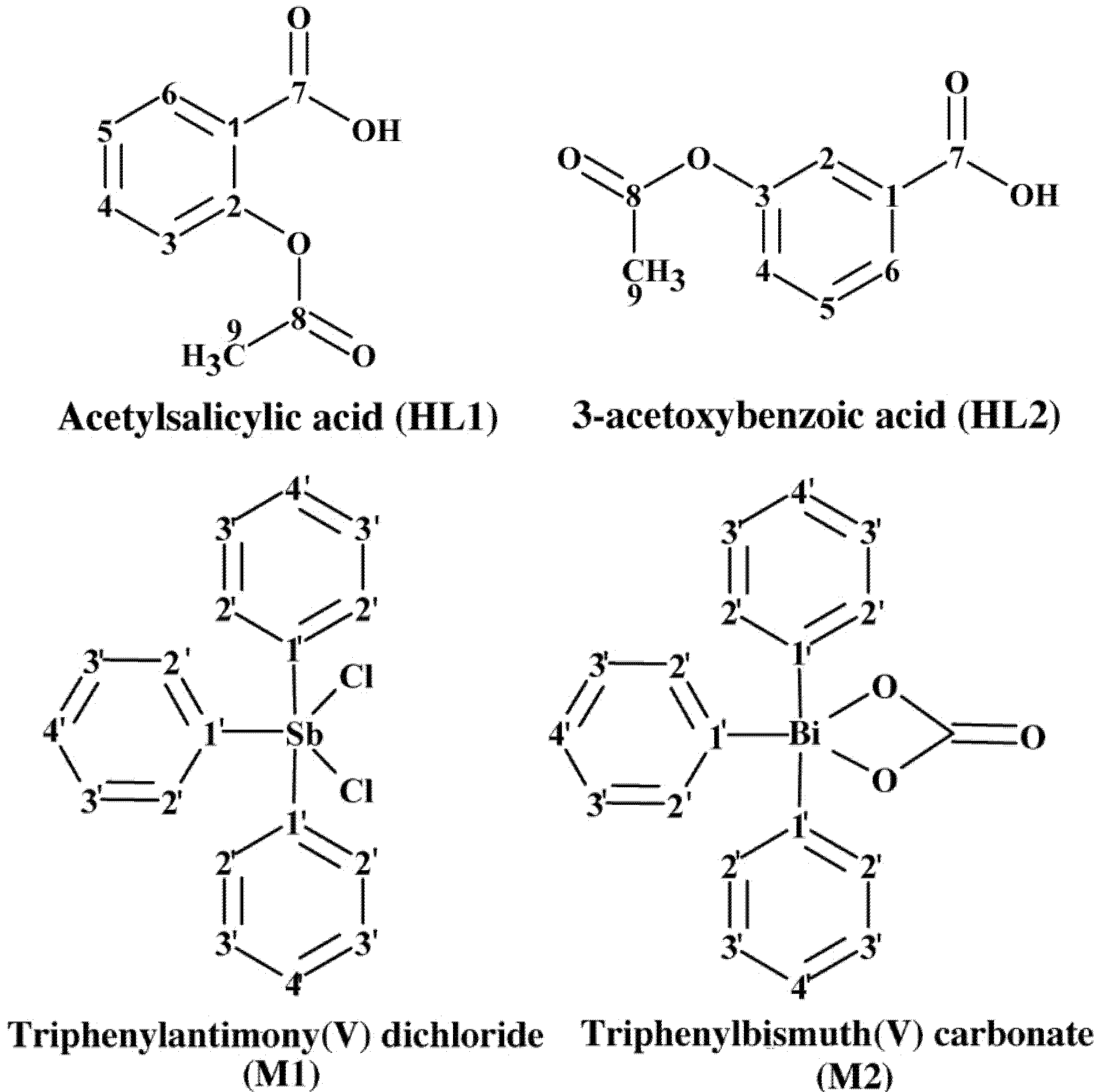 Figure 1
Scifeed alert for new publications
Never miss any articles
matching your research
from any publisher
Get alerts for new papers matching your research
Find out the new papers from selected authors
Updated daily for 49'000+ journals and 6000+ publishers
Share & Cite This Article
MDPI and ACS Style
Islam, A.; Da Silva, J.G.; Berbet, F.M.; da Silva, S.M.; Rodrigues, B.L.; Beraldo, H.; Melo, M.N.; Frézard, F.; Demicheli, C. Novel Triphenylantimony(V) and Triphenylbismuth(V) Complexes with Benzoic Acid Derivatives: Structural Characterization, in Vitro Antileishmanial and Antibacterial Activities and Cytotoxicity against Macrophages. Molecules 2014, 19, 6009-6030.
Related Articles
Comments
[Return to top]